Browsing: "Fun"
February 1st, 2010
Have you ever noticed the fine line between boasting and
January 21st, 2010
Who needs a little fun? What a challenging and relative subject to write about, but I'm pretty sure we all need a little more of it. Some days, it hardly takes more than a pair or sweatpants and a gossip magazine to be declared "a fun evening", but lately I have to admit, I'm perma-day-dreaming of escape plans to interesting locales. VACATION baby! Universally accepted as "fun" Step #1 Shop for flights on Bing price predictor. I love this tool, and most you are probably laughing that this was woven in, but really truly you should check it out: bing…
About Me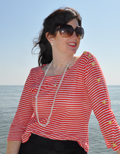 Welcome to my p.o.v. of how to live a life well. Under the construct of 7 areas that I feel passionately about: Fashion, Fun, Food, Family, Friends, Philanthropy (aware not an f, but close enough) and Furnishing. Yes, quite the array I know. I bring you Living Well 7; Don't Wait-Enjoy Life!
Subscribe to My Blog

Latest Tweets
Something isn't right...
Facebook
Archives
September
2017
May
2017
April
2017
March
2017
February
2017
January
2017
August
2016
June
2016
April
2016
March
2016
February
2016
January
2016
December
2015
November
2015
October
2015
September
2015
July
2015
June
2015
May
2015
April
2015
March
2015
February
2015
January
2015
November
2014
October
2014
September
2014
August
2014
July
2014
June
2014
May
2014
April
2014
March
2014
February
2014
January
2014
December
2013
November
2013
October
2013
September
2013
August
2013
July
2013
June
2013
May
2013
April
2013
March
2013
February
2013
January
2013
December
2012
November
2012
October
2012
September
2012
August
2012
July
2012
June
2012
May
2012
April
2012
March
2012
February
2012
January
2012
December
2011
November
2011
October
2011
September
2011
August
2011
July
2011
June
2011
May
2011
April
2011
March
2011
February
2011
January
2011
December
2010
November
2010
October
2010
September
2010
August
2010
July
2010
June
2010
May
2010
April
2010
March
2010
February
2010
January
2010