March 29th, 2017
After spending months under a blanket in Cold-i-cut I mean, Connecticut this winter, I was psyched to head to New Orleans for a Spring visit with my brother who recently moved there.
It had been a while (like pre-Katrina) since I'd been down to Nola, and the city was what I remembered and that much more!
So here's the 72 hour recap:
John lives in the Marigny.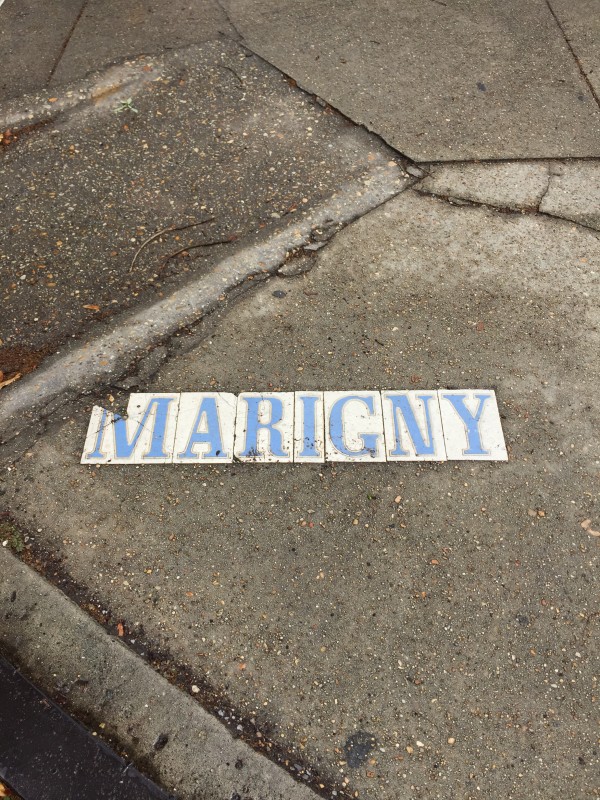 A vibrant 'hood walking distance to the French Quarter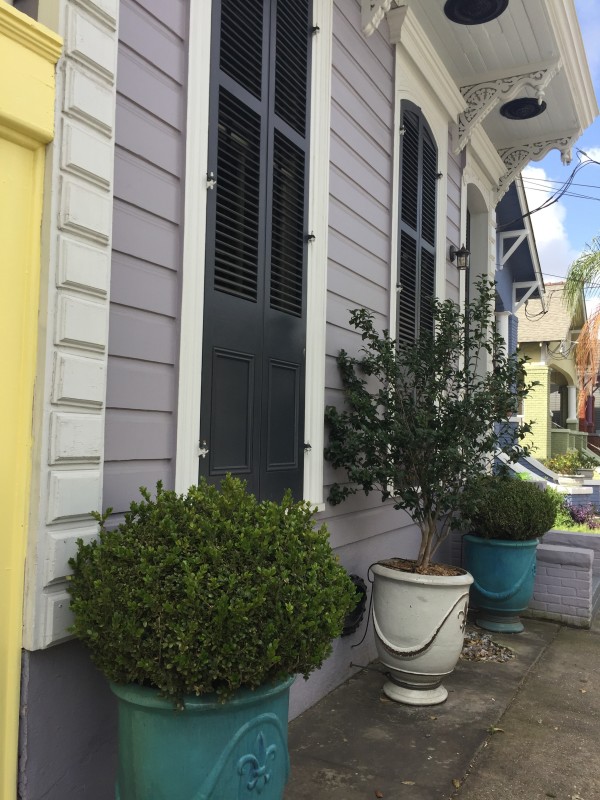 and walking/biking distance to the riverfront area and Crescent Park.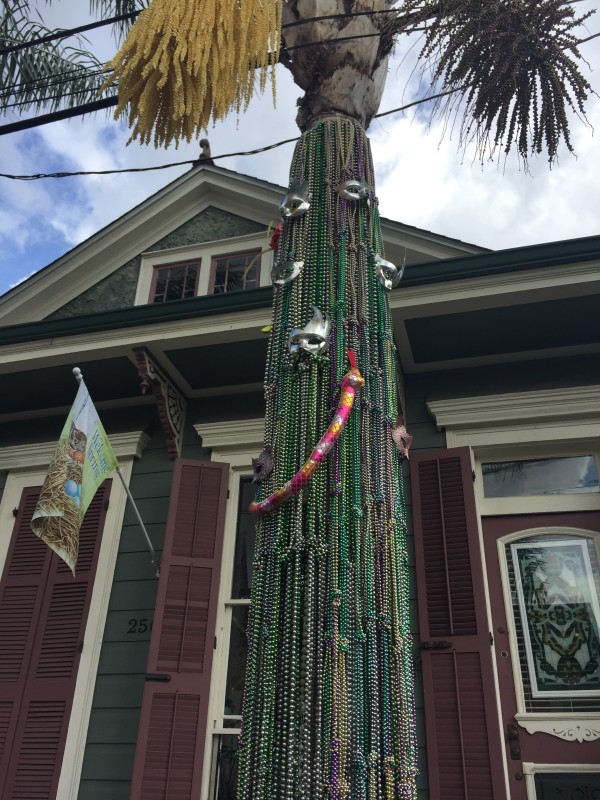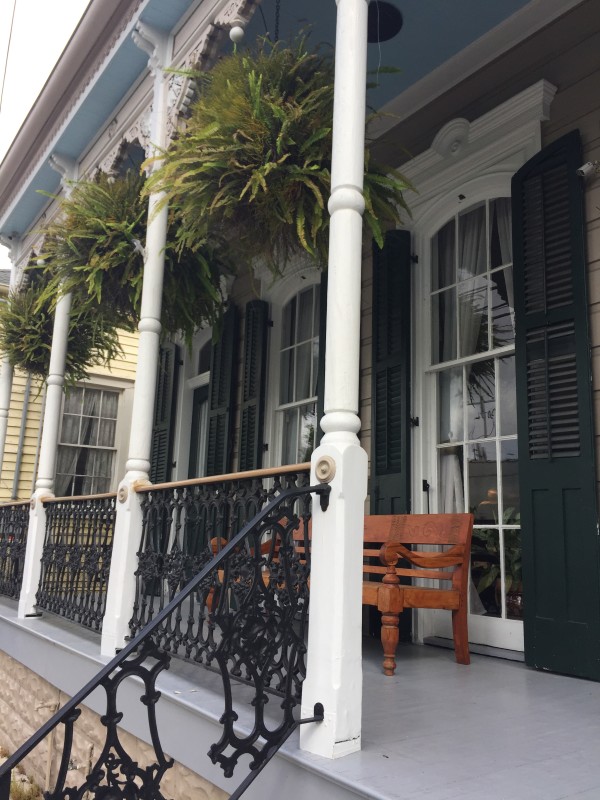 The neighborhood is filled with charming, and colorful architecture–people too for that matter, and a reverence to the historic delights of the area.  Who knew there are like a half dozen different styles of historic shutters?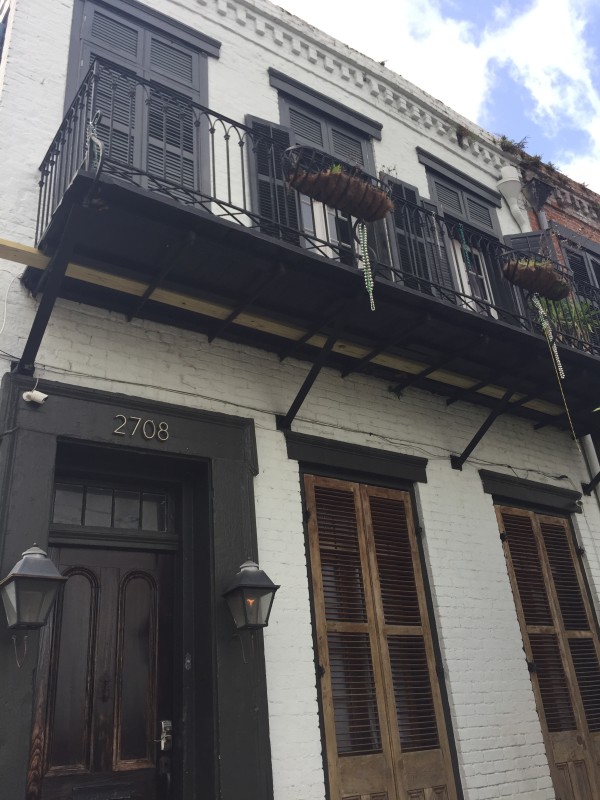 The Marigny is filled with loads of Shotgun style homes, Creole cottages and town homes.  Their many design details (gas lamp envy anyone?) are best observed on leisurely walks and bike rides, perhaps with a "go cup" in hand.
John bought an awesome double Shotgun (no shots fired just yet!) house, which he is currently renovating extensively.  He is living on one side and will be renting the other side in short order upon completion of the project.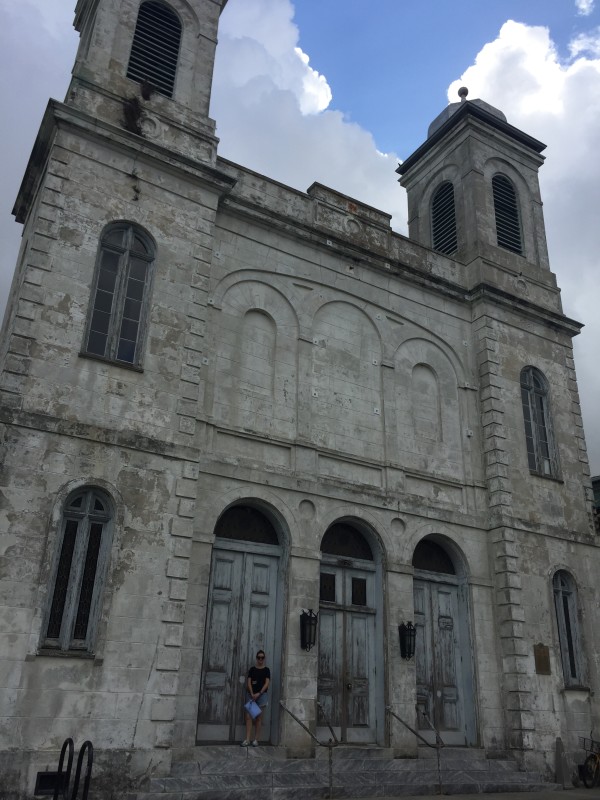 A block from his home, standing as a beacon on the Marigny skyline, is the wonderful Marigny Opera House with a patina to just die for. Apparently Solange Knowles must agree as was married here.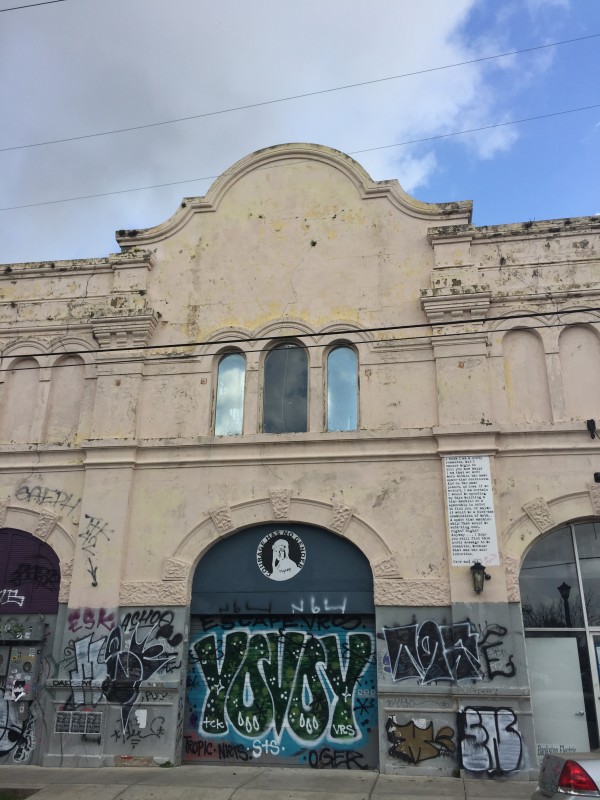 Around each corner is a new surprise. But all this architectural gawking makes one thirsty and hungry. And in Nola, there is no shortage of excellent food and drink.
A slight distance East by bike we head to Baccanal located in the Bywater area.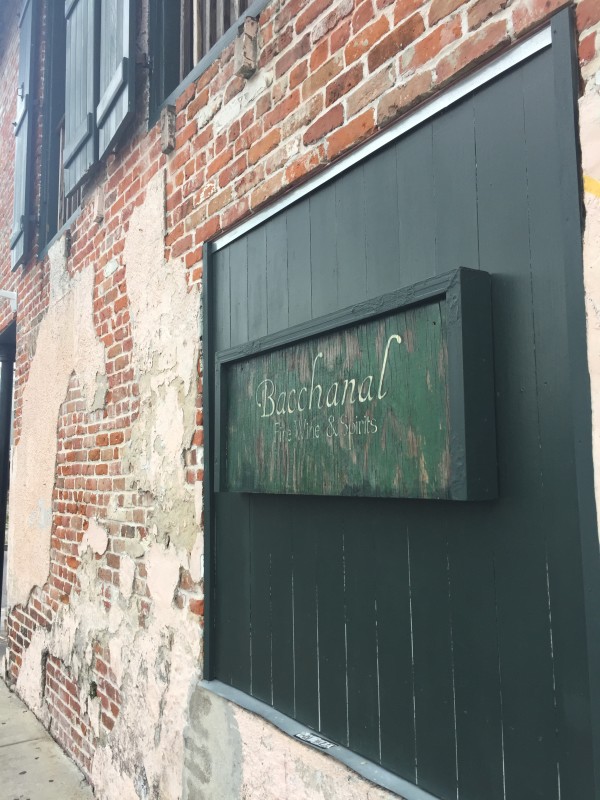 Bacchanal feels like a backyard party but is a transformed casual outdoor courtyard space filled with live music,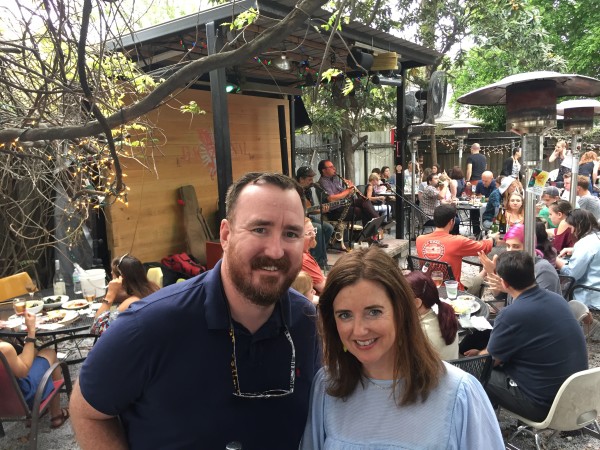 drinks, delicious noshes such as cheese plates, seafood fritters and more…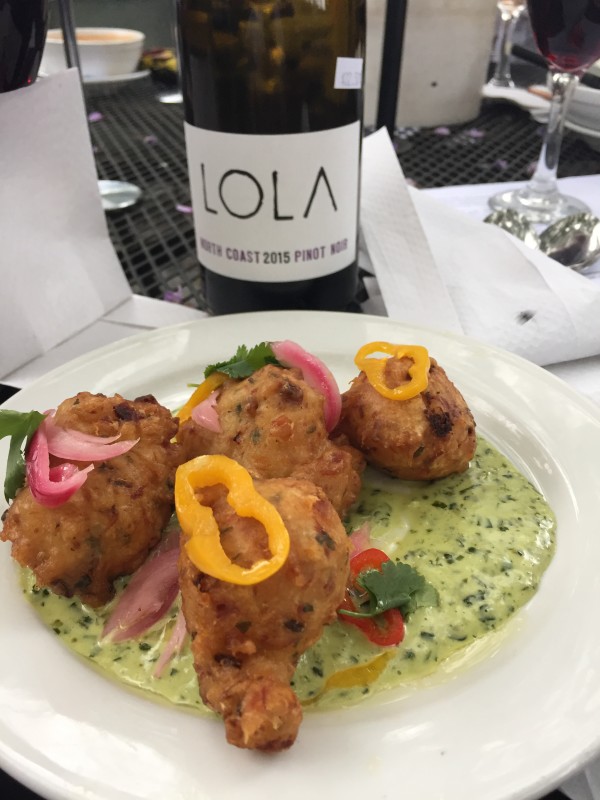 and an abundance of and plastic buckets filled and chillin' with cold vino.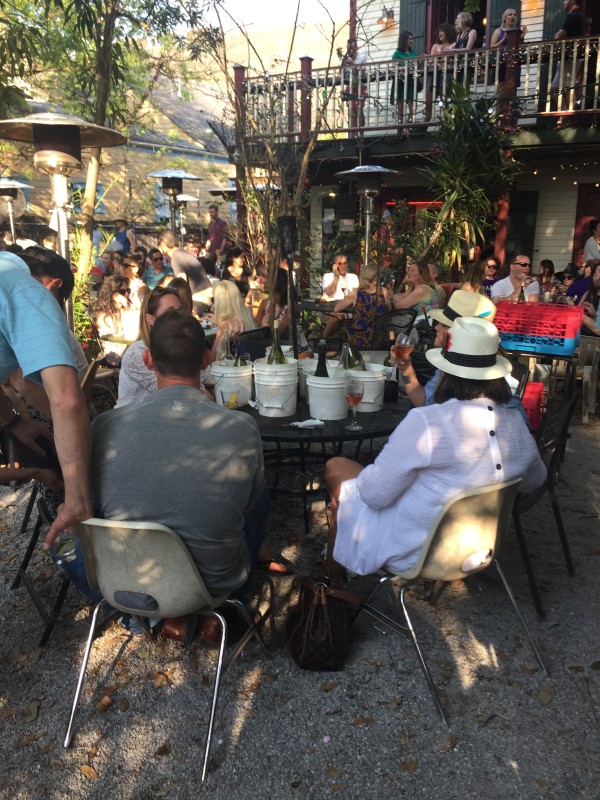 As you can imagine, the quarter is always calling.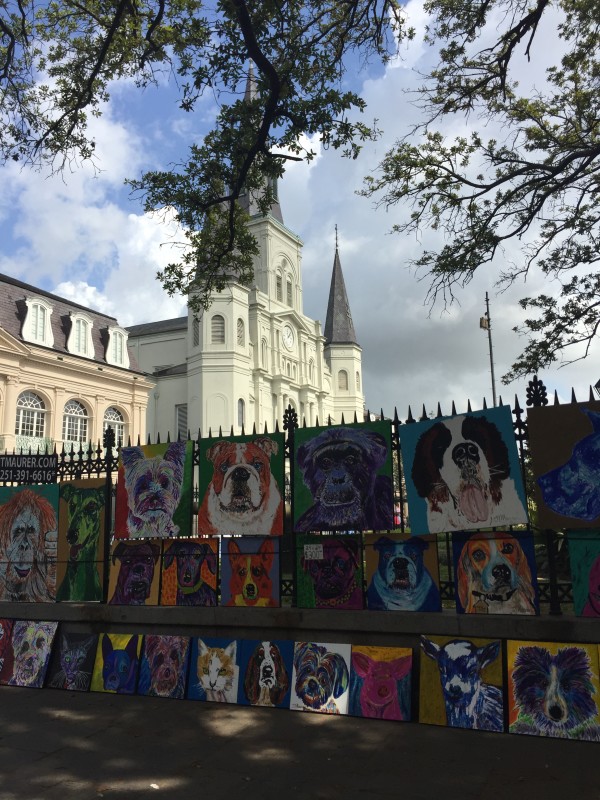 And so are the world famous beignets from Cafe Du Monde (carb-restricted diets be damned…you really must indulge here.)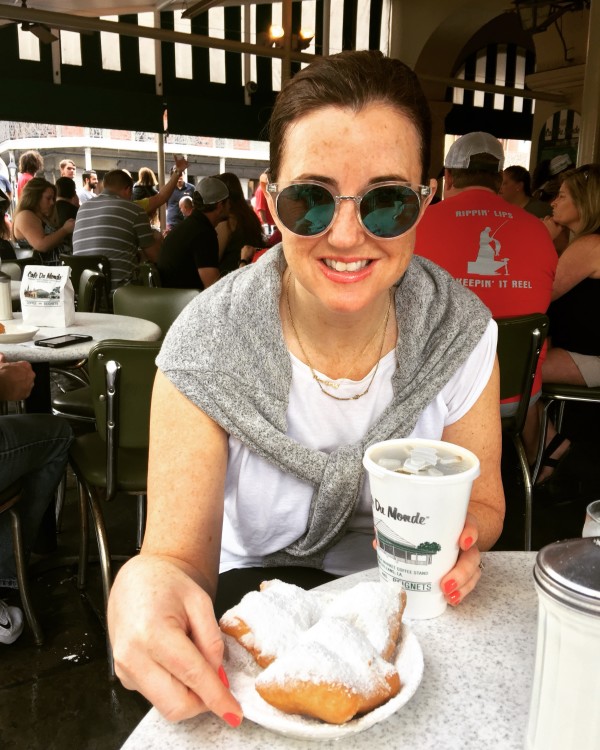 The quarter provides the antidote for boredom.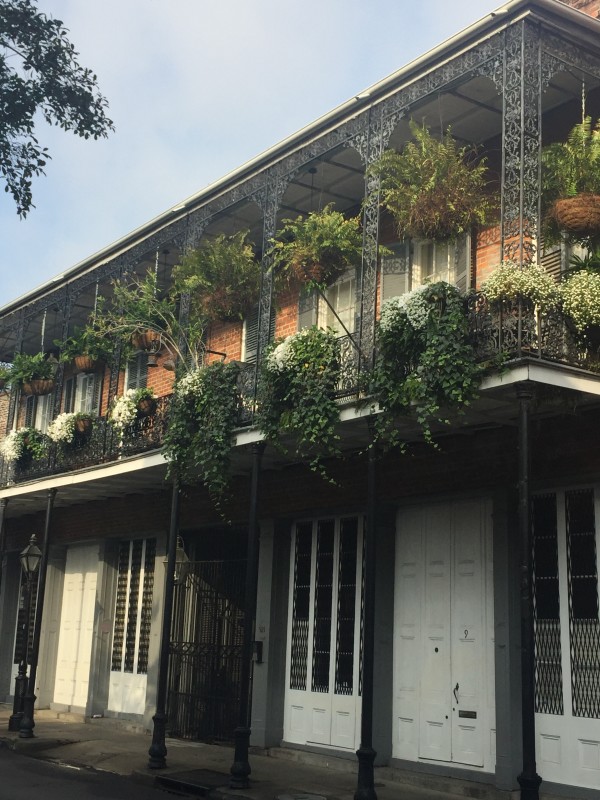 Verdant balconies perch over the busy streets.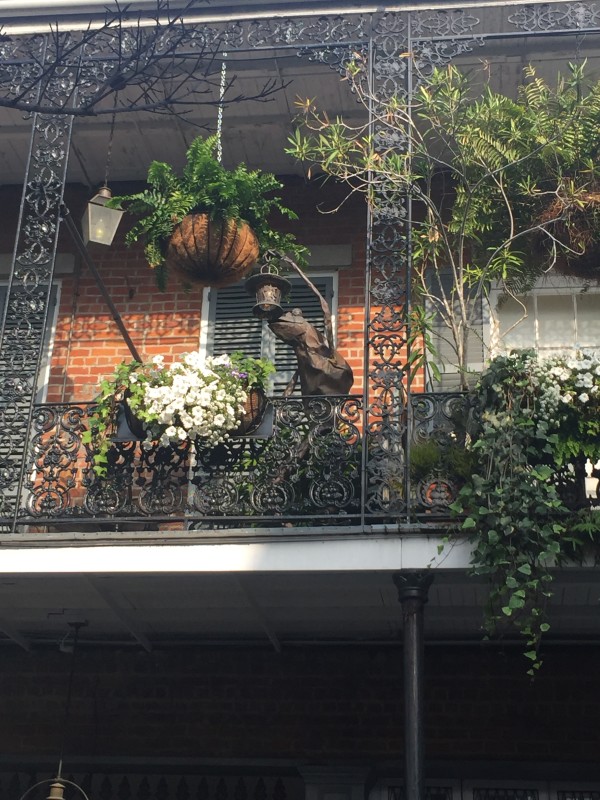 Music is heard at every hour.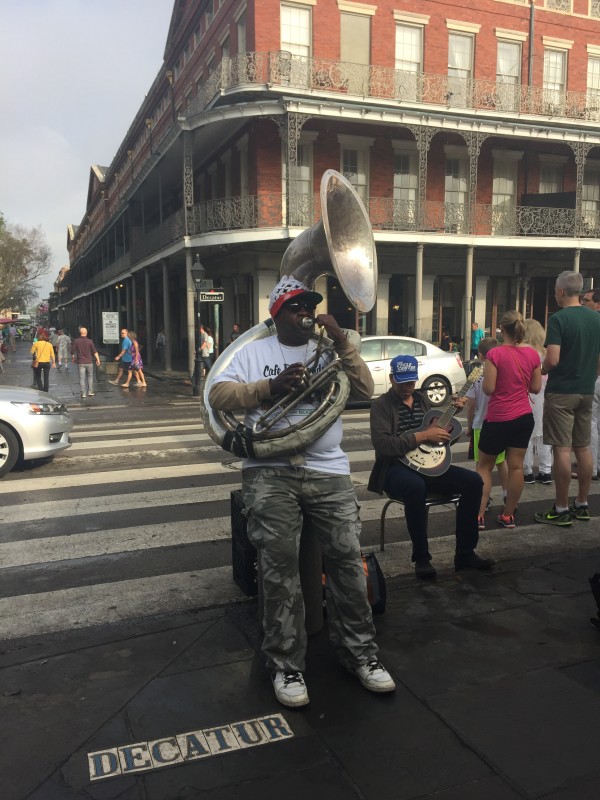 Famous old restaurants like Arnaud's, where we brunched (thanks Mom & Dad) still doing their thing.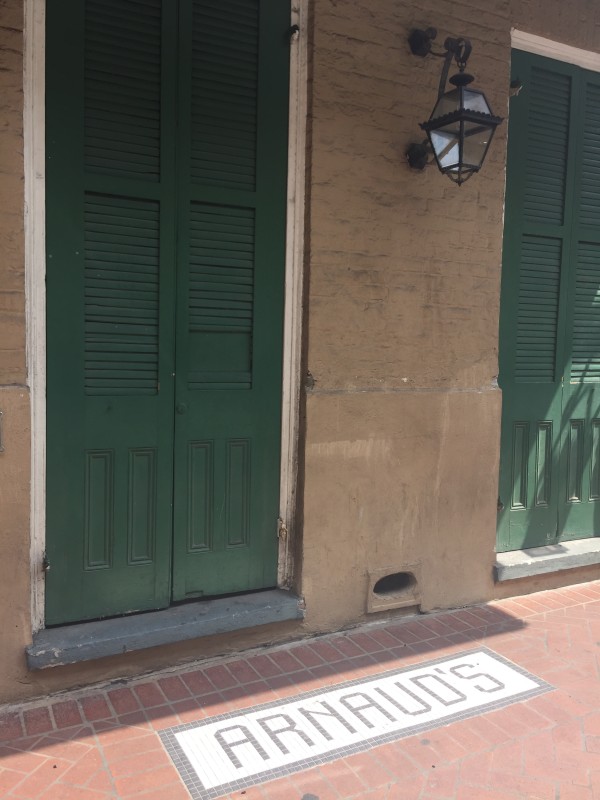 Larger than life with decor and formality–(jackets still required for men)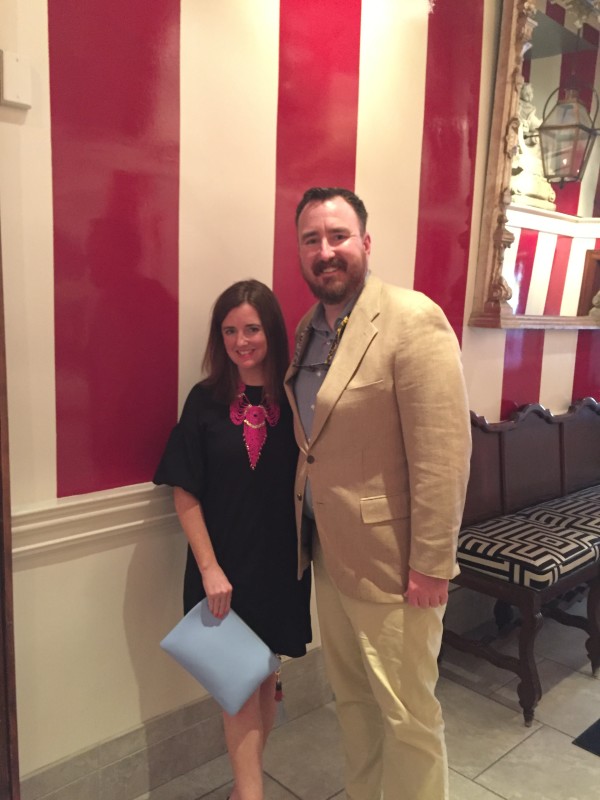 and tradition in the same breath. Oh and of course more music.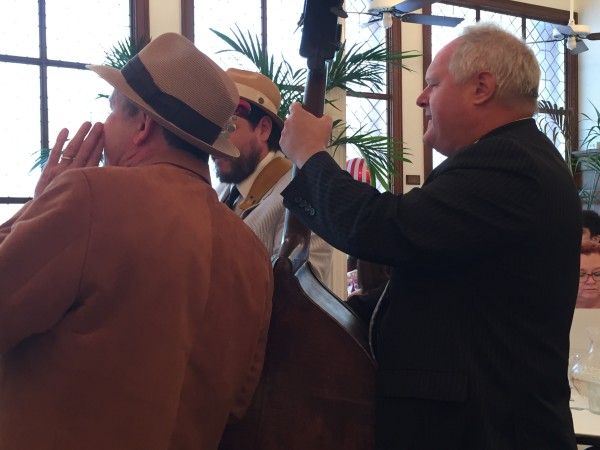 jazz of course!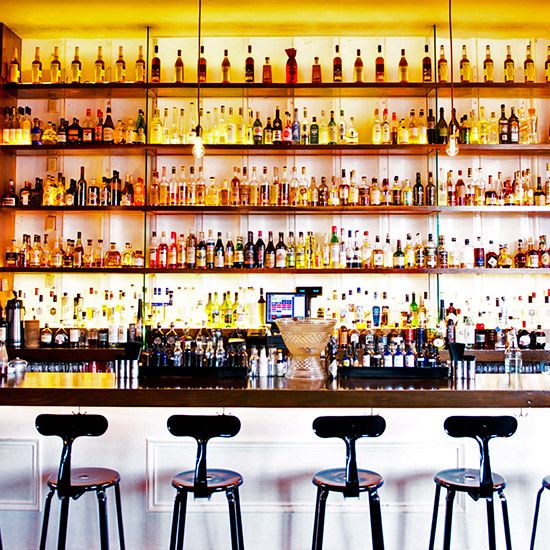 We take a quick jaunt "uptown" for a cocktail at Cure and dinner at Petite Grocery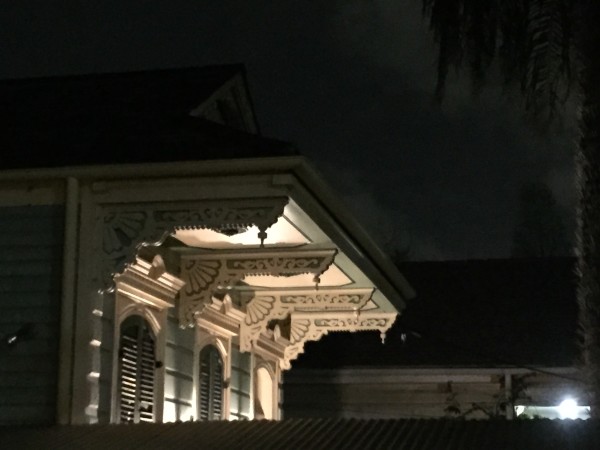 The city barely sleeps.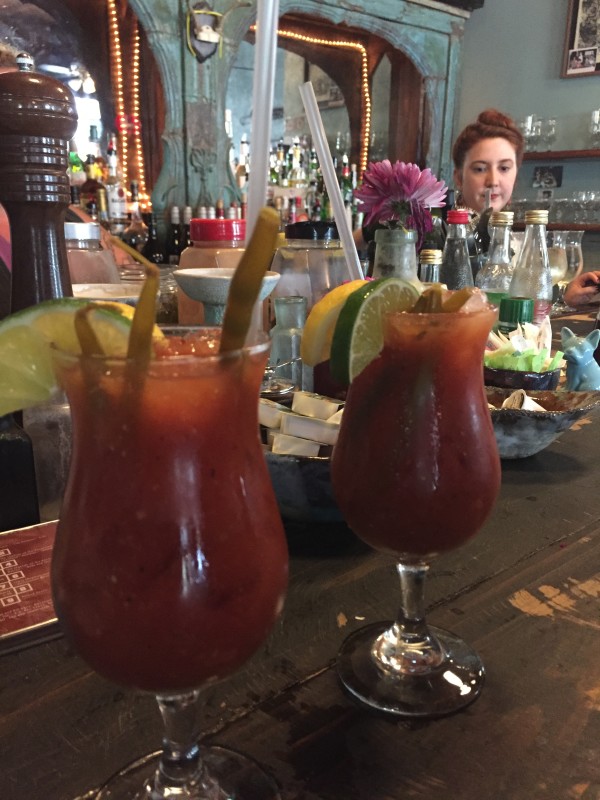 Thank heavens for Bloody Mary's with spicy beans from Horn's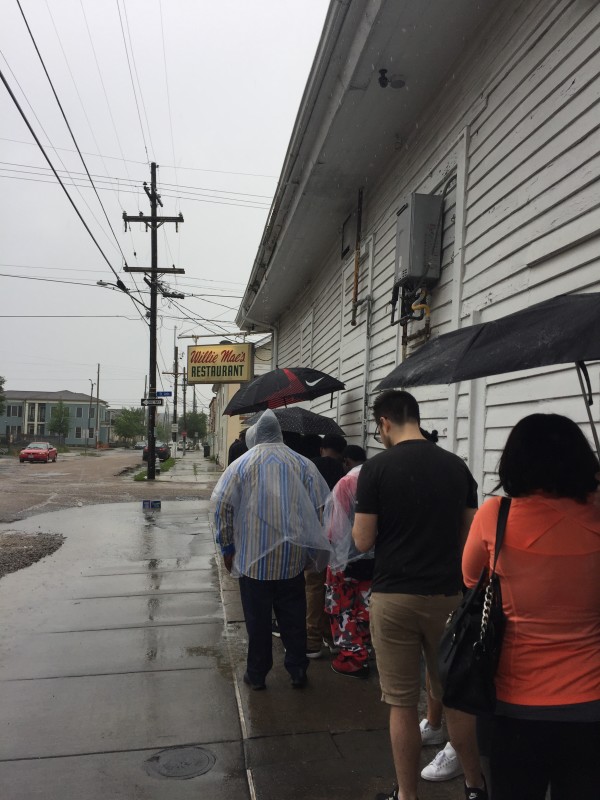 We tried for some world famous fried chicken from Willie Mae's, but the line was too long and a little too wet to wait it out.  Perhaps all for the best as this was my husband's reco. and I'm sure he would be filled with fried chicken envy, must leave some things for future visits with him.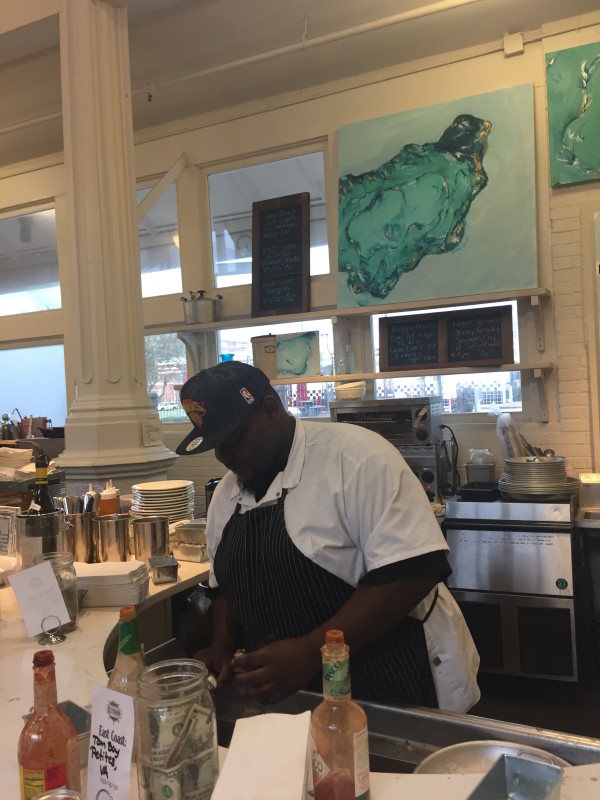 So we opted for a few charbroiled oysters from Marigny's awesome food emporium the St. Roch Market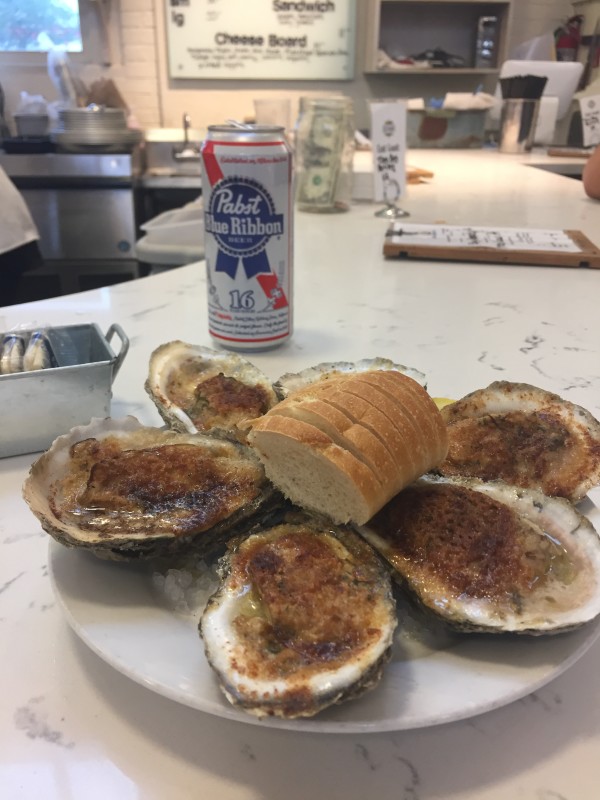 before heading home.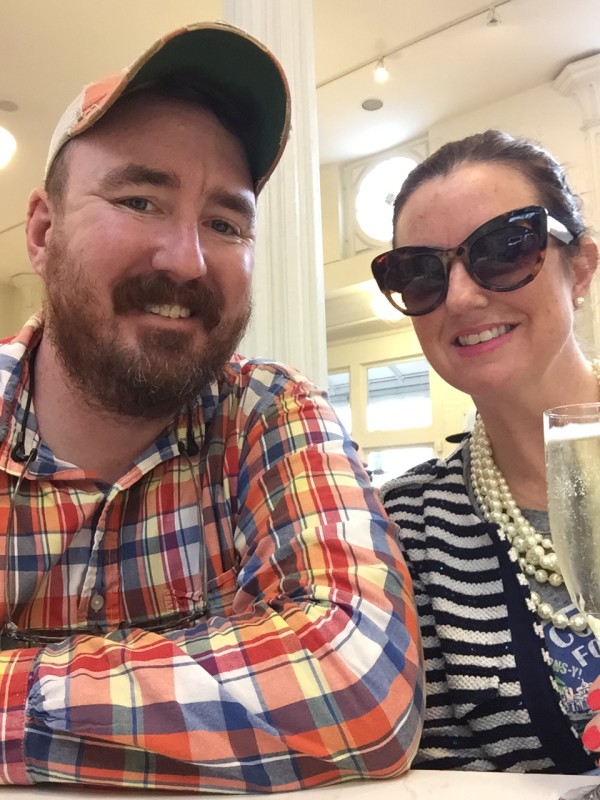 Sibling time rocks and John was an excellent host.  Can't wait for my next visit to Nola!