February 6th, 2017
When you've been in the working world over 20 years, you have a bunch of types of bosses; good ones, fair ones, maybe a terrible one or two and every once in a while, if you're lucky–you have a boss who you want to invite to your home for dinner.
I count myself as very fortunate to be in the later position right now. I really admire my boss and his wife, who is a New York Times best selling cookbook author, I may add…no pressure there!  Plus, we love throwing a dinner party every so often–especially in the winter when we all need a little something to look forward to.
First, we start the process by pondering the menu.  We peruse Food & Wine for mid-winter comfort food recipes and troll the internet for inspo.
Found it! We decide on a Cream Spinach Stuffed Beef Tenderloin (who doesn't love the idea of two dishes in one?), Crispy Herbed Potatoes and airy but tangy cheese Gougeres.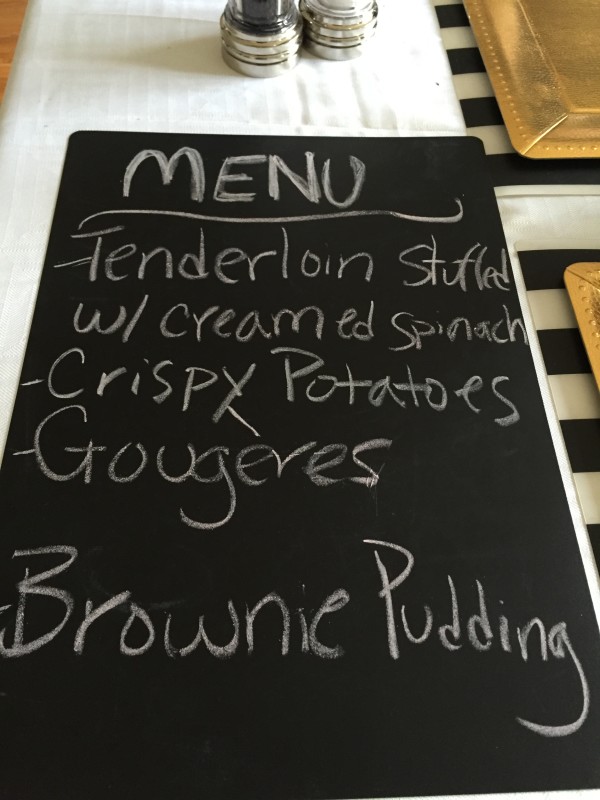 Next, it's time to consider the table/decor concept.  I typically start with a floral color palette as inspiration
Trader Joes usually has a good selection and the prices leave me feeling un-guilty when loading the cart up.  I also got the party tip from a friend that Costco has really chic $20 arrangements, naturally I had to pick up a couple. I repurposed this hollow log with 3 bright fuschia colored plants and some chartreuse colored moss as a centerpiece.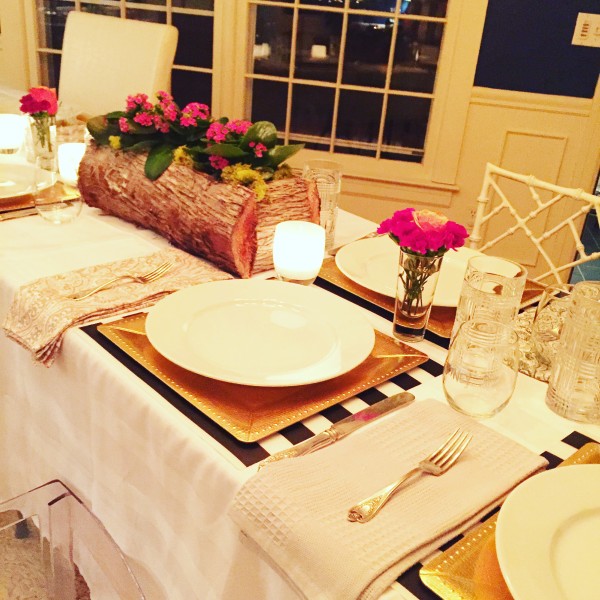 Once I've decided on the flowers, time to think about linens.  A crisp white table cloth provides a blank slate for oh so many possibilities!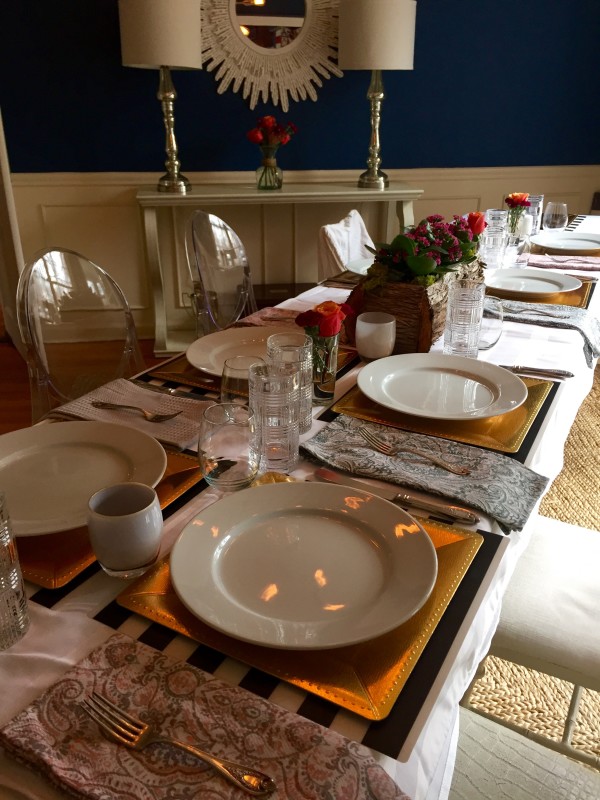 Because I never seem to find exactly what I'm looking for in "traditional napkins" without breaking the bank, or finding something too delicate, many times I look for deals on kitchen towels, which are often sold in multipacks. I don't believe in matchy matchy, so I alternate with different colors and patterns.
Remember winter is about layering and the table is no different.  I found these fun square gold leathery looking chargers for a steal of a price at TJ Maxx. The black and white striped ones beneath are from IKEA many years ago.
Now it's time to cook!  First the tenderloin:  When you go to your butcher and order a 4 pound tenderloin (butterflied), you kind of feel like a badass. Or like you're ordering the Old 96er from the movie The Great Outdoors!  But this piece of beef is for 8…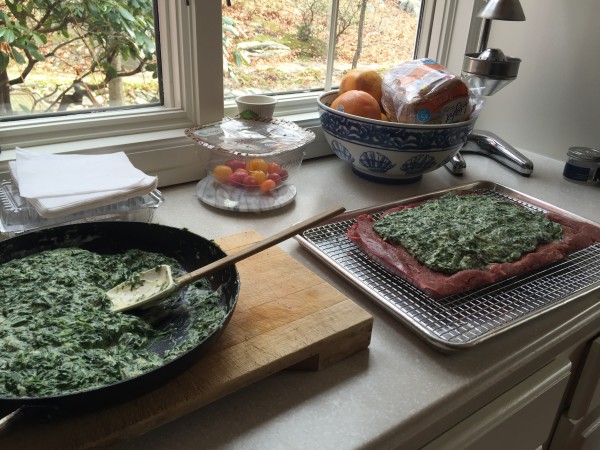 Next, the making of the creamed spinach…the dish is rich (think heavy cream and shallots), flavorful and pretty easy to make.
Then the rolling and tying, truth be known our beautiful piece of meat had some holes in it, where some of the spinach oozed out, so we patched with bacon.  Made it delicious, but not as photogenic, so this is what it looked like in the magazine.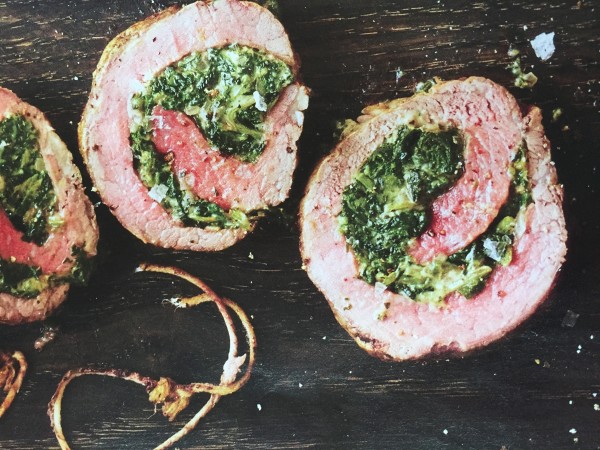 I had always admired our Nantucket neighbor's ability to make gougeres, but was slightly intimidated, as I know baking requires exactness and I'm a bit more of a cooking ad libber. At the end of the day, I figured if I couldn't try to make them on a cold winter day–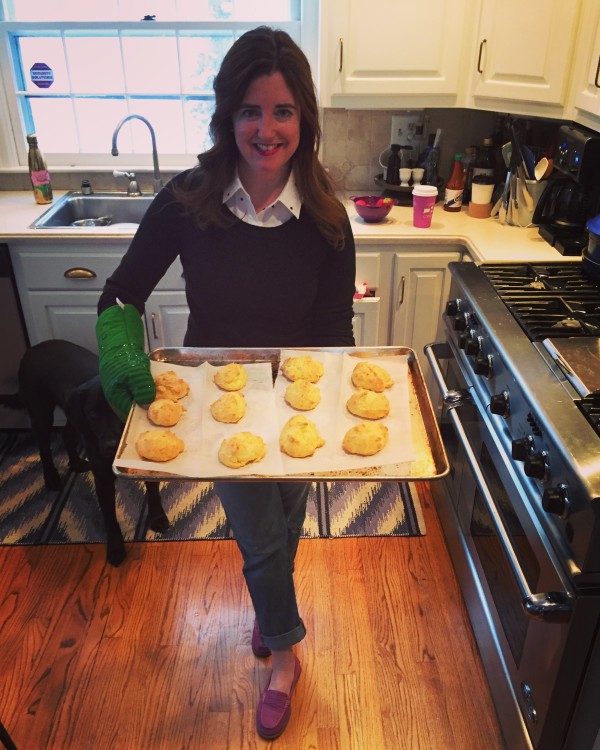 it might be hopeless.  So I gave it a shot…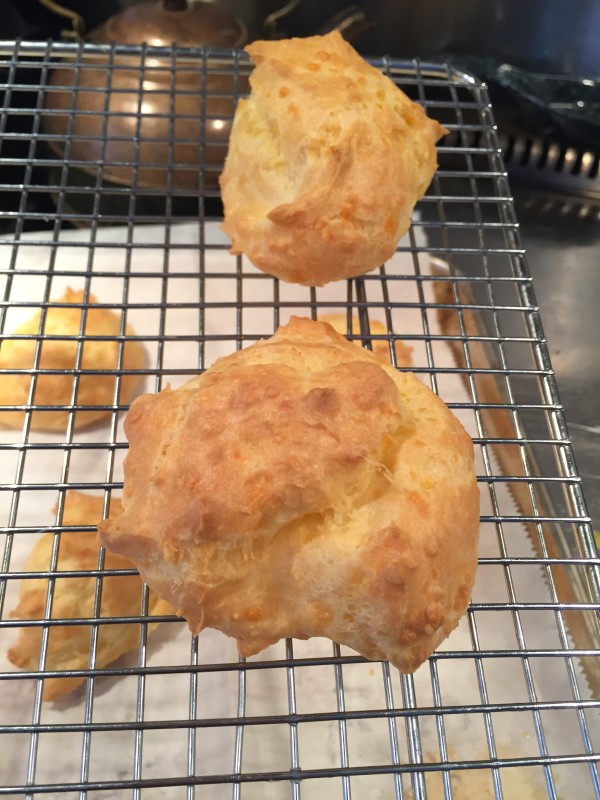 They were surprisingly straight forward to make and crowd pleasing.  Full disclosure, I made them again the next day as a snow day snack!
And finally any person having their boss over, obviously believes in the concept of "brownie points"…
So when one of our guests offered to bring Ina Garten's recipe for Brownie Pudding I gladly took her up on it.  Delicious decadence for a cold winter night.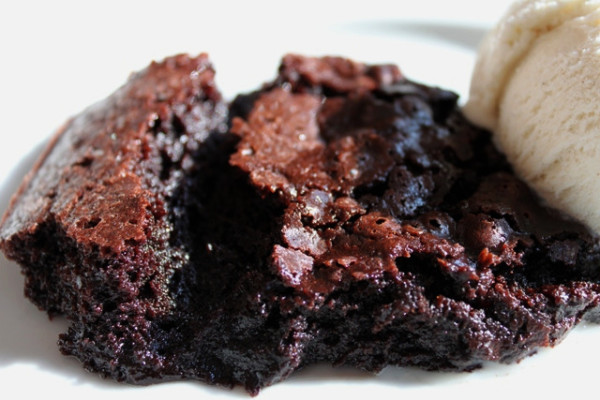 The dinner ended with lively conversation and laughter (I was a little relieved when none of my friend's revealed anything too incriminating to my boss!)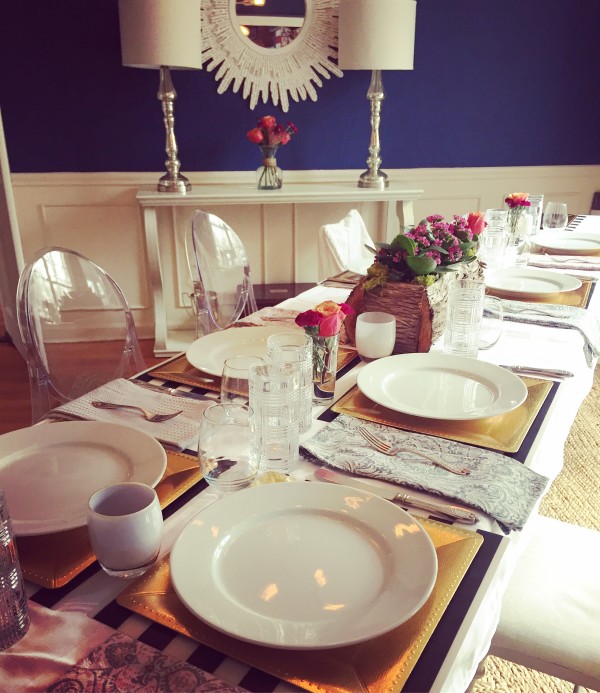 Quick aside: I have been on the hunt for the perfect round dining table for a couple years.  The linear effect was good aesthetically but a bit challenging for convo.  Cross  your fingers I find "the perfect round table" someday…and if you happen to have any leads, please share!
I kid you not, we had no food left.
The next day I recapped with my mother.  We always love swapping entertaining tips and stories.  I told her how we had NO EXTRA food leftover.  I wondered if it was our superb estimation skills or that it was a winter post-hibernation hunger that was brewing, or maybe–gasp, we didn't make enough!
She laughed and shared an episode of Mary Tyler Moore's show when Mary had her boss for dinner and she had exactly 6 portions for the 6 people who came.  Then of course her boss took an extra portion and she had to awkwardly ask him into the kitchen to put it back, then he comes back to the table puts it back and declares "he's suddenly not very hungry." Ha.
Luckily, we didn't have to ask anyone to take a smaller portion, but maybe we'll make a little extra next time;)  Rest in peace Mary Tyler Moore.
Happy Monday everyone!