January 16th, 2015
Poufs are like big pillows, but better!
I laughed when my husband got home from work yesterday he said, "Did you really buy another pouf?"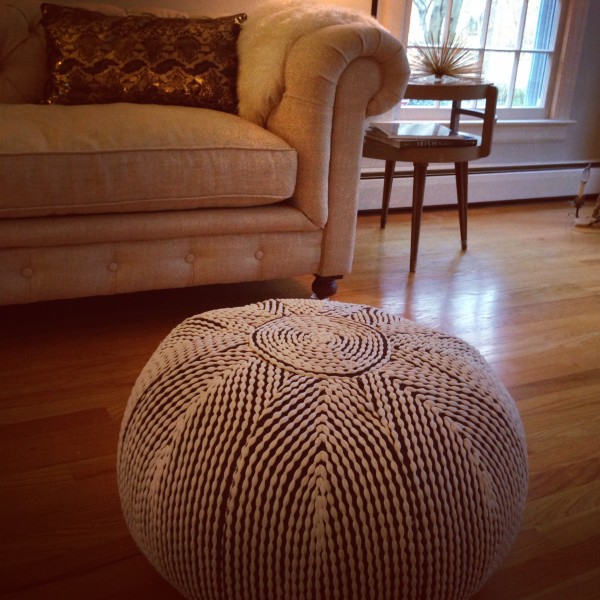 "Why, yes, I did." I responded (on clearance from Home Goods, thank you.)
This is funny for several reasons.
First the fact that he actually knows the term "pouf," (I bust him with design mags. frequently actually) and second that he can now project his annoyance of my (throw) pillow-buying to a whole new, possibly related, accessory; poufs!
I wonder if he'd be even madder if I secretly referred to him as Pouf Daddy? 🙂
Back to design here and the versatility of poufs.  They add texture and interest to a room, this one reminds me of a sea urchin.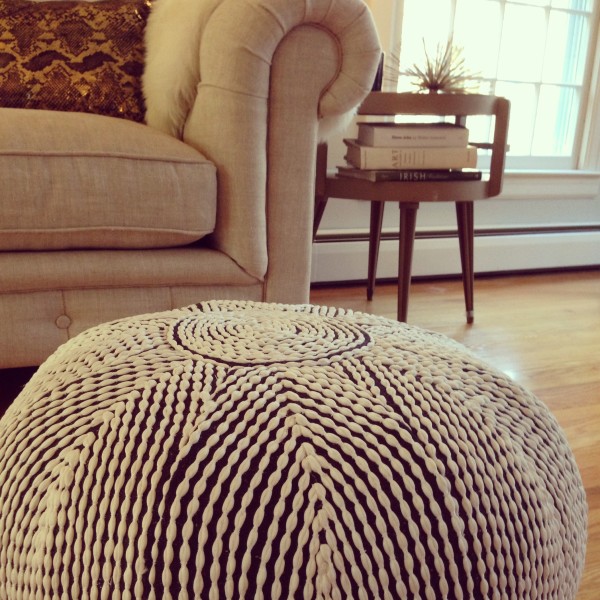 And, they are highly movable and obviously perch-able. Oh, and what do you think of that little mid-century side table I picked up at the Wilton Thrift Shop for $20 bucks?  Score!
I am home today with a sick kiddo, which may slow me down from more pouf and/or pillow buying.  Pretty soon though I'm expecting a full-on Home Goods intervention from from a loved one.   I just may investigate though via online shopping a white leather Moroccan pouf sibling and an over-sized coffee table to stash them both under…
So all, have a great MLK weekend!  Getting more stuff this weekend via. relatives' hand-me-downs, stay tuned for the remixing of new and old!