February 18th, 2014
Projects like this make me smile.   Have you ever installed a salon-style gallery of art work in your home?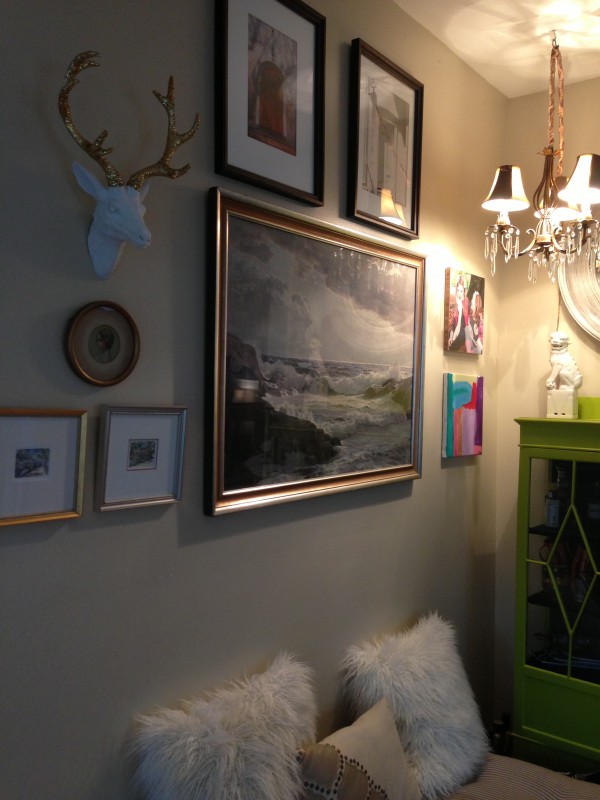 This kind of installation is the perfect form of assembly and expression for me, because I love changing things and not being held accountable to "rules in hanging art."  I'd say the only "rules" are to cluster items that speak to you–even if that just means you love it because: it's beautiful…or quirky…or appeals to you on some inexplicable level.  You're the boss here.  You can choose the distance, spacing, and basic rhyme and reason–it only needs to make sense to you.
Let me tell you about about this display, I recently created, which is intended as a loose collage of our life. I'll start with the focal point, otherwise known as a treasured piece of art inherited from my grandmother.   I have to admit that starting with this piece and using it as an anchor helped to build the vision of this project.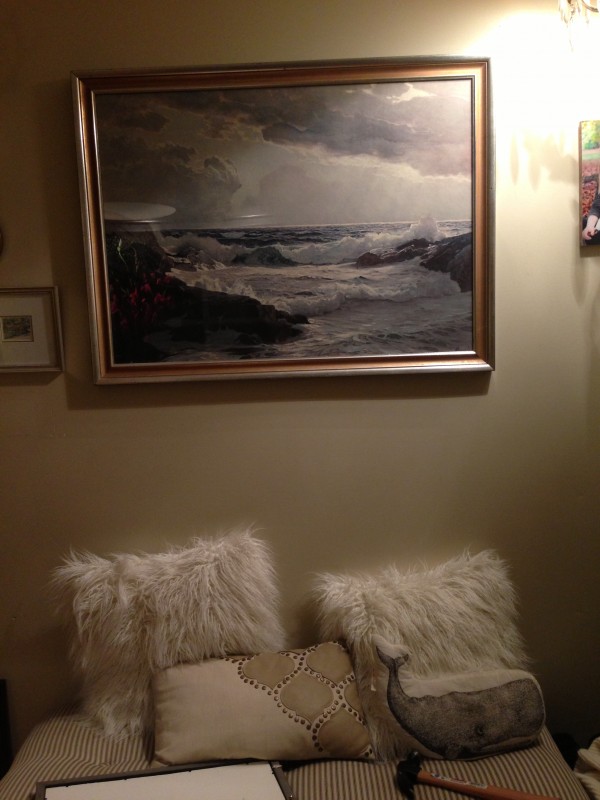 During the last ten or so years of my grandmother's life, she would always ask me (and my whole family) what we wanted in her house after she was gone. The conversation always made me deeply uncomfortable and sad, as I could never really imagine her as "gone."  All I wanted was for her to stick around longer. And though there were many lovely things in her home,  this piece of art was the only thing I ever admitted I wanted, and every day when I look at it, I think of her. I imagine it proudly hanging over her mantle in her warm, but formal living room. It's amazing how transporting art can be.  I could stare at this image of the blustery and brooding ocean for hours, contemplating many things.  To me this is truly the pièce de ré·sis·tance.
Anyhoo, back to the "gallery."  The small round cameo, a gift from my Mom, is an antique. I love the size, scale, daintiness and patina of this paining.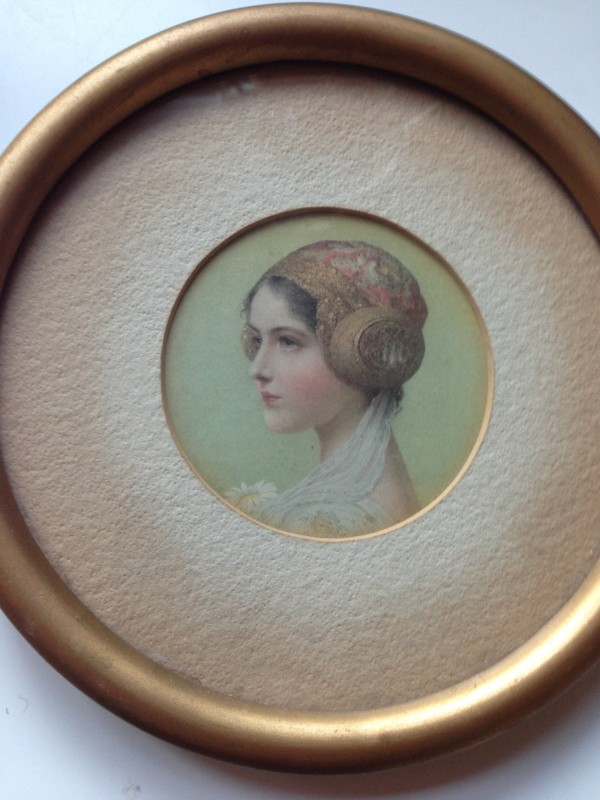 Above this sweet little lady hangs glitter deer antlers, which were a Christmas gift from my deer (ha! couldn't resist the pun) husband.  Below hang the pair of teeny original watercolors, a gift from my in-laws are by Nantucket artist William Welsh.  They depict Siasconset cottages, my someday summer dream retreat.
On top are two photographs of Nantucket, also gifts from R&D—one of the front doors of St. Mary's Church where we got married (almost 12 years ago, wow time flies!).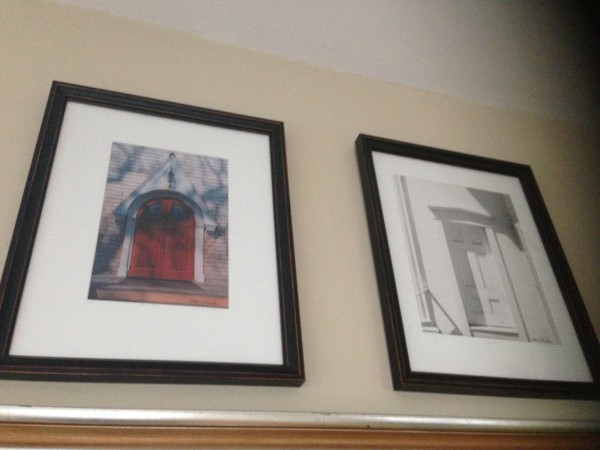 The other of The Nantucket Atheneum.  Remember, you can always cut out silhouettes of the pieces you are trying to test the placement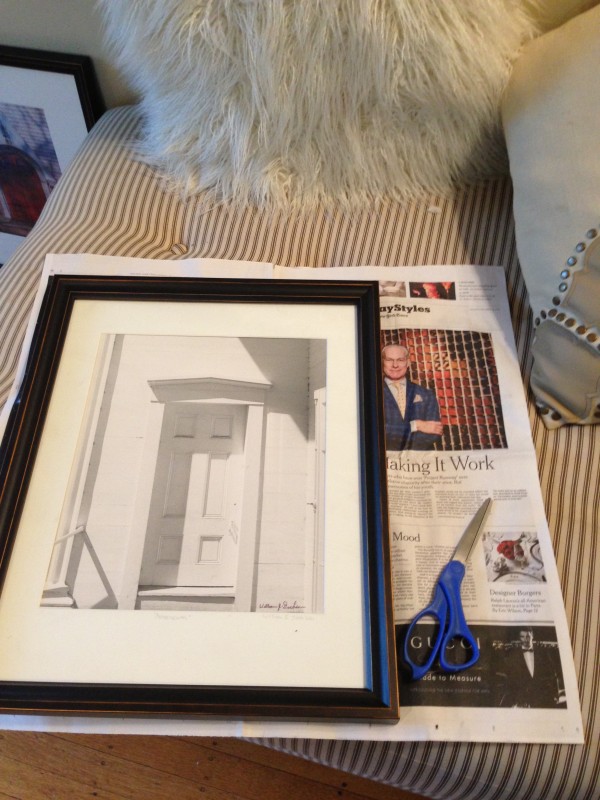 with newspaper and tape to the wall before making any "permanent"(is there such a thing?) choices/selections.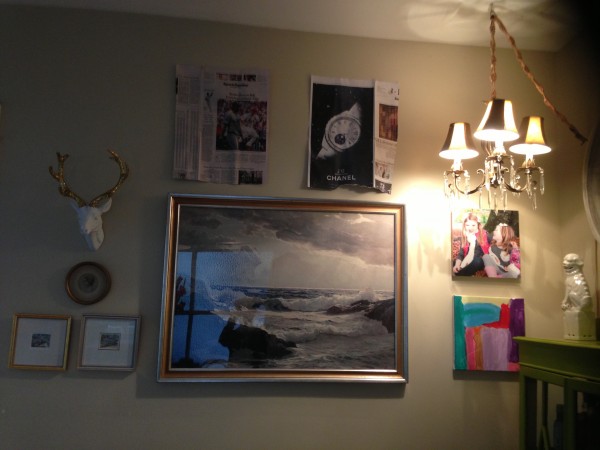 To the right, the photo mounted on a bamboo board—my greatest work of art yet—our daughters.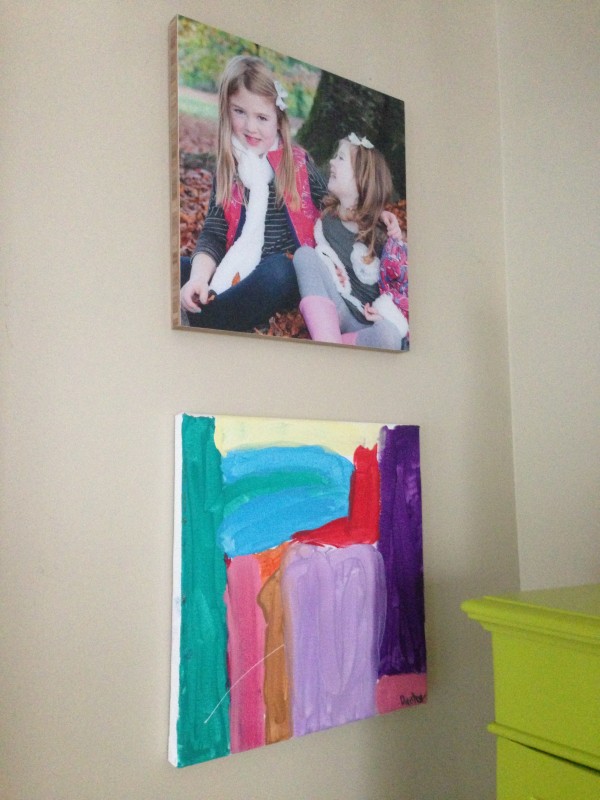 And finally the bright Modern acrylic original canvas painted by my oldest is another treasure with just the right pop of color.
You too can create your own salon-style gallery. I know ours will grow and evolve as we do.