October 16th, 2013
Welcome to a tale of a Craftsman renovation.  This is a picture of our humble abode (complete with Labrador guard dog.) BEFORE.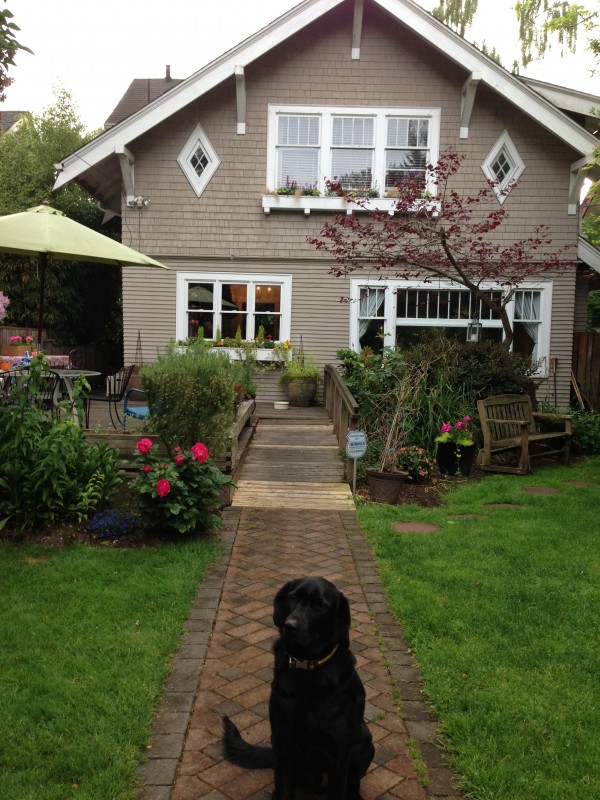 When we bought this home about 7 years ago, the original front of the home had been completely closed off as it faces what has now become a fairly well traveled road.  Now it is the back of our home (actually a bathroom) and faces a ginormous laurel privacy hedge, so we decided to embark upon a renovation to redirect the front entrance and make it look like it was always designed in that manner.  While we were living there, we entered via the side of the house where the kitchen is; not my favorite.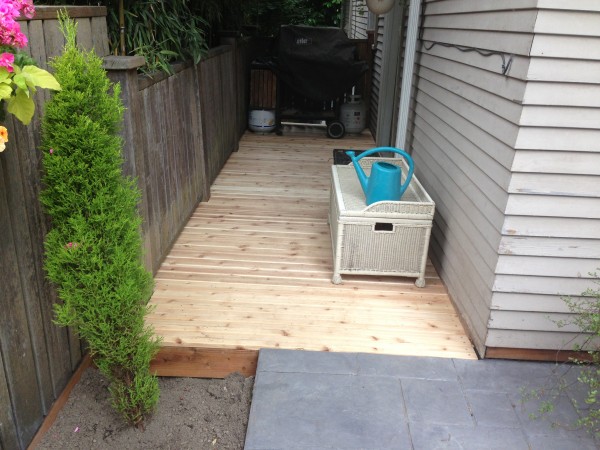 We were ready to make a change and the process was full of excitement, surprises and what we thought was an eventual good outcome/transformation.  Check it out…
You see,  there is a reason why This Old House was a popular (OK, we are talking no American Idol, here, but still, House-Geeks such as myself eat this stuff up with a spoon) television show.  This 100+ year old home, kept things interesting. So here we begin the journey of our Craftsman transformation, complete with "befores, durings  and afters."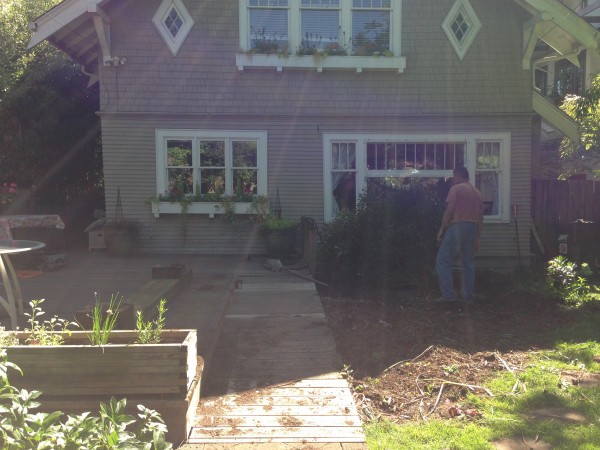 In the planning stages, we met with several contractors and landscape designers.  And you know that feeling; when you know, you know. We had found our guy.  If you are local, and really, really nice, I will share his name, as we have many more projects in the pipeline with him:) Anyhoo, after we agreed upon the plans that were drawn up (it was surprisingly intuitive), one day I came home at lunch to the established flower bed in front of our dining room window, gone and thus, the start to the demolition.  Luckily we were able to save and relocate a few beautiful plants.  It's amazing how quickly you can tear something down.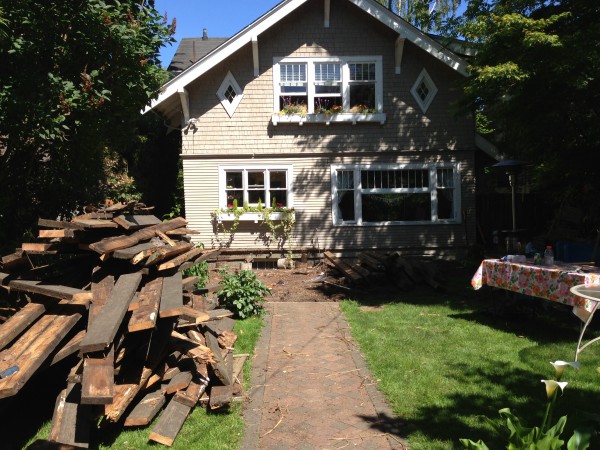 Our goal combined adding a "new" central entrance with a cohesive landscaping plan.  Landscaping was very important, as our yard and garden was one of our favorite features of our home.  But we had a rotting, saturated deck to address (with odd ramps and railings), un-level ground, disconnected parts such as a brick/paver path and of course the challenge of how to create an entrance that looks as though it has always been there.  Easy enough, right?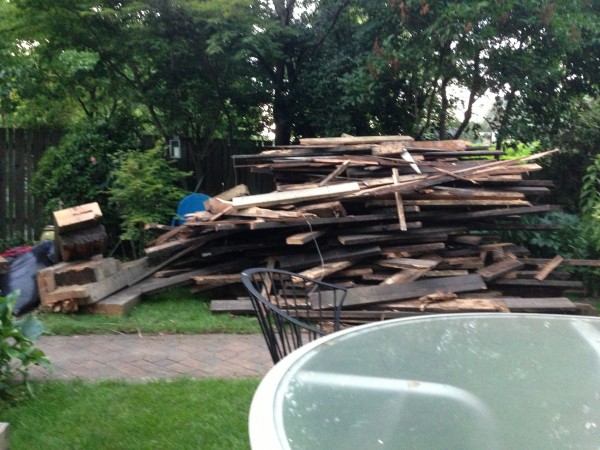 Any of you who have been through it know, construction is a mess.  A temporary one though.  Our landscape expert leveled the ground and drew the outline of what would soon become a pathway to the entrance and one to the patio.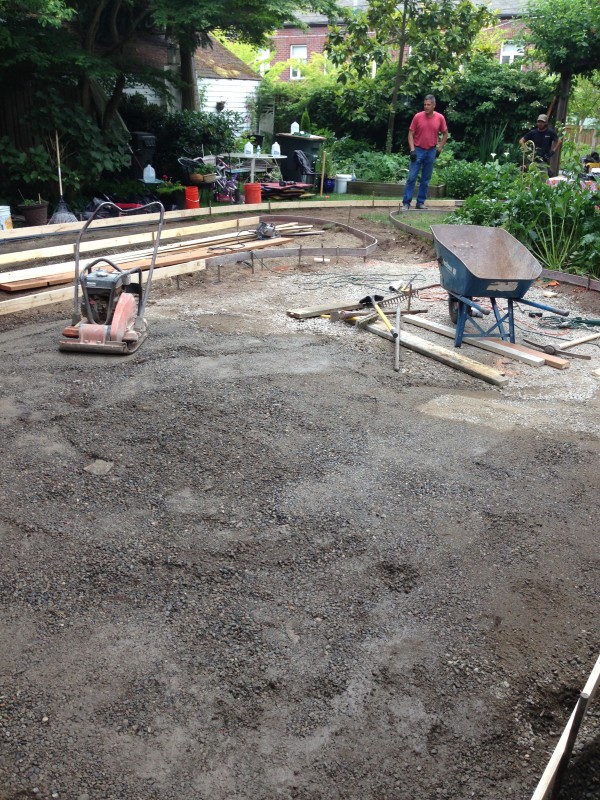 I'm not going to lie, it initially looked like sooo much hard-scape, I panicked a little.  But we were basically at the point of no return and this seemed like the best long term maintenance approach (rain and Seattle, nuf said).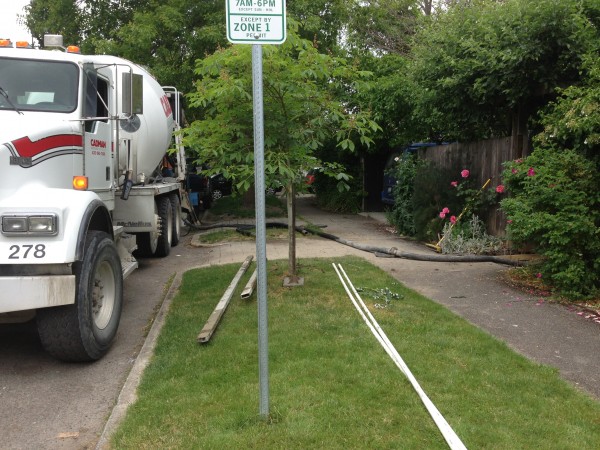 Our  kids loved the concrete truck and were obsessed with the whole project for that matter.
They say that concrete is like marriage, it's a commitment!  But this one required nearly perfect conditions, i.e. no rain in the forecast for days.  Not an easy feat for the climate that we now call home.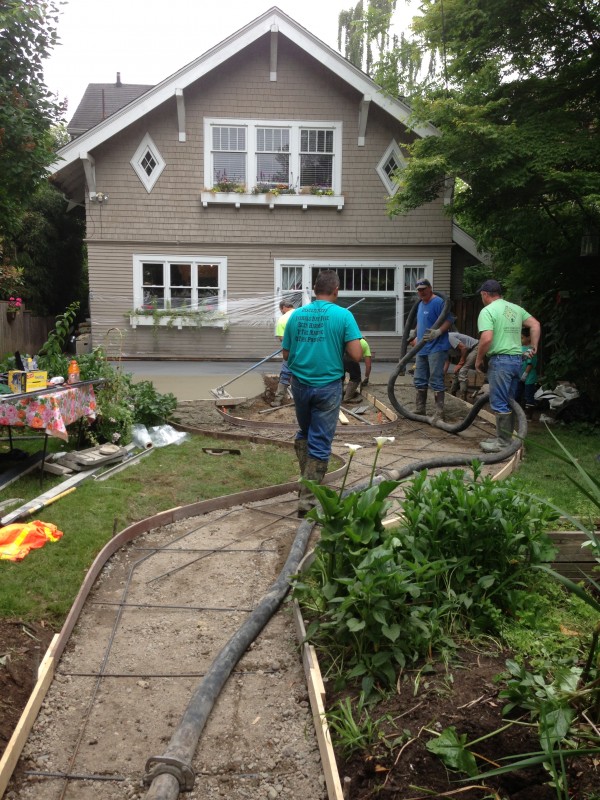 A bunch of big fellows (actually more like rock star concrete workers) descended upon my garden, surprisingly working like nimble elves–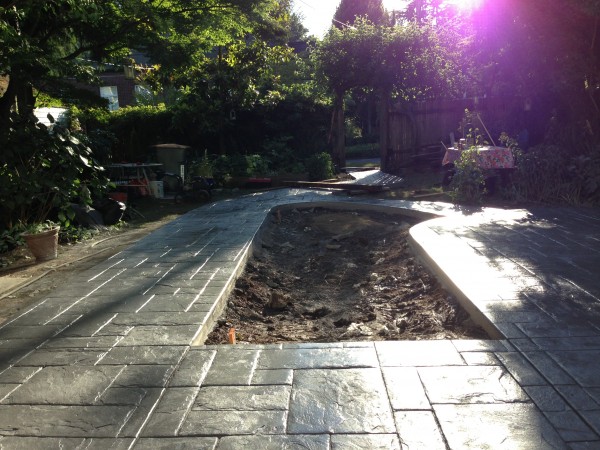 And after a full days work, we ended up with this beautiful ascher cut (as they call it) stamped patio.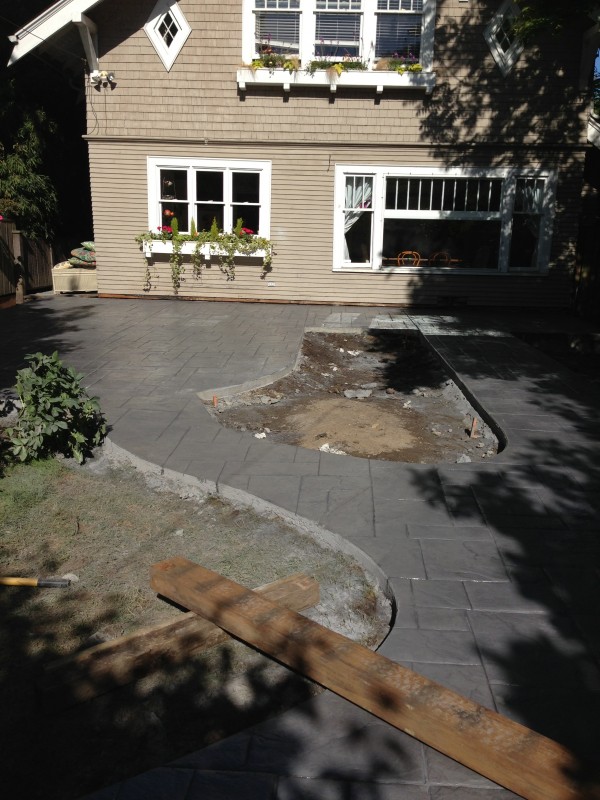 Access to/fro the house was pretty dicey there for a bit while the concrete was setting, but the deed was done. And we ended up with so much more useable space, that I almost danced a jig.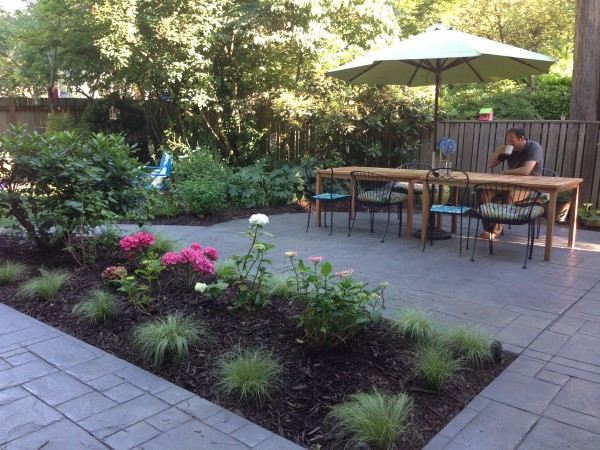 We just needed a few DIY trips to local nurseries to fill the surrounding area with color and texture.
We selected hearty pink & white hydrangeas and soft grasses, that got "big" pretty quickly.  We also moved a big rhodi, as an anchor for the area.  On the other side a row of boxwoods, roses and a dogwood.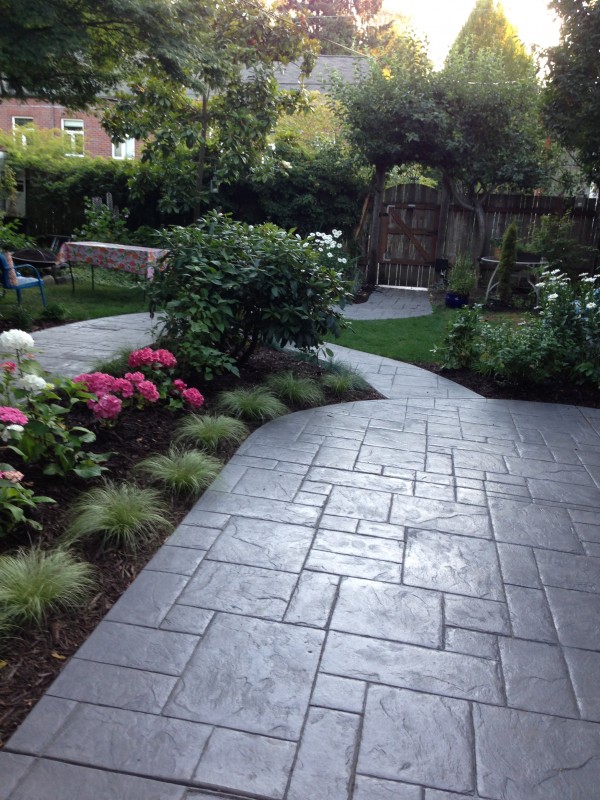 We treated ourselves to upgraded (from our 10+ year old Costco furniture) teak tables that can seat at least 10 people with summertime dinner/garden parties in mind.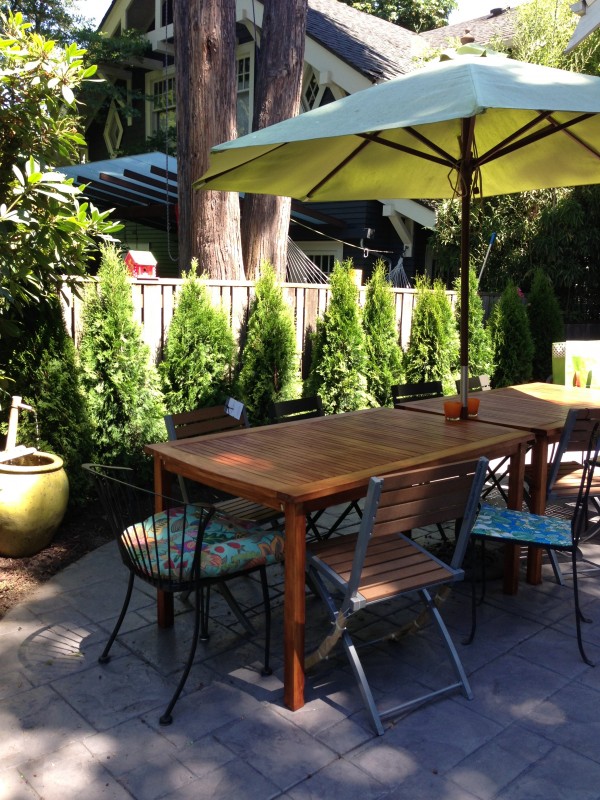 We added a row of emerald greens along the fence and a new fresh white, long rectangular umbrella.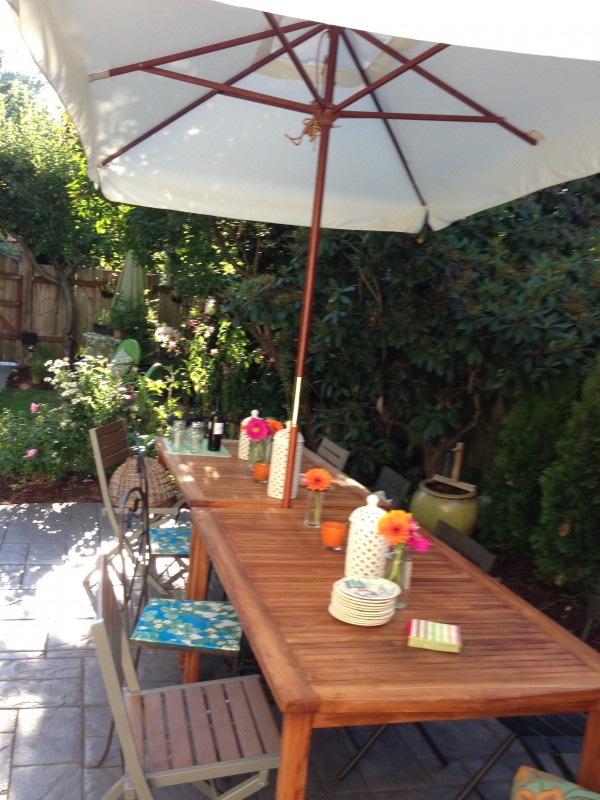 Enjoying the patio with some light entertaining for most of the summer, we waited for the custom doors to arrive and the second phase of the project to begin.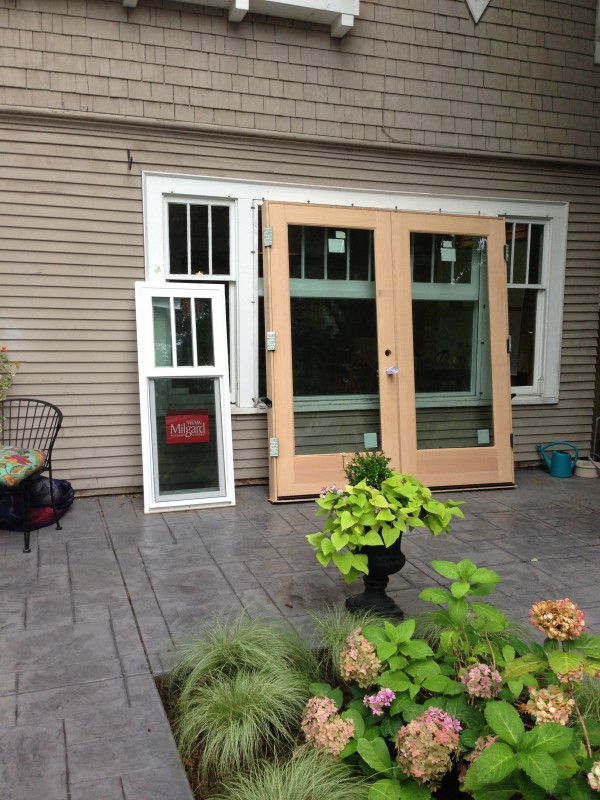 And then one day they came… and it was go time.  The original windows were removed (we kept one wide and cool accent window and intend to use it for a future project, stay tuned…) and new french doors and windows were installed.  The contractor installed them in one long day.  Phew, I was glad to not have to go to bed with a huge hole in the house.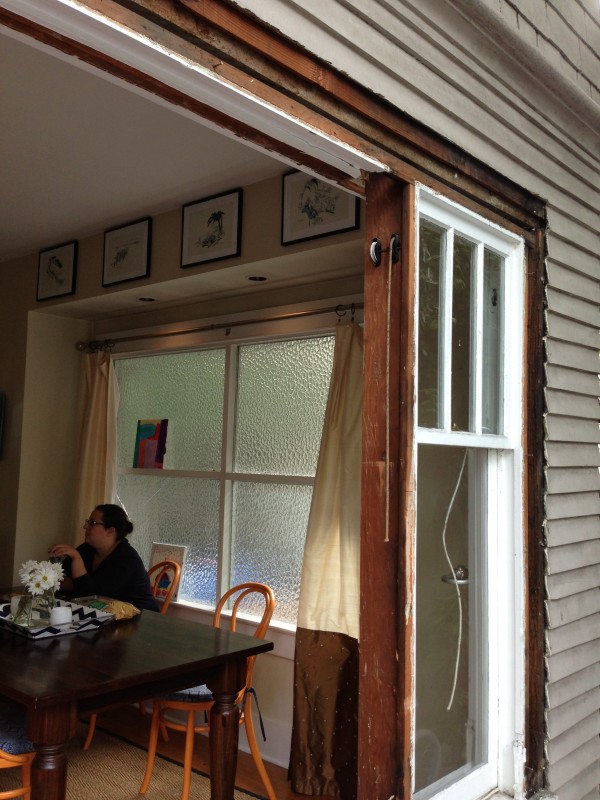 See what I mean about old houses?  Aren't those pulleys from the original windows neat? I've saved them (pulleys and weights, that is), for Lord knows what, but they are pretty cool.   Our new windows and doors actually open unlike their painted shut predecessors, so I think that's neat too.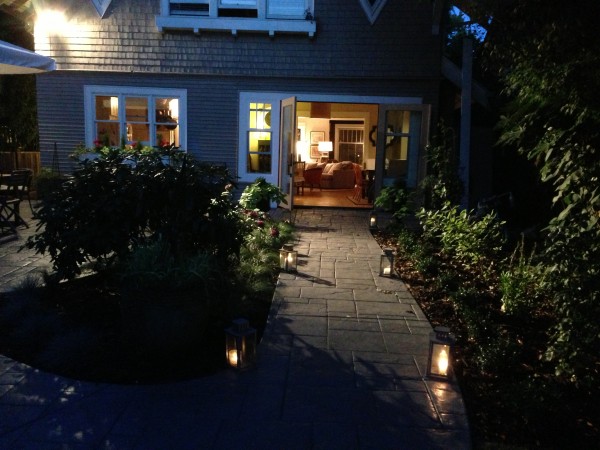 It felt as though in one clean swoop (OK, not quite) we opened up the house. There was definitely a liberation moment there. 
But the work was not done.  The entrance needed to be erected.  My favorite aspect of this particular design is that the pitch of the new structure would exactly mirror that of the original roof line, and the eaves would look similar as well as the boarding under the eaves.  That was in my opinion, our best shot at making it look as though it had always been that way.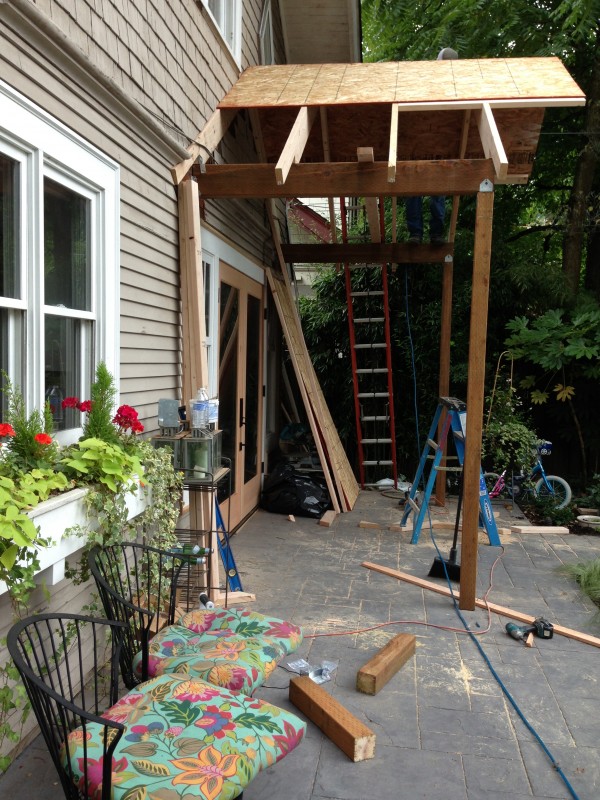 So up the structure went.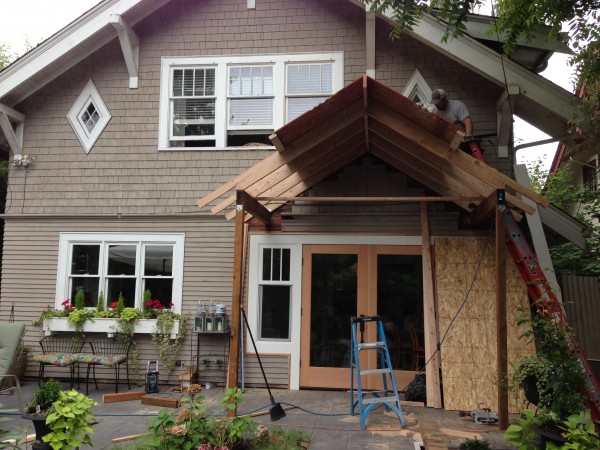 because "cover" isn't really a negotiable in Seattle.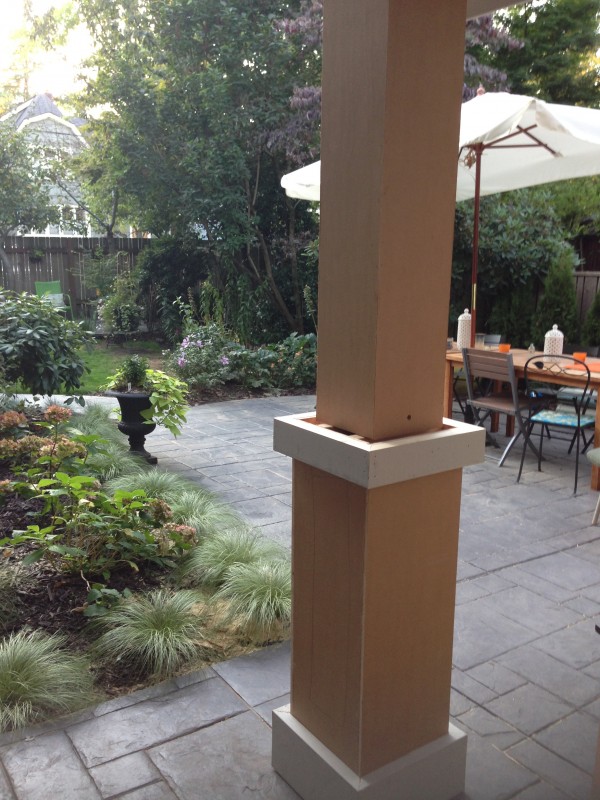 The Craftsmen details were created and layered for architectural interest and integrity–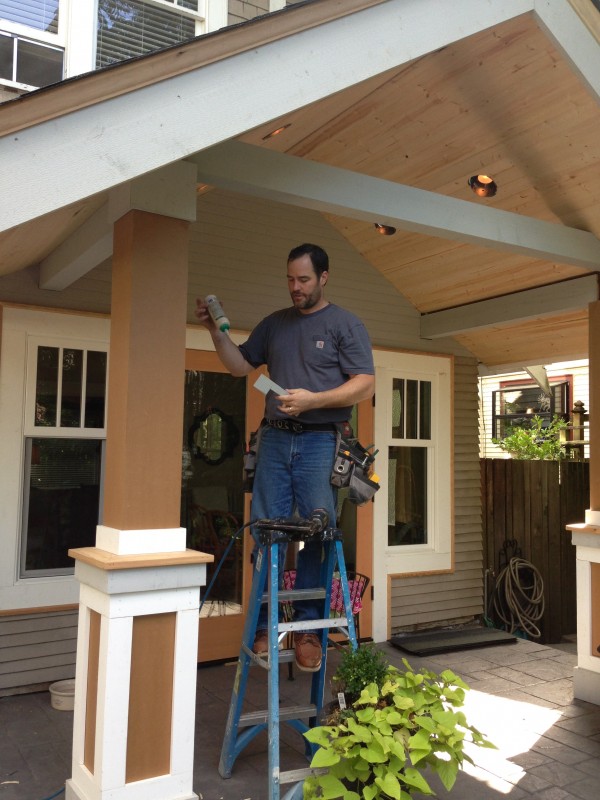 as the work was completed diligently and with respect to the original era.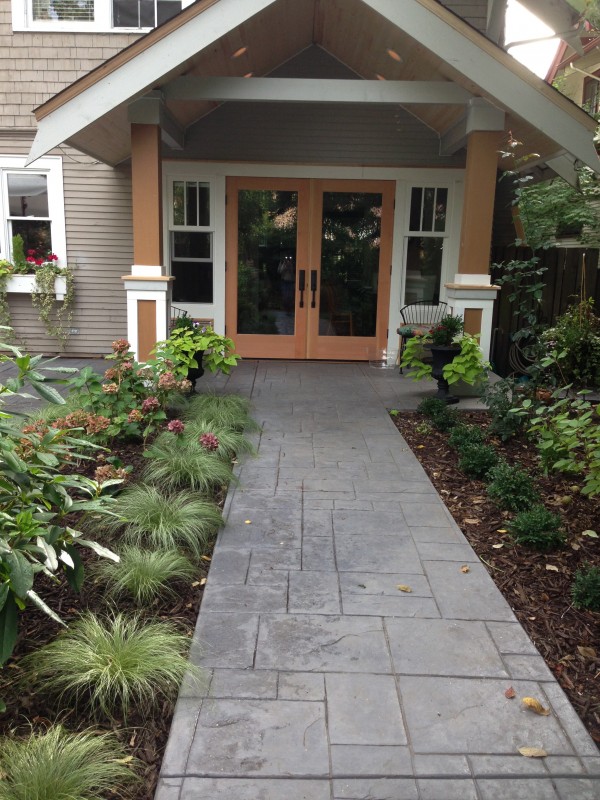 And there was that moment…the construction was complete.  We were relieved and happy, but the work was not yet done.  The house needed to be painted, and now we were really racing against mother nature's clock.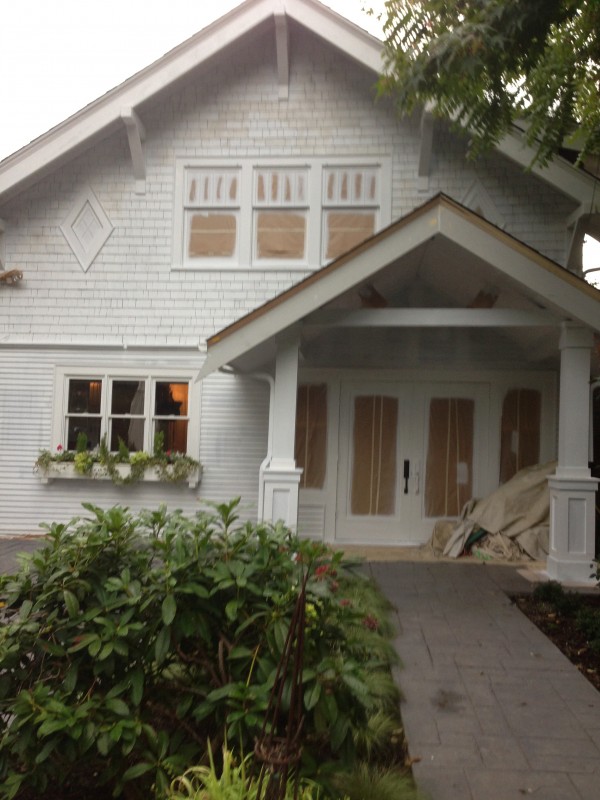 I dreamed all summer long about colors, and consulted friends and designers about their color opinions.  I thought about going bright, like white (this is only primer however above, don't get too excited) yellow or something bold with a statement door color.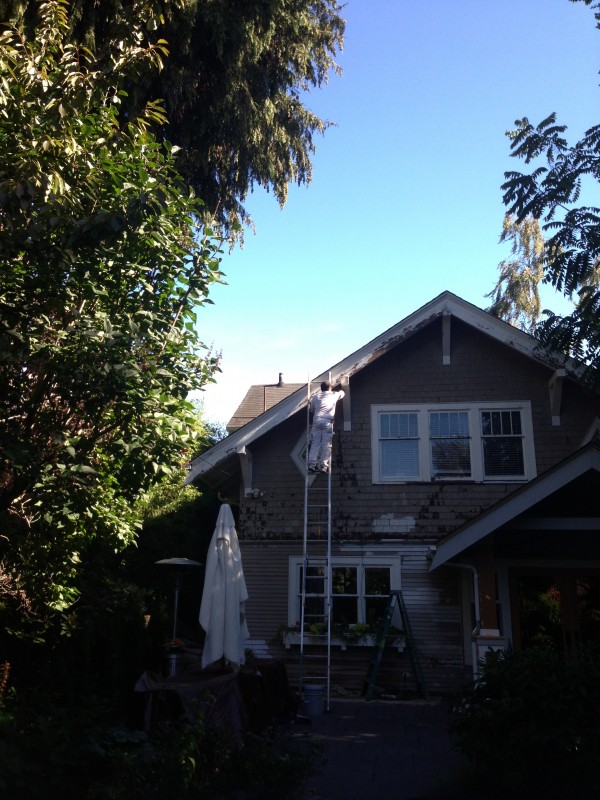 But as the painters worked against the autumnal clock, I ultimately selected a bright "safe" grey with shiny black doors.  Sherwin Williams "Versatile Grey" #6072 to be exact.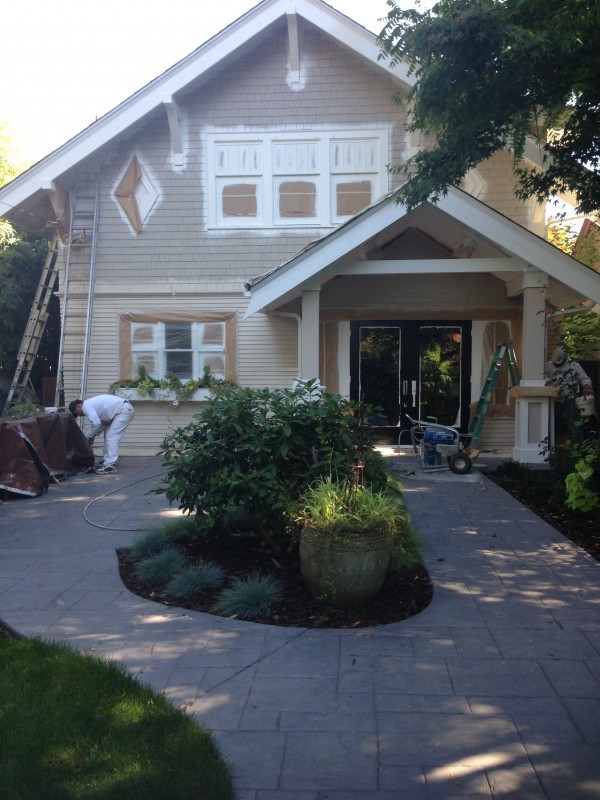 And last week the painter's tape came off–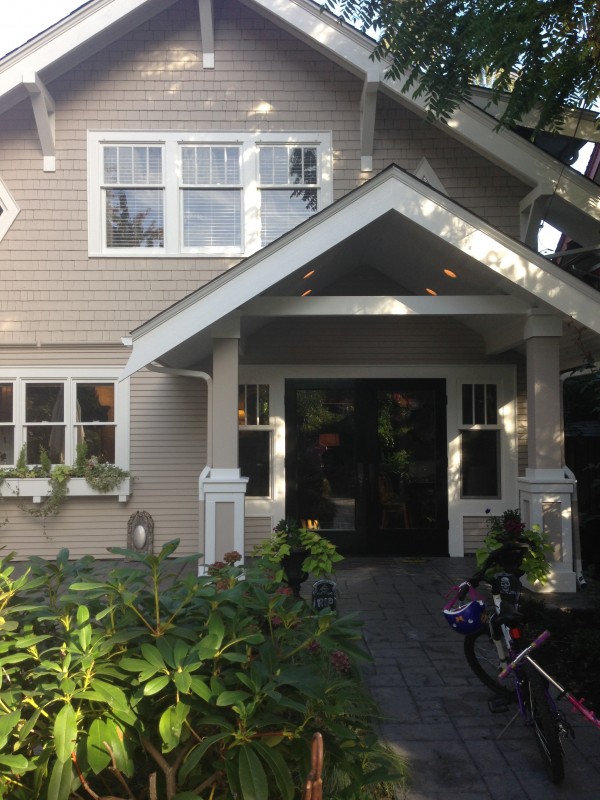 and now she's done.  What do you think?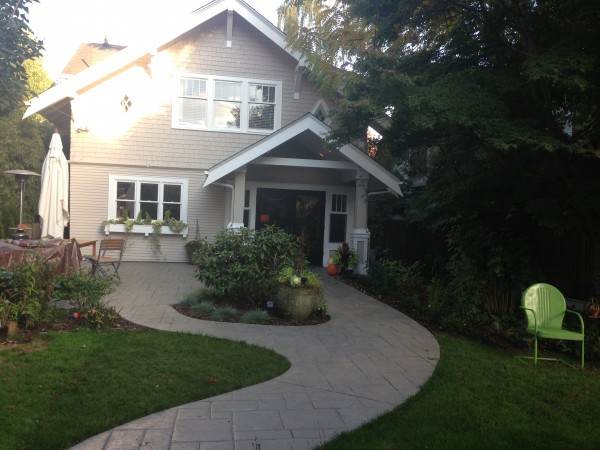 Official, AFTER.