April 23rd, 2013
Food is a big priority in our family. Foraging for it, prepping it, cooking it, eating it, talking about it…it's what we do.
And when re-united with family members from around the country, oftentimes food does what words can't–gradually reconnecting us, bite by bite.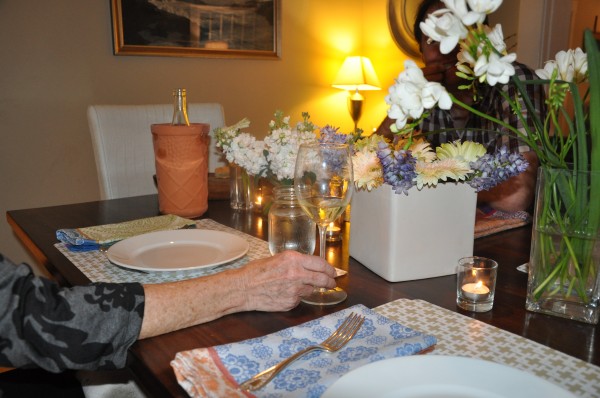 So we start by setting the table (quick sidebar: aren't those napkins pretty?  A gift from my Mom, isn't it sweet that she still feels the need to give a hostess gift on visits?), and this one was lined by many white flowers to symbolize "purity."
This weekend was celebratory in nature, our daughter's First Communion, which was so beautiful and lovely and I really must stop for a moment to cherish our abundant blessings…Though given the week's events with the tragedies in Boston and Texas (God bless all the victims, especially little Martin who also recently celebrated his First Communion, was only eight years old,  the youngest and most innocent of victims.  It is utterly chilling thinking of his family enduring his unfathomable loss) and overall complexities of life, frankly, nothing short of comfort food was in order.
First on the list of northwestern sustenance and comfort, is salmon.  Luckily we are located in one of the the world's prime distribution spots for some of the freshest and best product in this category.
Prepared simply with olive oil, lemon, salt and pepper and placed upon foil onto a very hot grill (500+degrees).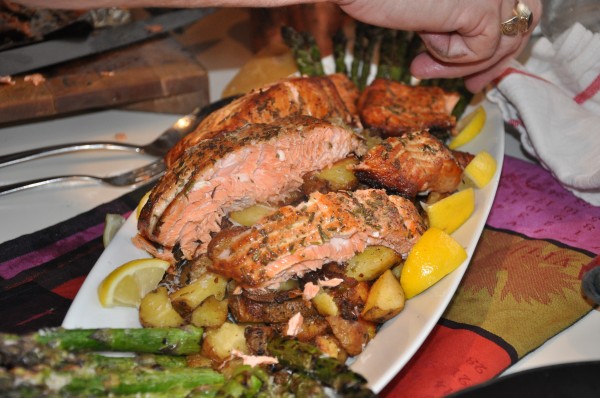 Will you just look at that golden crust? Alongside crispy rosemary potatoes…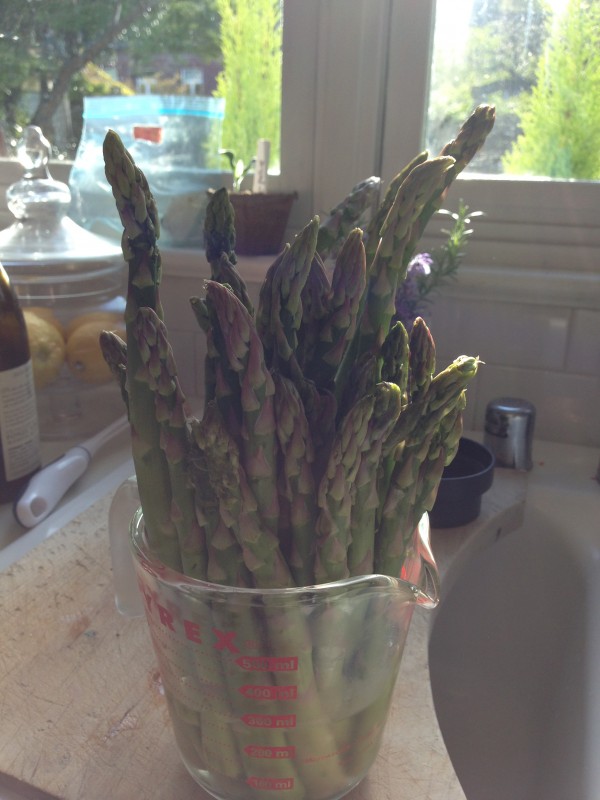 and Washington asparagus (prepared oh so simply again, olive oil, pepper, salt, foil, grill–then topped with fresh finely shredded Parmesan to garnish) rounded out the food groups for an artful presentation served from a single platter.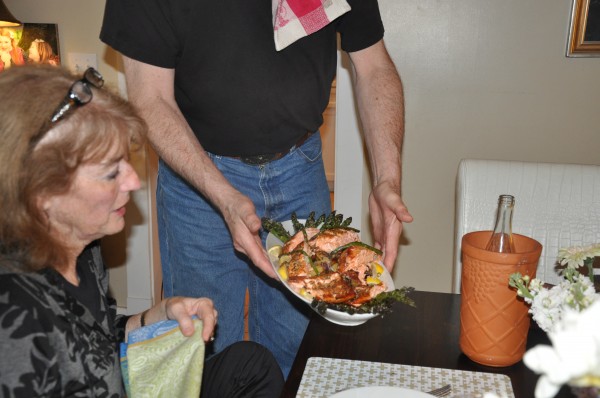 It was a splendid display of locally sourced goodness, enjoyed around the table of loved ones.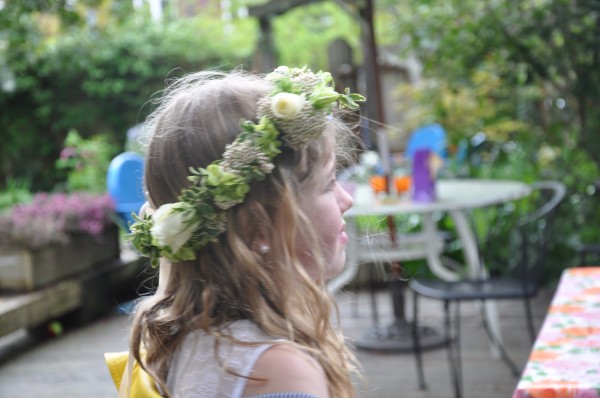 And then First Communion happened and again the moment of fortifying oneself with "bread" became the event we centered ourselves around.  So we reflected and rejoiced and well, kind of thought about our next meal…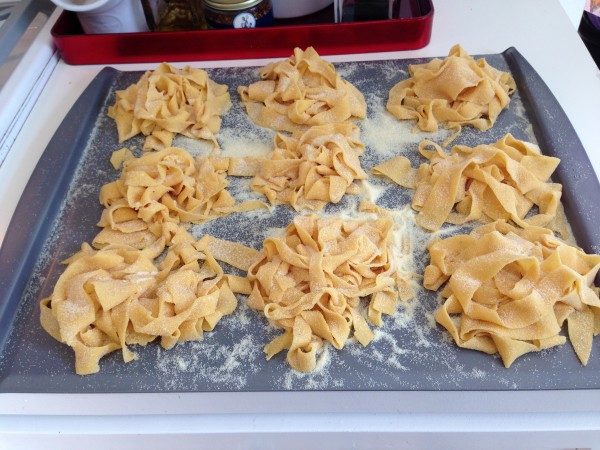 We decided an appropriate mid-day activity for a cold and rainy Sunday would be hand-making Pappardelle with local fungi (a.k.a. homemade pasta with locally sourced mushrooms)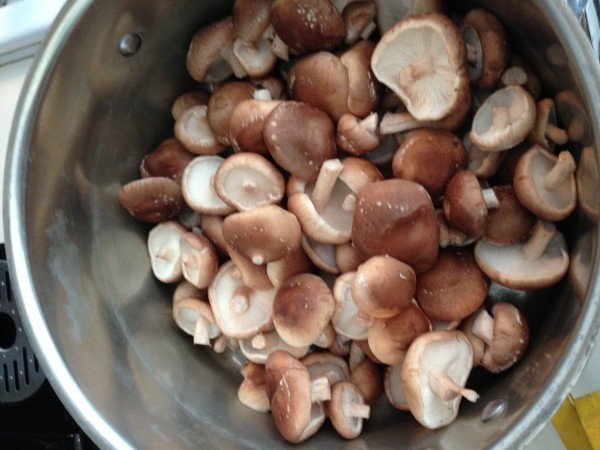 Which reminds me of the endearingly honest conversation between my Father in Law (he is to be credited behind most of the hard labor on the food scene this weekend, by the way) and my daughter about their creative culinary differences regarding how great it would be to make a mushroom sauce and what a good addition mushrooms would make to the dish. Despite F.I.L's  best selling tactics on the virtues of mushrooms and her natural leniency's towards being a young foodie, she could not be convinced, thus a second simple sauce was created for the kids.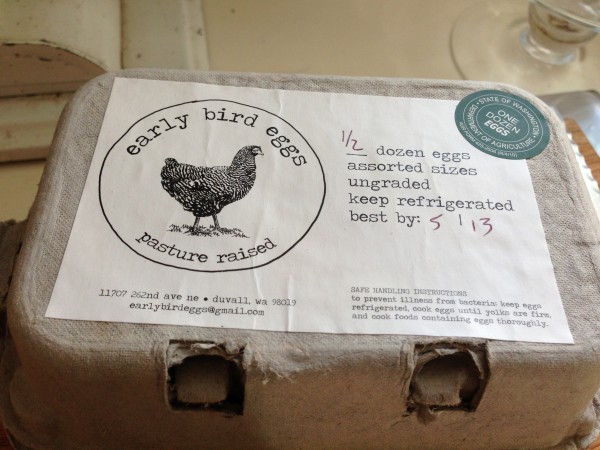 We used these yummy (ahem, and expensive) free range market eggs in the recipe that we also foraged for in the rain.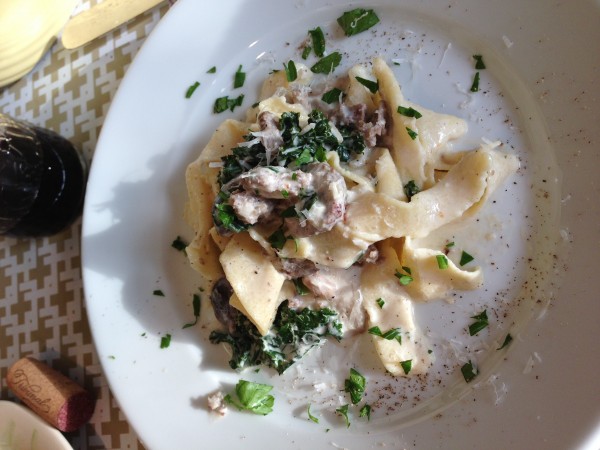 And there you have it.  Food to be shared with loved ones,  food for celebration, food for healing…food for the soul.
Happy Humpday Everyone.