December 26th, 2012
Ahhh, we made it–errr almost, there's still New Year's to go. Don't get me wrong, ours was a wonderful holiday, filled with treats, warmth, laughter, Christmas programs, friends, and too many gifts to count.  And I hope yours was lovely too. Sure, our kids were up at 0 Dark: thirty and whipped through the packages with the pure excitement that only children who still "believe" in the magic of Christmas can, but this year, I think I'm suddenly starting to "get it."  With most of the main holiday hoopla behind us now, I can stop to think of the true meaning of Christmas (regardless of your religion), it strikes me that something one of my friend's recently mentioned, is the perfect imagery for the real meaning of the season:
The candle in the window.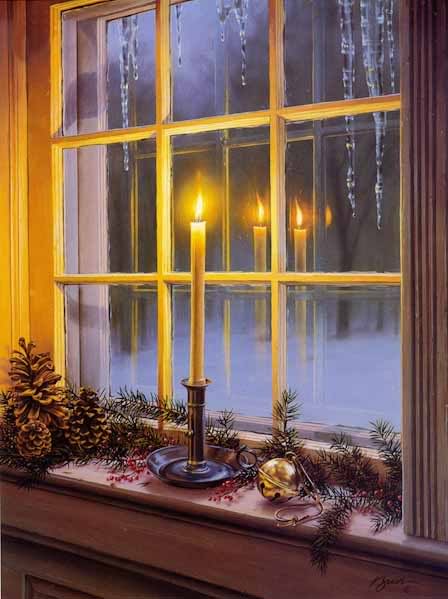 The candle in the window is a symbolic gesture to be displayed as a sign of hospitality.  Traditionally it was a signal for the weary traveler looking for a place to stay or warm meal.  In Irish history, when it was illegal to practice Catholicism it was a welcome symbol for safe refuge for priests in hiding.
So I got to thinking, how are we living this value?  How are we helping those in need, how are we welcoming, how are we thinking beyond the seemingly infinite packages of American Girl doll everything and Amazon.com packages that came every single day  it seemed this past month?
I know it's not much, but mid-day yesterday we made turkey sandwiches and put together brown bags with items like bottles of water and hand warmers.  We got in the car, with our hooded puffy coats (and jammies underneath, I'm not gonna lie, it took a lot of convincing to get everyone out the door) and went out to deliver them.  The sad thing is that we didn't need to venture too far from our home to get them into the right hands.  Sure enough on Christmas day, people were standing in the rain with signs asking for help.  In an instant, our kids, understood the meaning of Christmas.
As I think of what's ahead for the New Year, I know one thing for sure.  More helping to those in need.  More of keeping our light on all throughout the year.