July 30th, 2012
Once a year, we host an outdoor dinner party.  It may also be the one time a year the silver gets polished. This is an excuse to pour over cookbooks and recipes and plan something special for friends.  We aim for a new mix of guests every year.  We love to use fresh summer ingredients and plan the event around the garden looking summer-time peak.  Let me tell you a little bit about it:
First, the table–I love setting the table, it's almost like building a set.   My aunt sent me a care package recently that contained, among other things, some old drapery panels from The Chatham Bars Inn, before their renovation.  I now know intimately why draperies are so expensive, these were so well sewn I had to take apart a zillion seams it seemed, metal, tape, etc. so that they would lay flat for a floral skirt effect.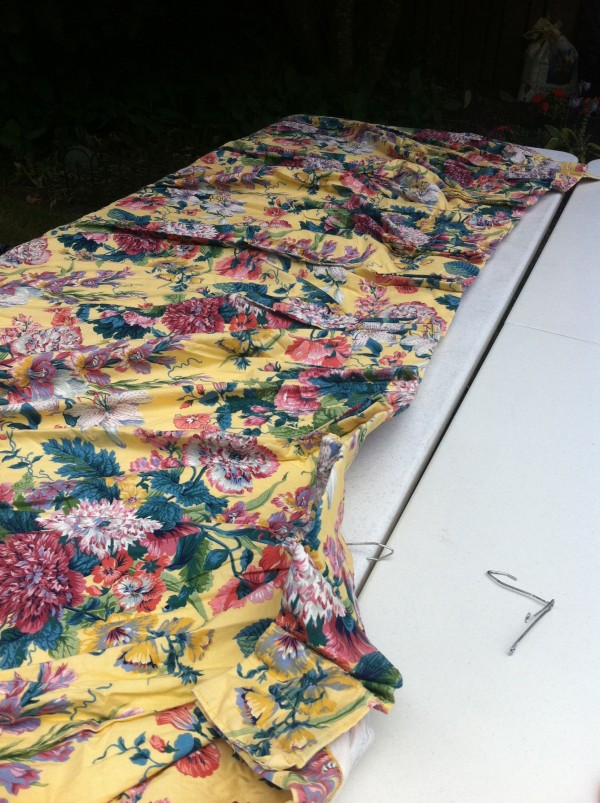 The centerpiece was 100% edible.  And very easy.  I mounded, Meyer lemons, champagne grapes and tomatoes on the vine.  It was colorful, the scale I was looking for and in theme.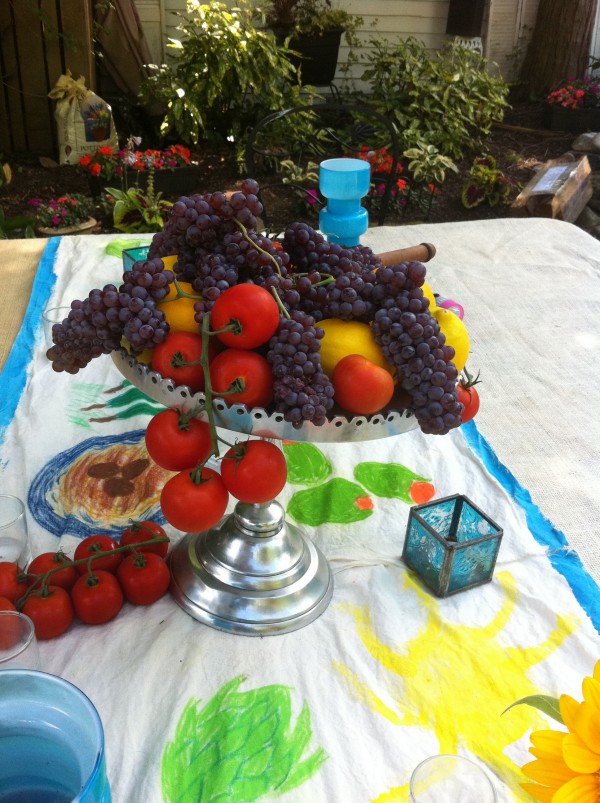 About 1/4 there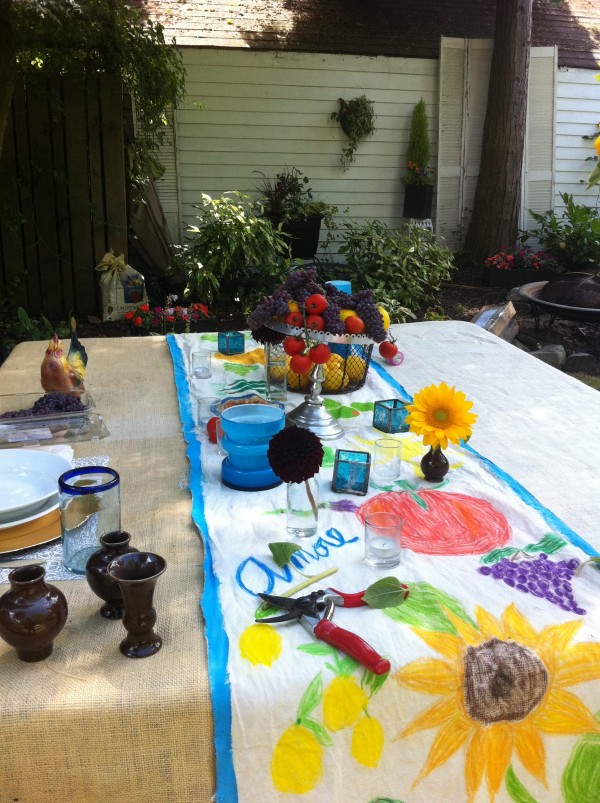 On top of the chintz, I layered burlap and the hand-crafted table runner my kids & I made.  The kids also enjoyed the Italian candies we sprinkled all over the table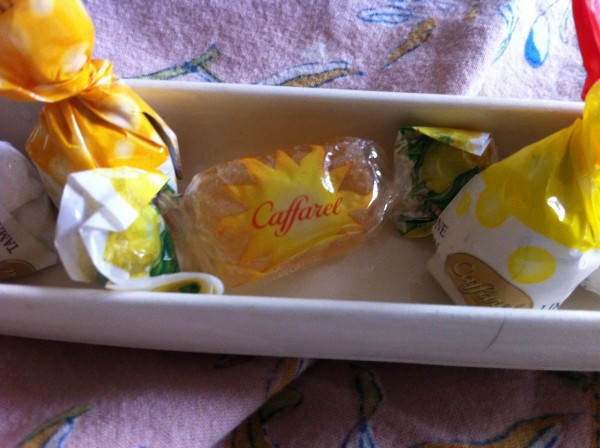 Sourced from The Confectionery.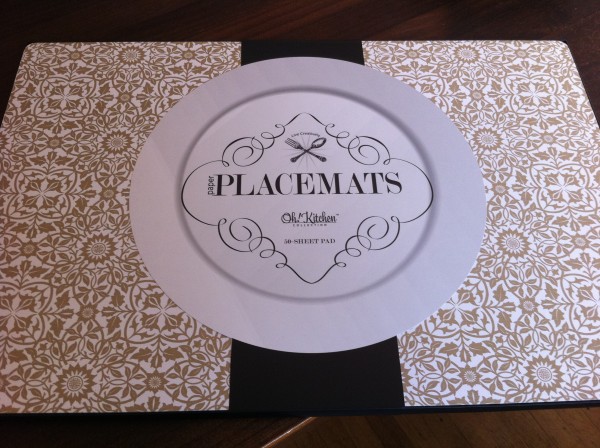 I picked up these cute disposable place mats by Studio Oh, from Madison Park's Cookn'.  I really like having place mats in particular in an intimate table setting, because it gives the guests a sense of personal space.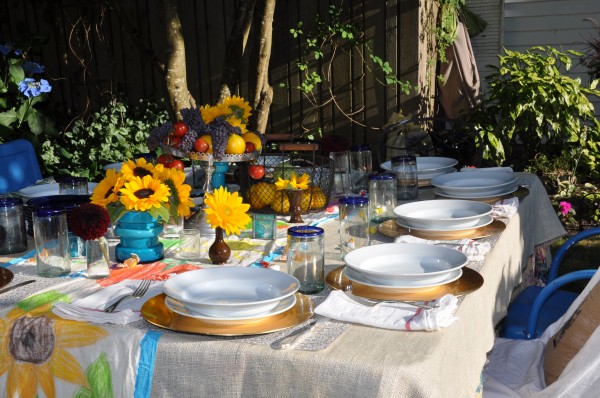 So here is a near complete version–flowers placed in bud and all different shaped vases consisted mostly of sunflowers, a few dahlias and lavender from my garden.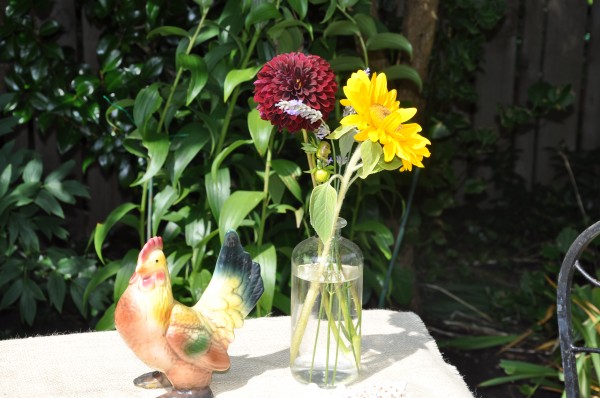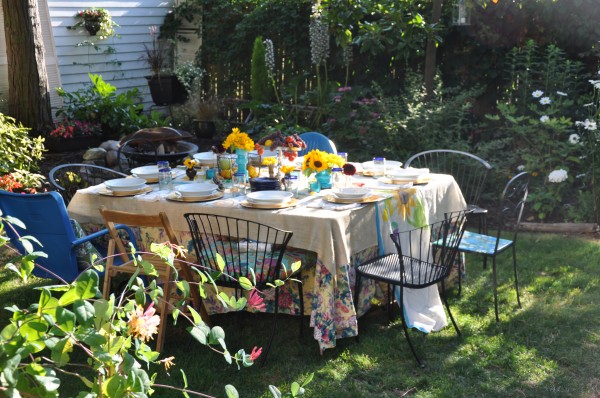 For starters, cheese of course.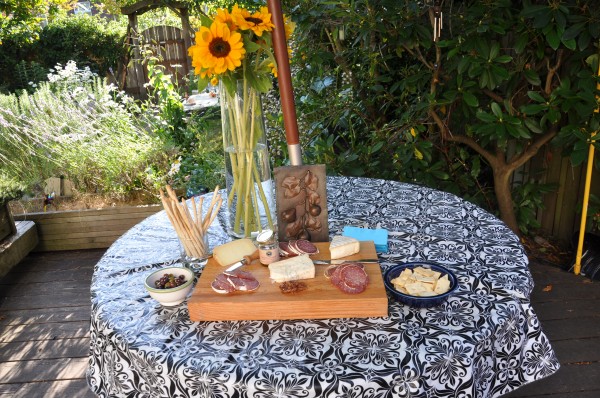 We served three Italian cheeses; a creamy Gorgonzola Dolce that had the texture of butter, Pecorino Crotonese which was an Italian sheep milk, and Dolce Toma, an Italian goat milk   I also bought a 3 pound, 2.5 feet long salami from Costco.  Why?  Dunno, I guess cuz I can.  We probably only made our way through 1/10 of it.  Guess who's having salami sandwiches all week?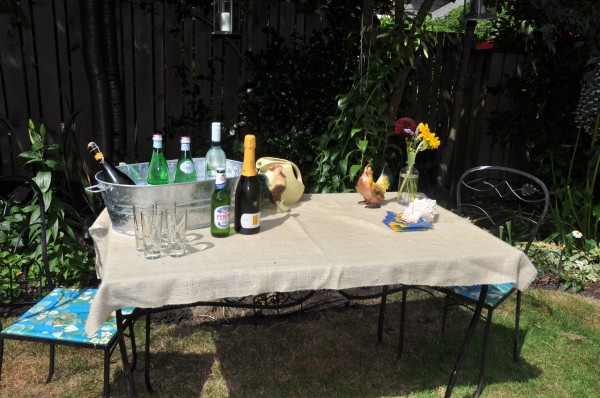 The beverage table.  To wet everyone's whistle, we served Prosecco, Peroni and Pellegrino.  Say that 3 times fast!  Un-planned alliteration.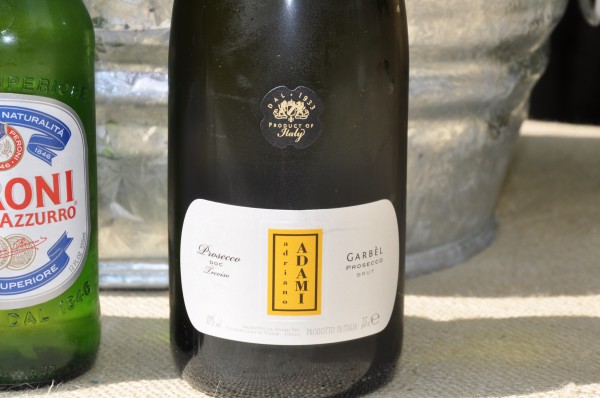 Prosecco is so thirst quenching on a sunny day, no?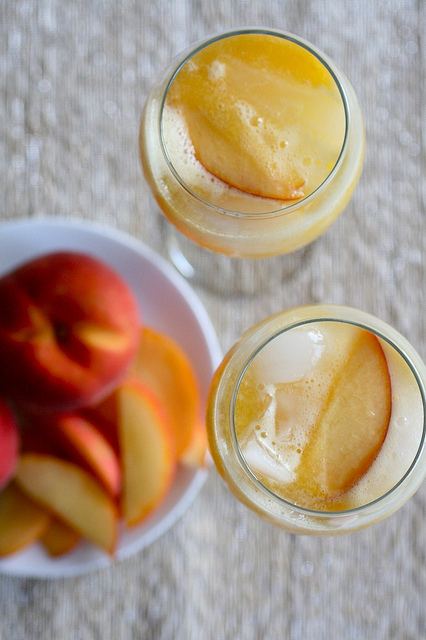 For another option and in lieu of fussy and sometimes too sweet for my palette sangria, we also served glasses of white wine with a big healthy slice of peach.
The menu consisted of seven courses.  Beginning with a sip of chilled gazpacho, recipe from Food 52  here.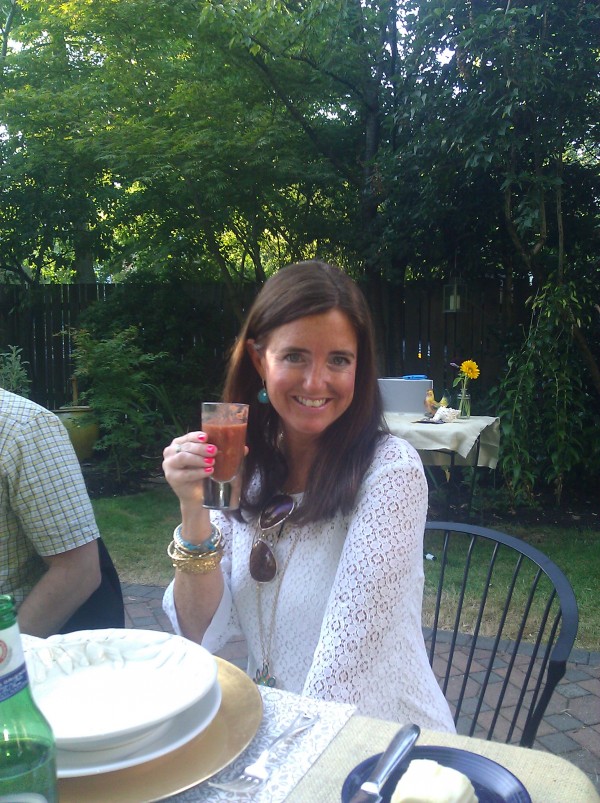 We made one addition to the recipe, a splash of Tito's vodka for a kick.
Then we enjoyed cremini mushroom flatbreads with a dollop of goat cheese on top.  They were eaten so quickly, I wasn't able to get a photo!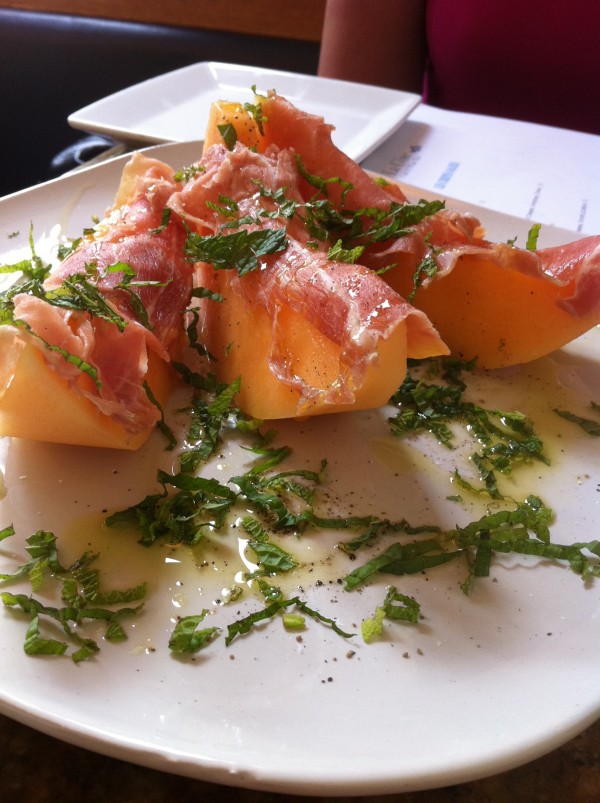 Next a Tuscan melon dish…that tastes like summer on a plate.  Simply place good quality prosciutto over the melon, drizzle with olive oil, sprinkle coarse sea salt and fresh mint.  Mouth watering yet?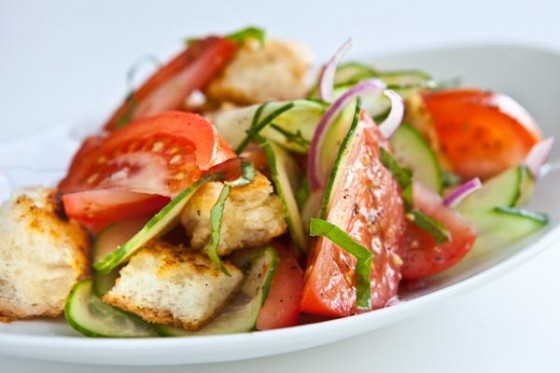 Next, Panzenella salad; made simply by procuring the best tomatoes (which is not hard to do now) you can find, sliced onion,sliced cucumber, basil, and cubed grilled bread.  We like a rustic thick bread for this and the olive oil you toss the salad with moistens the bread.  This dish to me is also pure summer goodness.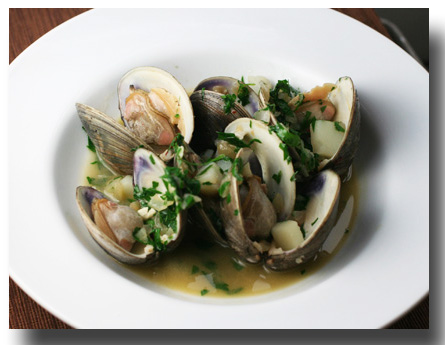 #5 Manilla clams sauteed in white wine, butter (and my husband admits to a splash or Rainer beer) and garlic.  Save a few slices of the grilled bread for guests to sop up the delicious broth.  We paired the clams, sourced from Taylor Shellfish, with this yummy, crisp and inexpensive (not why we got it, but a bonus none the less) bottle of vino per their suggestion.  Oh p.s. they also sell wine at Taylor.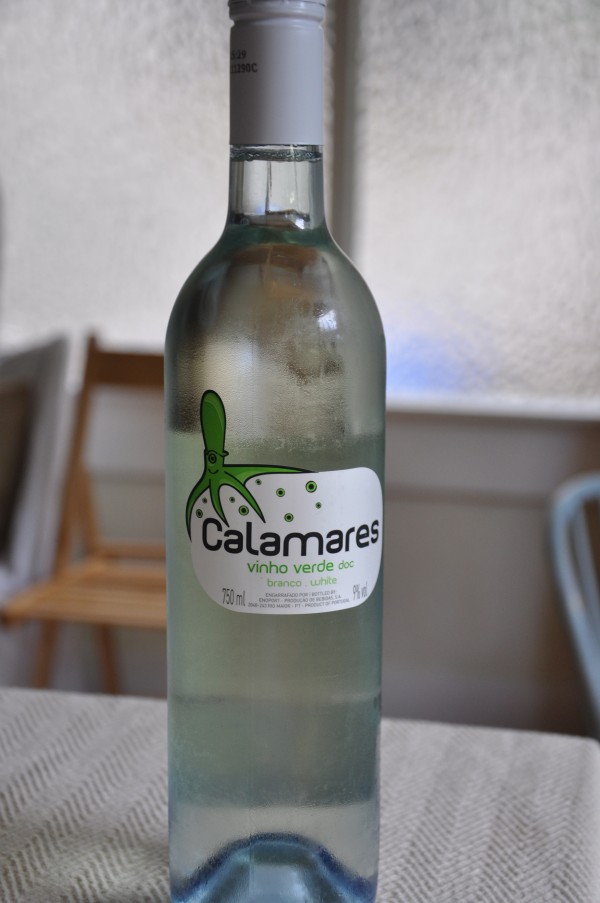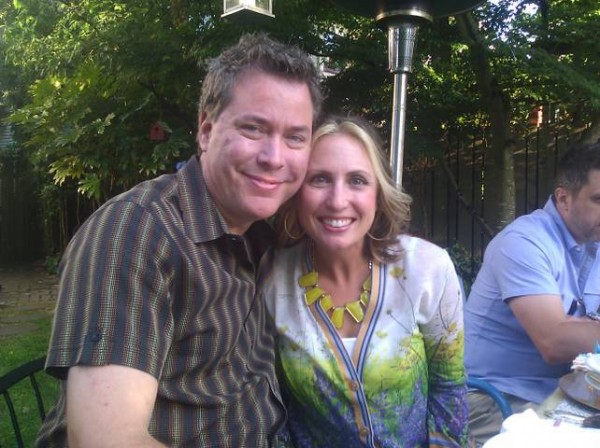 What's next they say? Glad you asked, now we are leading up to the entree–fresh linguine with grilled shrimp.  Prepared simply with butter, garlic, fresh Parmesan, chili flake and ginormous grilled shrimp.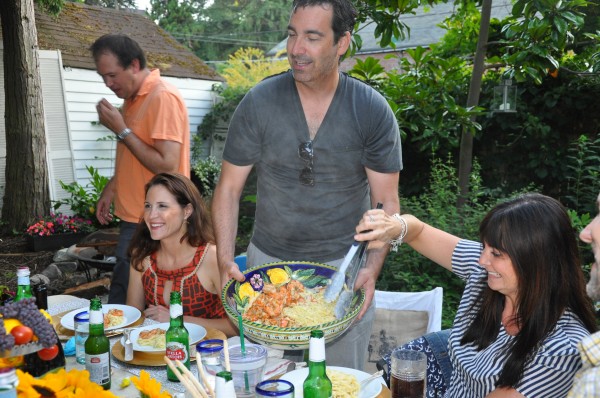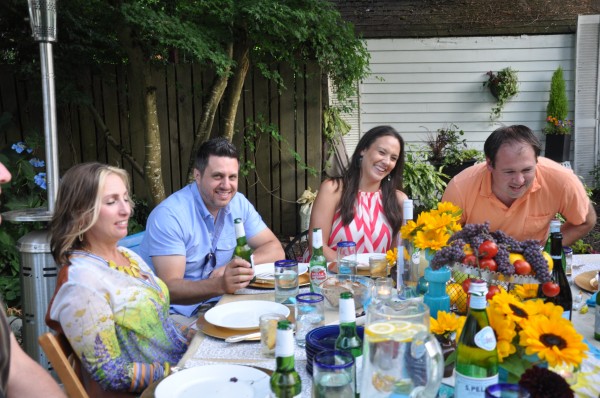 The evening ended with the men around the fire pit, what is it with men and fires by the way?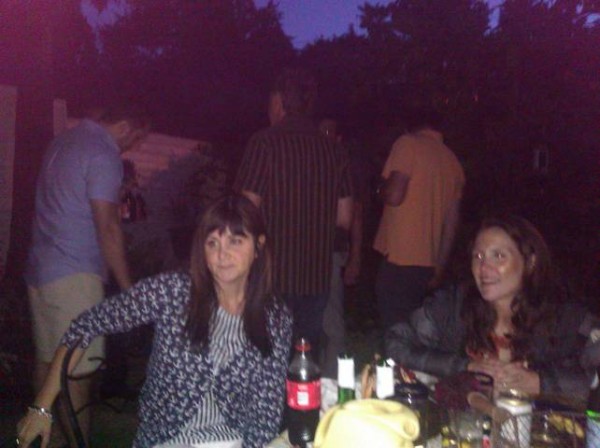 Chocolate and vanilla gelato served with Italian cookies and a sip of limoncello.
Happy Summer Eating Everyone!