July 27th, 2012
It's a well documented fact that I love a theme. Some of my friends actually make fun of me to my face about it. Lord knows what they say when I'm not around:) Bottom line is, give me a theme for a party or even a smaller dinner gathering and I'm running with it.
I had the most fun today party preppin' for a "Tuscan Themed" dinner party tomorrow night. I even super enjoyed produce shopping today, and who does that?  Anyhoo, Franks at Pike's Place is simply the best.  As they say, they are not the cheapest at the market, but they are the best–after all, quality is what we should be seeking, especially when entertaining.  From intimately knowing every grower and source for items such as local cremini mushrooms to referencing California's first crop of grapes.  This is the place.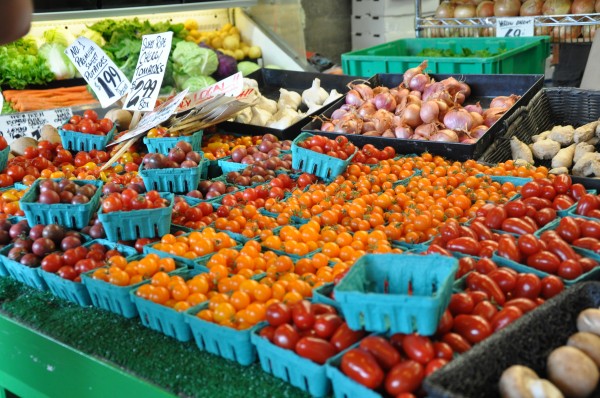 Moving on to the rest of the list:  Dreams de la DeLaurenti are a common nocturnal activity of mine. What, you don't dream about food too?  Anyways, having such a theme and reason to shop this quintessential Italian market was just sublime.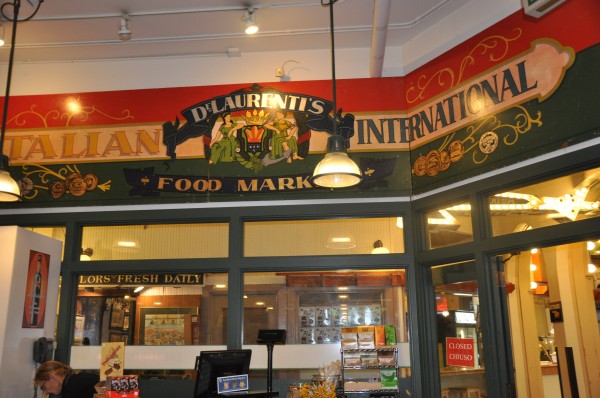 This spot long ago called Pete's Italian Grocery (for Pete DeLaurenti and that sign is vintage from back in the day) has resided in the Market pretty much forever.
They carry the mother lode of cheeses, homemade sausages, fresh pastas, meats, olives, dried goods, and pretty much anything imported (and quite a bit local too) that your heart and taste buds desire.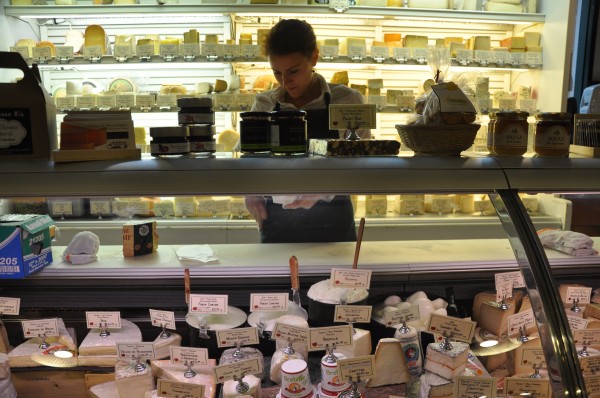 They had everything I needed…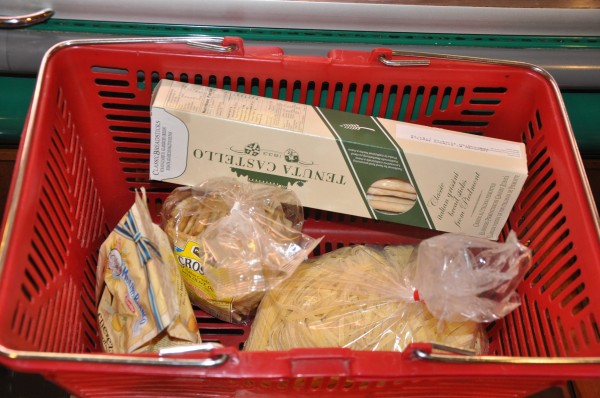 and more.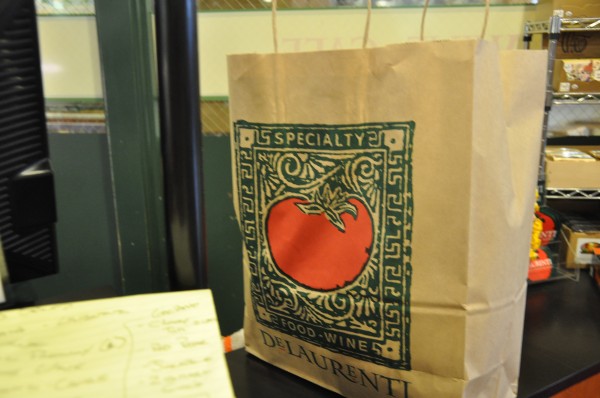 I got everything else from my list (non-produce related) and didn't really even break the bank…well, maybe a little bit on the cheese, but what's life without a little summer splurge?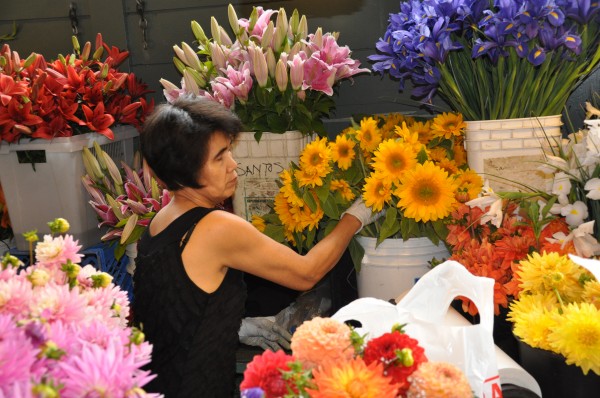 Pike's Place is also one of the world's best spots to source flowers and can you even imagine a Tuscan themed dinner party without sunflowers? I think not.
So I chose 2 dozen of two different kinds–oooh they make me so happy.  Just wait until you see the table. Which brings me to my last prep item: a hand/homemade table runner.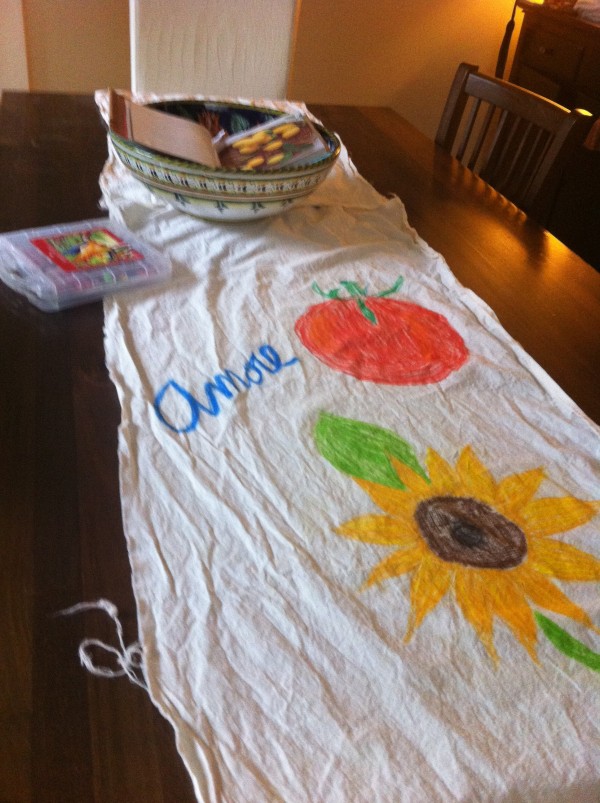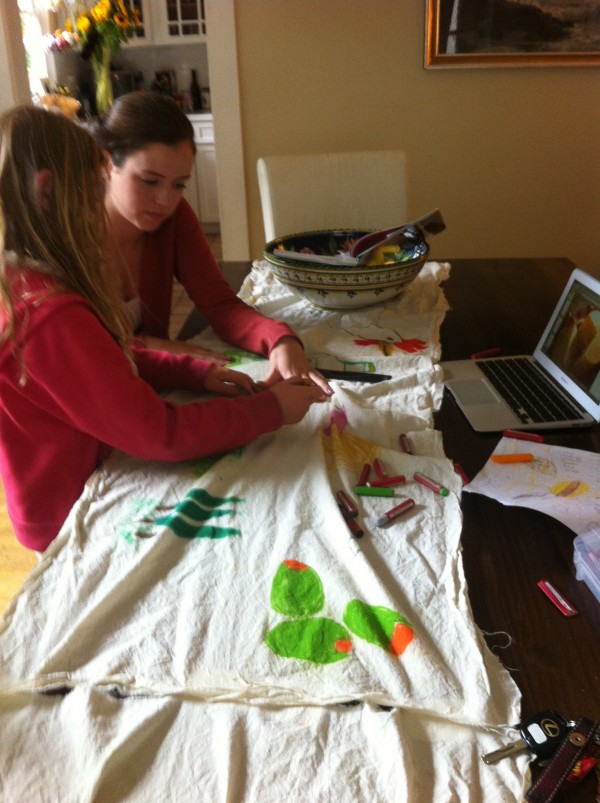 I got this crazy idea to procure some canvas for a table runner that my kids (well, with me and some others to help them too) could create.  We inserted all kinds of Italian inspirations like olives, lavender, tuscan trees, cheese, tomatoes, and more.  The exercise of researching this made us all realize we want to get to Tuscany soon!  The project is still a work in progress.  More creation on the books for tonight and make no mistake, we have had so much fun doing these hand done pastel drawings–I recommend it for a fun summer project.  No matter what it ends up looking like, I'm not going for perfection, but knowing the kids feel ownership in the party prep is priceless.
Win lose or draw, I can't wait for the outcome tomorrow.  Come back in the next day or two, for menu, tabletop, decor and more.