April 11th, 2012
Oh the pressure when the blog backlog starts to occur…and I've got some special, new stuff just bursting to come out, so I really must update.  But first, a quick game of catch up.  I promised an Easter posting, and since our meal was so delicious and easy to recreate, thought I should still get it out there, even though I'm sure the last of the Easter grass and basket remnants are soon on their way out from most of your homes.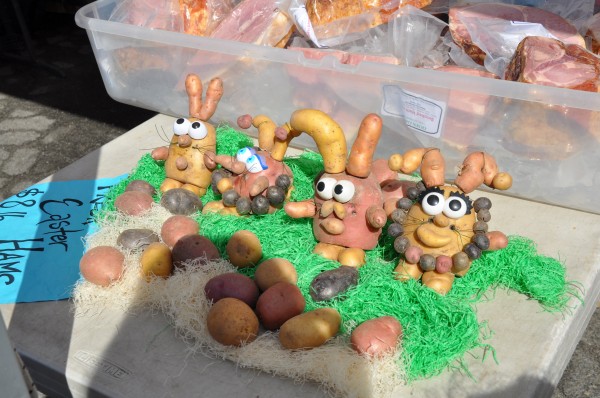 I couldn't resist these silly potato heads discovered at the Farmer's Market.
Last Sunday, we knew that we wanted to do something different from the typical Easter ham.  So when we went to Skagit River Ranc' stand at our market and landed on some lovely pasture raised Berskshire pork chops, a simple recipe for  Juicy Buttermilk Pork Chops by one of our favorite local Chefs, Maria Hines, was the answer.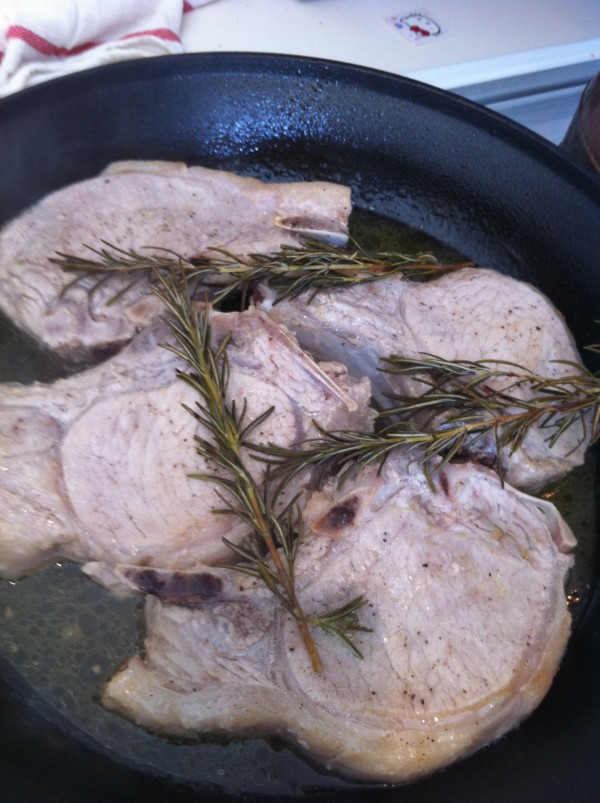 I'm a sucker for recipes that require just a few quality ingredients and not much tedious prep.  This one hits the mark.  You (not you, but you know, the chops–though it would be fun to bathe in buttermilk:) are basically marinating in buttermilk for a few hours before cooking, then doing a simple sear and oven roast.  Easy peasy.  He also made an amazing sauce but that one is an original and for the vault.  All chefs need to keep some for themselves:)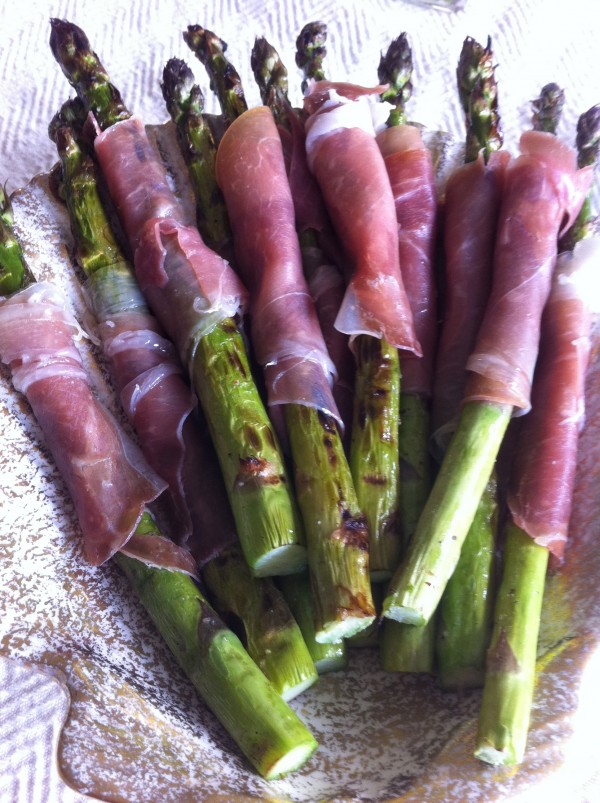 Asparagus is a pretty typical Easter fare, we went with it not because of tradition, but because they looked great at the market.  We simply trimmed, coated with olive oil, salt and pep. and threw on grill for some appealing grill lines.  Then we wrapped the spears with prosciutto.  Easy and pretty–bingo.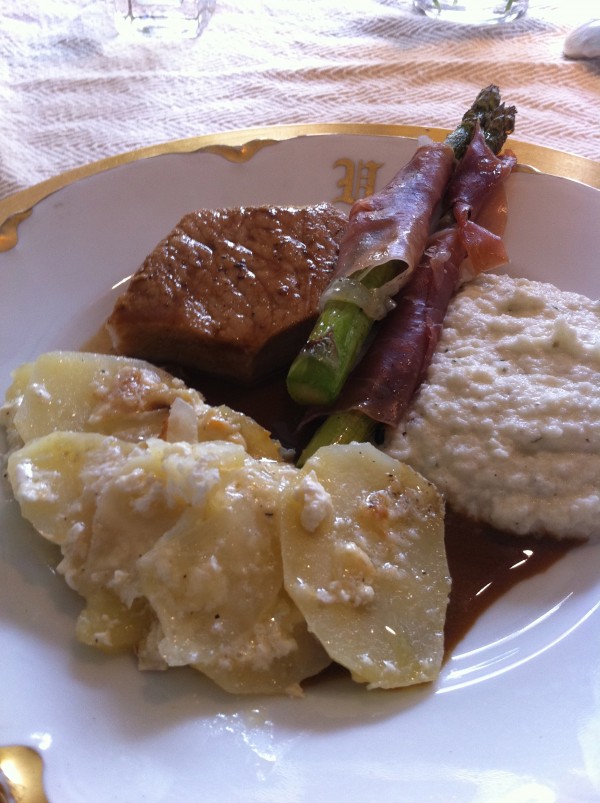 I had always heard that if made right, mashed cauliflower can be as tasty as mashed potatoes, so that was my request.  The Chef de Cuisine, a.k.a. my husband, created his own recipe: he boiled a head of cauli.,  then put in the food processor with chicken stock, cream cheese, roasted garlic and rosemary until pureed.  They were delish, the kids went for them with zero resistance.
Everyone else wanted scalloped potatoes as well, so that was served up too– Chefie riffed off an oldie but goodie Martha Stewart recipe.
And finally the flowers.  When our local markets are starting to look more and more like this: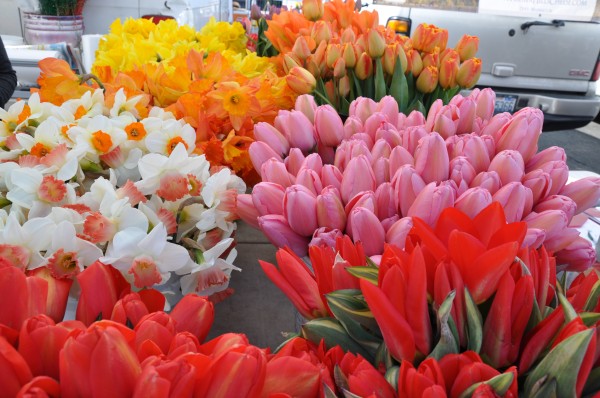 Flowers cannot be ignored.  I was able to purchase one bundle of double creamy white daffys ($6 bucks), and add them to the left over purple and gold birthday flowers along with some gorgeous viburnum (that were being thrown out, and I asked to have/rescue)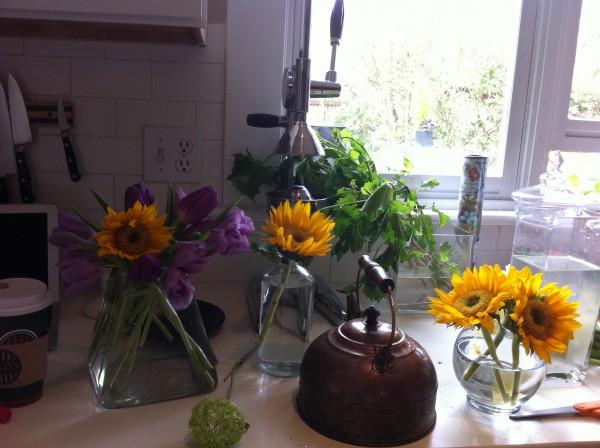 Quick kitchen work session…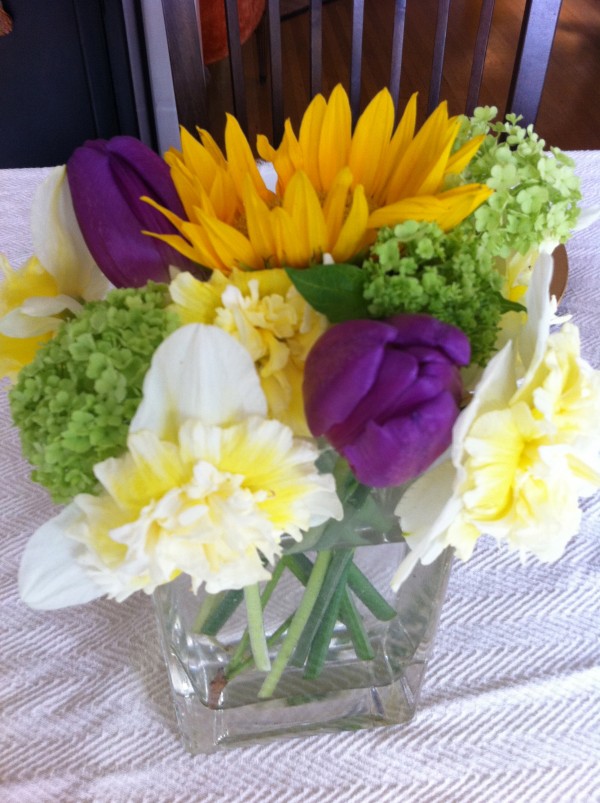 And Voila!
Mixing all different shaped vessels and compositions make it interesting.
I take this flower stuff seriously, as you can see.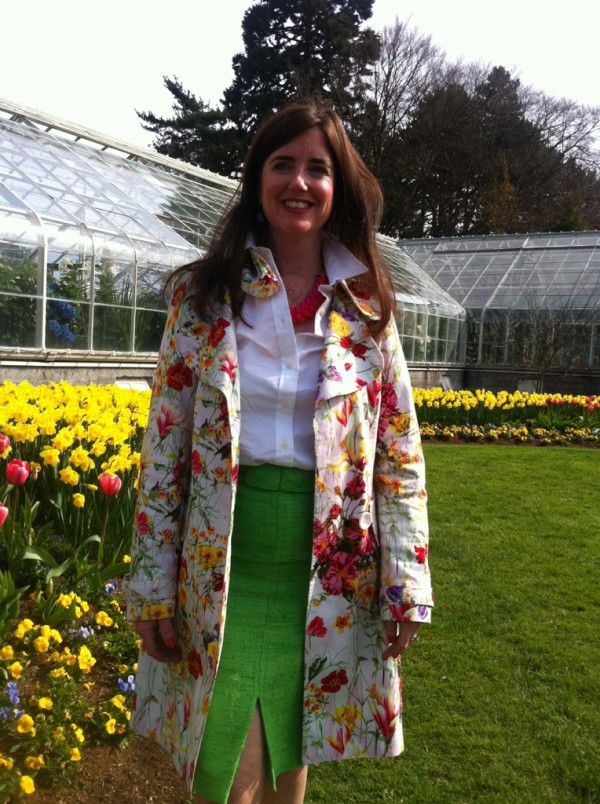 I hope you had a great holiday and are enjoying Spring.  More from me soon, I promise.