January 16th, 2012
Living Well 7 turns two today!  Boy does time go fast, nearly 300 posts, hundreds of comments, a few cool partnerships and Lord knows how many hours logged?  But I'm gonna keep on keepin' on.  I've learned a thing or two along the way and and I hope you have too.  Thanks for reading, thanks for sharing, stick with me and I'll keep doing it…
Now to continue the cheese.  Literally.
Last night we made a fun and easy hors d'œuvre for our Golden Globes viewing party.
Cambozola Fondue
1.Simply place a hunk of Cambozola into a butter warmer (these are handy to have for crab bakes, lobster boils, etc.)
2. Light the tea light.
3. Give it a moment to heat up (or you could melt it on the stove to speed the process along)
4. Voila!  Serve with apple slices or hunks of bread, salami rolls, veggie spears or whatever tickles your fancy.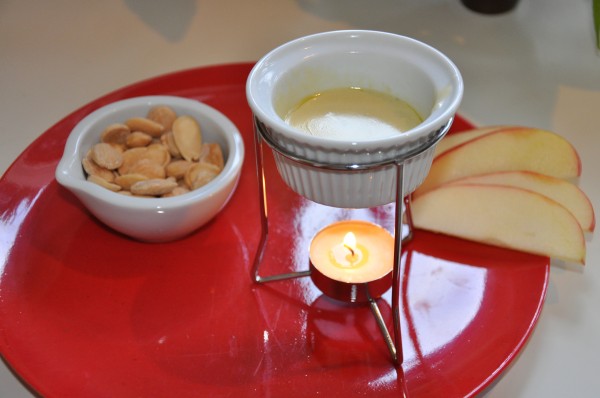 Hope your weekend was filled with ooozey goozey cheesey goodness.
P.S. Happy Birthday Mikey too!