January 4th, 2012
I know many of us are trying to settle into a "new normal" post holidays.  Of course this can be applied across the board, but for now let's focus lighter eating.   Chances are you may be still looking for a bit of special to get through that winter glut thing and who says "party food" or food that feels like a party, has to all be heavy?
Might I suggest Rosemary Skewered Grilled Shrimp?
Recipe & 4 Simple Steps:
1. Simply pluck a few branches 6 inches or so long. (For us, foraging for the rosemary sprigs/skewers is as simple as plucking a few branches from our ever-expanding enormous rosemary bush in the garden, God love the Northwest for aspects like that!)
2. Skewer the shrimp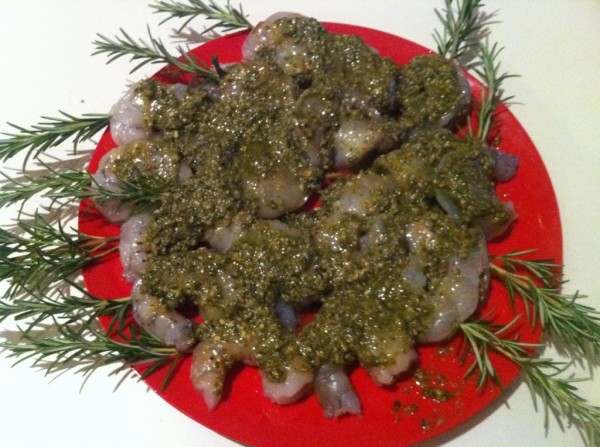 3. Brush with olive oil or this particular time, we had some leftover Pesto, that we swept the shrimp with.
4. Grill—until firm to touch.  Not very long (about 5 mins on a hot grill or so) as you know, shrimp cooks fast.
Voila!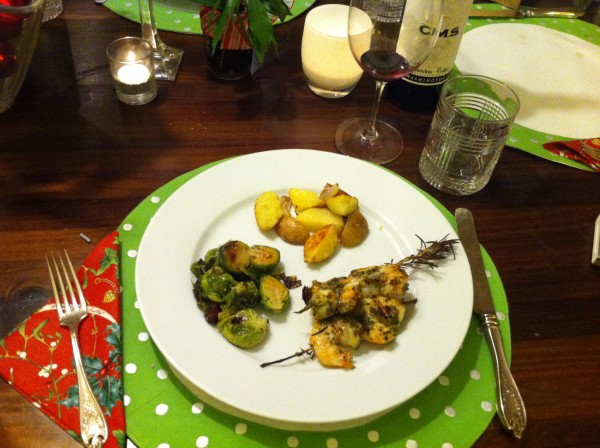 And an elegant presentation to boot.
P.S. Anyone want my husband's amazing brussel sprout recipe?