January 5th, 2012
Yup folks, it's officially we are in that "tweener" (one of my friend's favorite terms, I laugh each time she says it) period post-holiday–what's next-time. I don't know about you, but part of me wants to jump for joy at the freeing of the holiday decor/clutter and the other part feels rather exposed and bare.  I needed a moment after seeing our glorious tree looking rather pathetic curbside this morning…
Moving forward, here are a few ideas, to keep things looking fresh, but with a an ever so subtle nod to the holiday season we all just endured, I mean enjoyed:)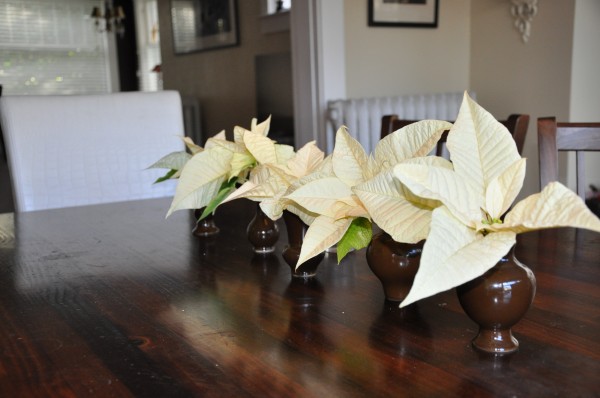 These darling little bud vases were dropped off at my doorstep without a card during the holidays.  Took me a few days of sleuthing to figure out who they were from, once I did it was just the best surprise…aren't they darling?  Clipped off a few poinsettia buds as the whole plant was on its way to the garbage.  Super cute eh?  Thanks so much Steph.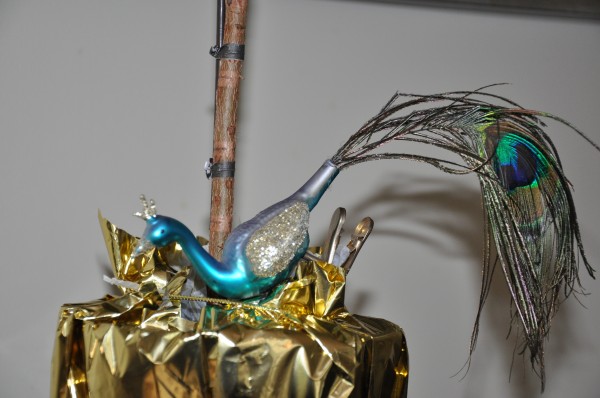 Isn't the packing up of the ornaments, the ultimate drag?  These peacocks need a little more time to strut their stuff.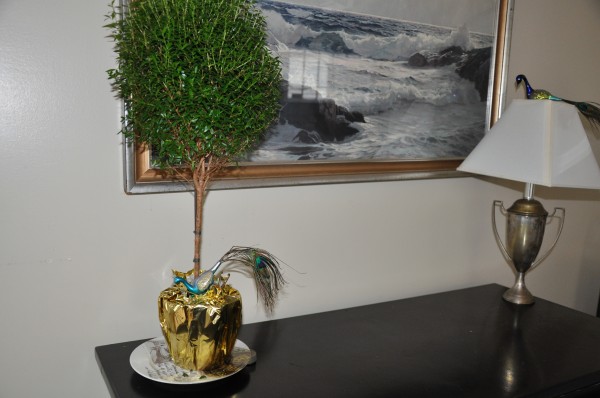 So one got clipped on to this cute topiary that was also a gift for the holidays, thanks Bill.  And the other onto an antique lamp.  I need to get that topiary planted by the way, but there's something about the gold wrapper that's still working for me right now.  Must be a "tweener" thing.
And finally, my super crafty and creative Mother in Law made us these beautiful glass angel decoupage ornaments.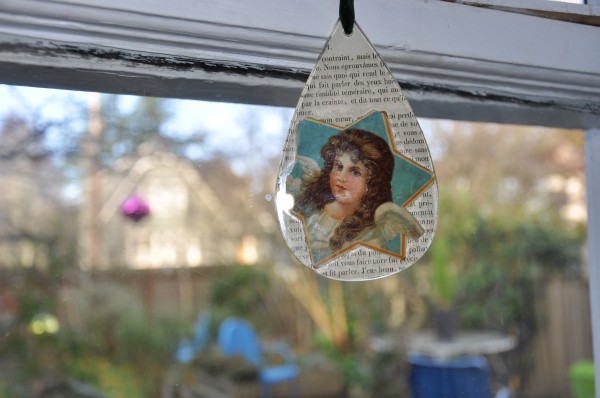 I hope the photos do them justice.  There is french poetry and sheet music on the back.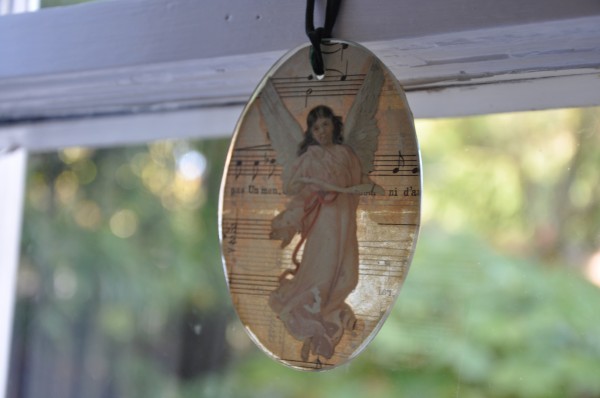 After all, we all still need some angels watching over us, right?  And so they do ever so quietly hanging in our windowsill.