November 18th, 2011
We love Thanksgiving, in our house.  Setting a beautiful table to celebrate and give thanks is certainly a big part of the holiday.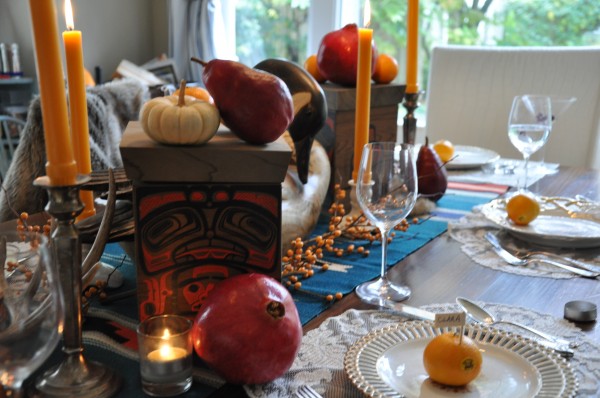 These days I have two objectives, making holidays fun for the whole family, while achieving a chic aesthetic.  Once I got my creative juices going on our Thanksgiving table, the choice was clear; "Northwestern Cozy- Chic" was to be the decorative theme.
The goal of the table was to blend a feeling of comfort and elegance for kids and adults alike. The table was to reflect "Nature's Bounty"  Now, how to do that?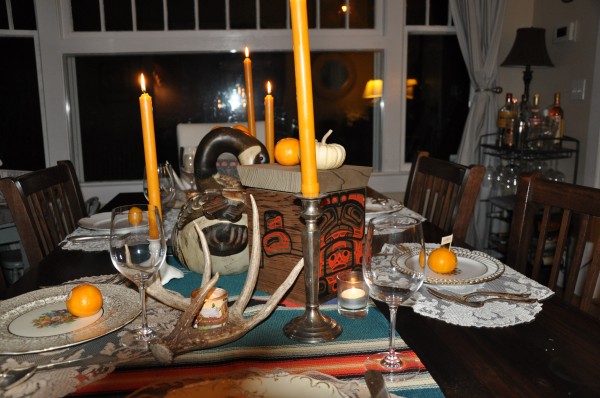 Think fur, rustic elements like antlers, branches, fruit, etc. juxtaposed with refined touches such as lace & assorted china, add unique artistic touches to remind us of "The First Thanksgiving" like hand carved wooden boxes, a wooden goose for a centerpiece and so much more.
First, to involve the kids, we cut colorful strips of paper that described our "gratitude's"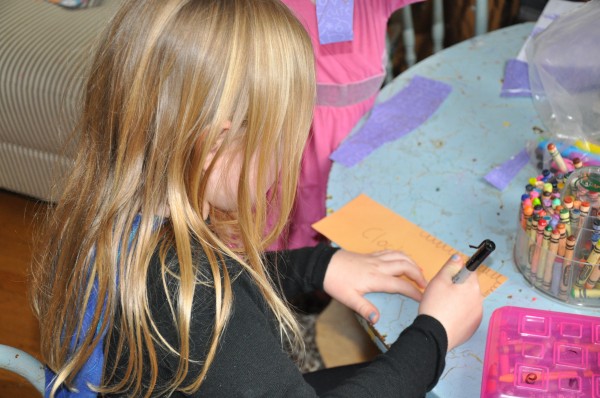 Wow, we have a lot to be grateful for… they really got into the exercise!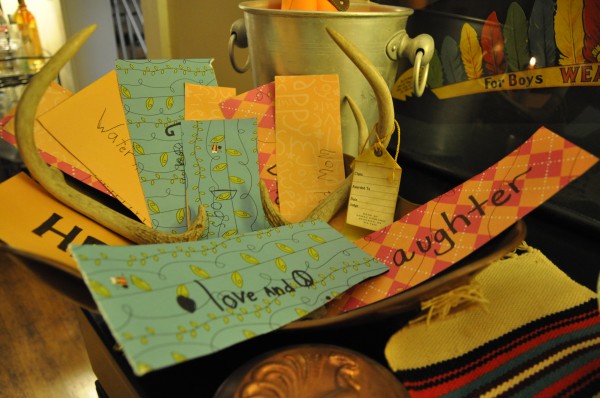 Citing love & peace, health, laughter and somewhat out of the box appreciation for things like "bugs" and "ice"  I mean, why not?!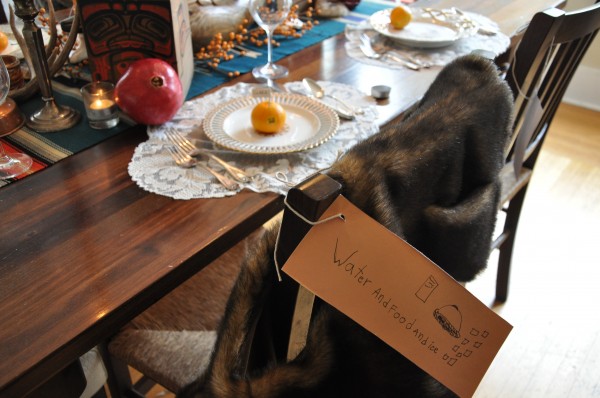 We decided to string them with twine and place on the back of the chairs so that we could read them before the meal around the table.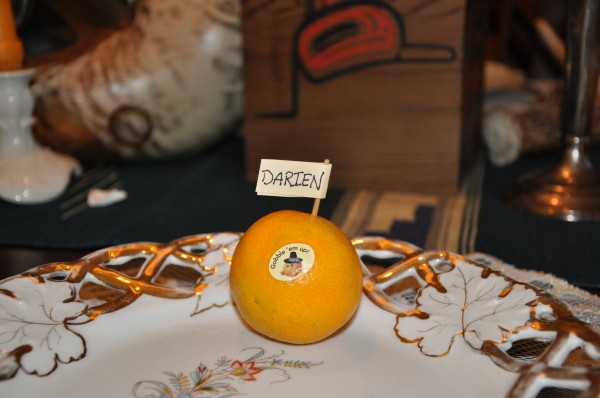 Nature and edibility inspired these simple place cards.  I purposefully chose not to remove the "Cuties" stickers as they were holiday appropriate if you ask me, this one says "gobble em up."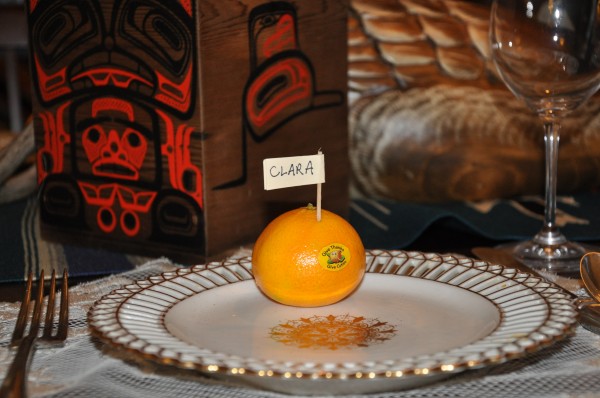 This one says "give thanks." Perfecto.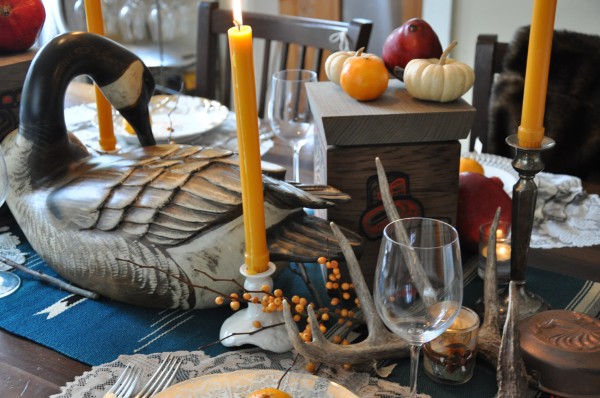 Now is probably the time to confess that much of the table inspiration came from a visit to Mort's Cabin.  I was so enamored with Mort's amazing collection of Pendleton blankets, antlers, Northwestern art, like the GORGEOUS hand carved/painted boxes, made by local artist, Louis Larson.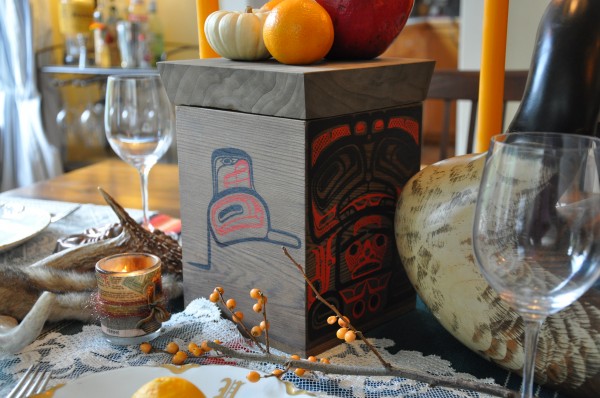 I used the boxes as pedestals in lieu of vases to display pomegranates, pumpkins, oranges, branches and all things natural to add interest.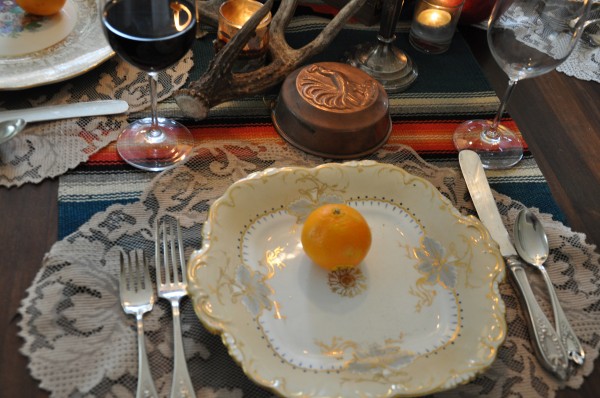 Mort's also outfitted me with gorgeous Heritage Lace doilies, that I used as place mats, for a delicate touch to offset my non matching but color coordinating white, cream and gold china.  And this beautiful Ralph Lauren/Native American looking runner.  That helped to set the color scheme in an unexpected but beautiful way.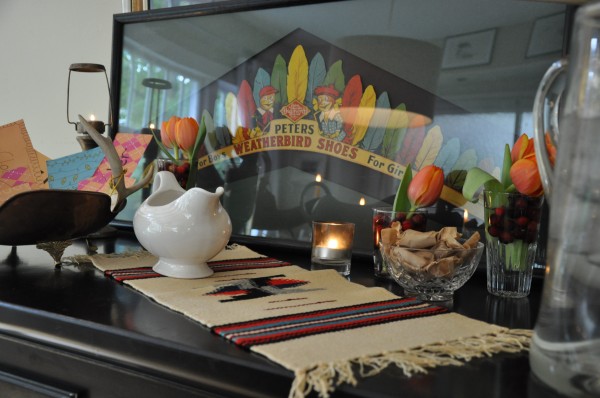 I'm a firm believer in decorating the surrounding serving areas, in addition to the table.  Psst, do you notice the vintage framed headpiece with turkey feathers?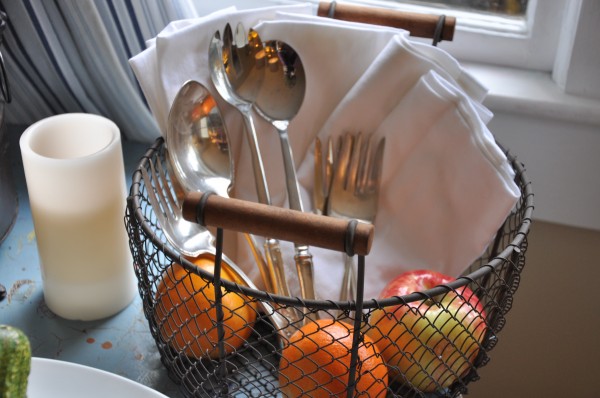 And it's always handy to pull all the necessary serving pieces and utensils in advance.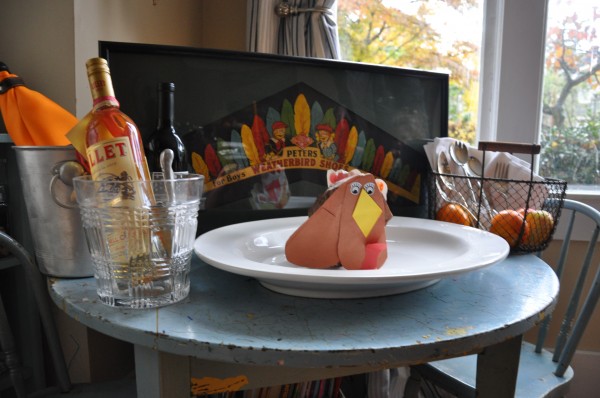 Kids craft table cleared for an extra serving area–this turkey didn't even need to be cooked, bonus!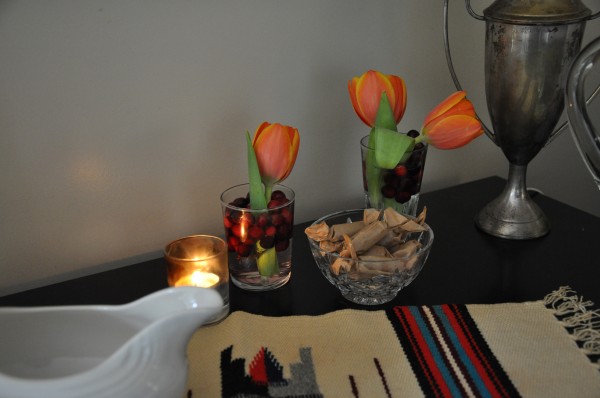 The cranberry/tulip mini arrangements were an elegant and festive touch made easy in a bistro glass, beside a little bowl of jonboy carmels for all to enjoy.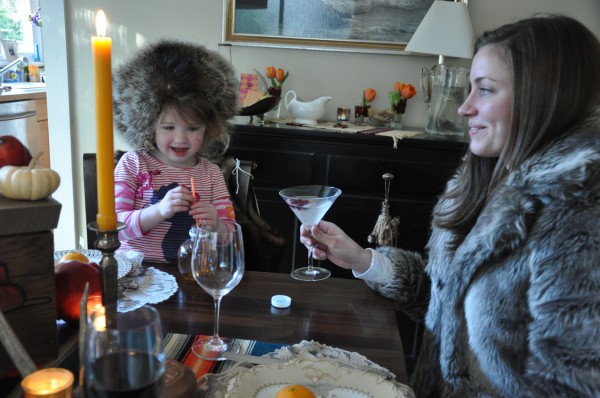 Final step…eat, drink and be merry (and cozy!) with family and friends–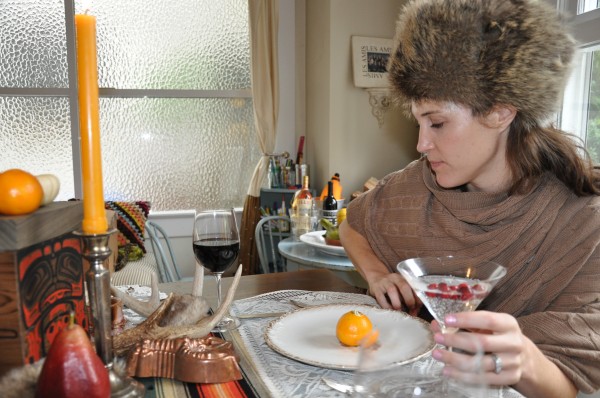 as there is SO MUCH to be thankful for.