October 6th, 2011
The definition of humility is: The quality or condition of being humble.
These past 6 weeks have been, at the very least, a demonstration in this.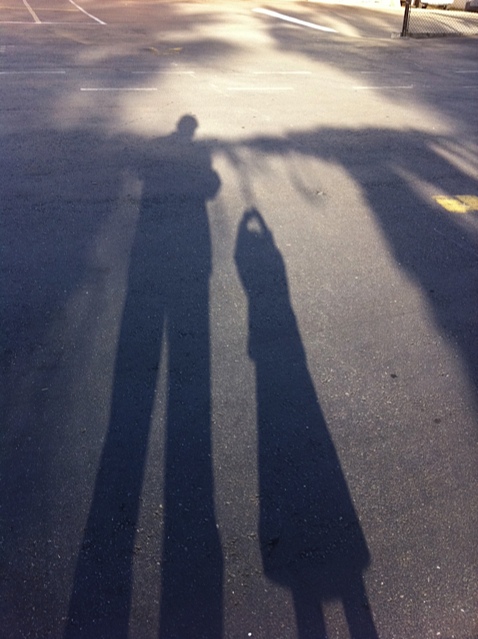 Image: Grandpa & Granddaughter on playground playing with their shadows.
Surprises and kindness in such bounty including books and blankets and flowers and magazines (I received 3 copies of the same Sept. issue of encyclopedia- sized Vogue) and meals, and cards and baked goods and drivers and people coming by to lend support or an ear…and so many more acts of consideration and true thoughtfulness than can be named here.
I've battled with feelings of guilt for those in my inner circle who, for better or worse, I feel close enough to and safe enough with to let them know how I really feel (the pain, the ugliness and more).  And other emotions all over the board from frustration by missed opportunities and fun, (like this weekend when I was supposed to be with my gals among the palm trees); disappointment by those who "just don't get it" for lack of better way to put it and worry about sooo many things that are now out of my control.
Those feelings of never being able to give back quite enough in exchange for all that people have done to help me, like M, D, & R and my dear A. who have stopped their lives or at a minimum paused them to come and help.
But I do see the world a little differently now and I am without question learning about HUMILITY.