July 3rd, 2011
Ahh, it's such a wonderful holiday weekend and the weather is actually cooperating. Yippee!  It truly makes all the difference…Anyhoo, too much going on for a detailed post, but I'm accumulating lots of material, trust me.
Just wanted to hit you with our new favorite, super easy summer appy., in case you need to bring something to an outdoor gathering tomorrow or anytime this summer for that matter.   Very simple to make, we actually created this (it's an "Aaron Original") with ingredients straight out of the fridge/pantry.  Bonus.
Crostinis with Ricotta, Sliced Peach and Balsamic Glaze
Simply procure your favorite baguette, slice into one inch or so segments
Line the pieces onto a baking sheet, rub with garlic, drizzle with olive oil, sprinkle with salt & pepper
Either broil until crisp, or grab some tongs and throw onto the grill (which is what we did)
Once you have a nice crisp on the crostinis, smear with a healthy amount of ricotta, do make sure it's fresh ricotta though, can't express how important it is to get a good quality one (none of that processed stuff, think cheese section in  Whole Foods,  Metropolitan Market or local gourmet market)
Top with a sliced peach (again fresh, but duh.)
Finish with a dollop of balsamic glaze. We like Blaze.  Which you can get at all aforementioned stores, even Costco has it.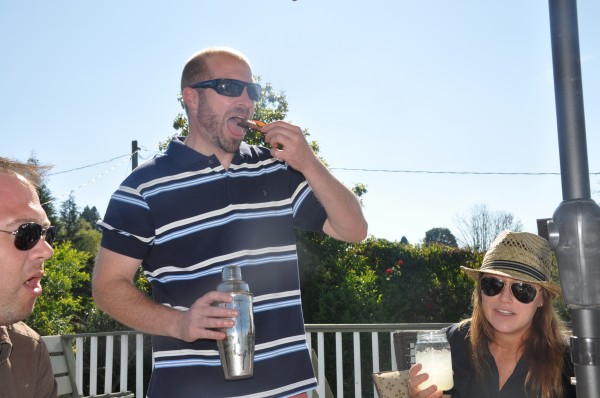 There you have it.  Oh and you can probably tell by photo we made a couple other variations, grilled asparagus, roasted, marinated tomato and  sauteed shrooms, all good, but the peach/balsamic is a was "the most successful" as they would say on Top Chef. But you don't have to "pack your knives and go."  You can stay.
Hope you have a GLORIOUS 4th of July!