June 24th, 2011
We had a family birthday to celebrate on Nantucket recently.  When you live so far away from your family, it's a rare occasion that you actually get to cook for them in person, so we took advantage of the timing to show our love through food.
When considering the menu, no other words capture summertime dining better than "fresh" and "simple," if you ask me.  So we chose a menu that captures this sentiment perfectly.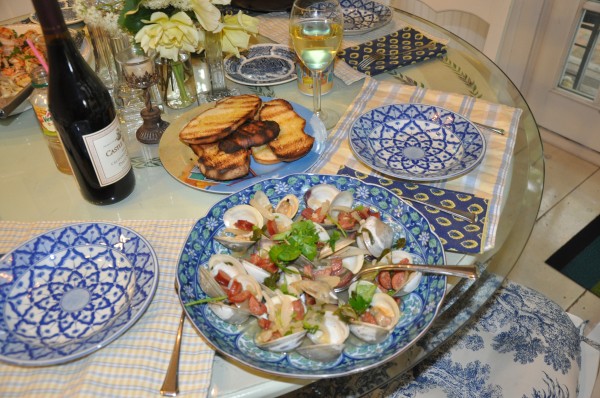 First up, Littleneck Clams served with grilled garlic crostinis for starters
1 handful of clams per person
2 strips of bacon chopped
1 clove of garlic, peeled
parsley, chopped
olive oil
white wine (a big pour)
half a lemon
Heat the olive oil in a frying pan
Add the whole garlic clove and bacon and cook for 5 minutes
Add the clams and wine and leave to simmer for 3 minutes or so
Add the parsley and lemon juice and cook for another minute
Discard the garlic before serving or use to rub the crostinis as we did.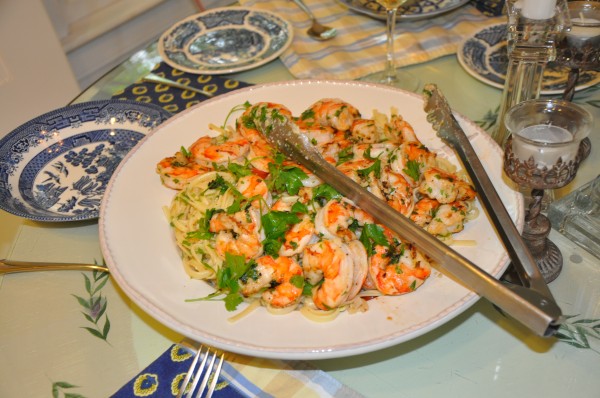 Next Shrimp Scampi served over Linguine
1 pound large (16-20 count) shrimp, shelled* and de-veined, tail-on for presentation if you like
Salt
3-4 garlic cloves, slivered, or 1 Tbsp minced garlic
2 tablespoons olive oil
2-3 tablespoons butter
2 tablespoons finely chopped parsley
1/2 cup white wine
1/2 to 1 teaspoon red pepper flakes
Freshly ground black pepper to taste
1 Tbsp lemon juice
* Preparation with shrimp shell on or off is optional. Cooking the shrimp with the shells still on will impart more flavor, but they are much messier to eat. Shelling the shrimp before cooking them will make the shrimp a lot easier to eat and you can save the shells for shellfish stock if you'd like

1 Heat a sauté pan on high heat. Reduce the heat to medium-high and add the olive oil and butter. Once the butter melts, foams up and subsides, add the garlic and red pepper flakes. Sauté for a minute, or until you see the edges of some of the garlic just beginning to brown.
2 As soon as the garlic begins to brown, add the shrimp to the pan. Then add the white wine and stir to combine and coat the shrimp with the butter, oil, and wine. Spread the shrimp out in an even layer in the pan. Increase the heat to the highest setting and let the wine boil vigorously for 2-3 minutes.
3 Turn the shrimp over, or toss them so the cooked sides are mostly facing up, and boil the wine for another minute. Remove from the heat, add the parsley and toss to combine. Add the lemon juice and black pepper.
4 Serve over 1 pound of linguine cooked al dente.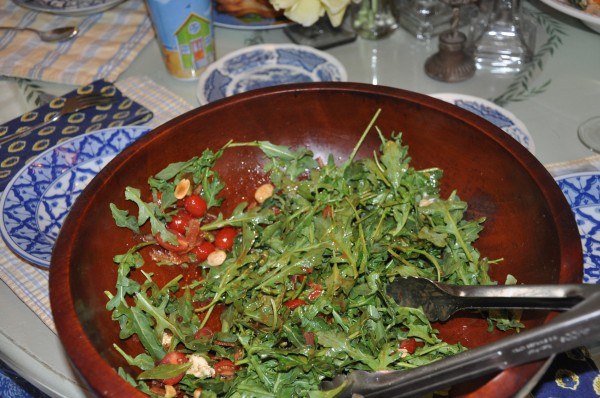 A little green for the plate, or course, so we chose Arugula Salad with cherry tomatoes, goat cheese, marcona almonds and balsamic vinaigrette.
To wash it all down?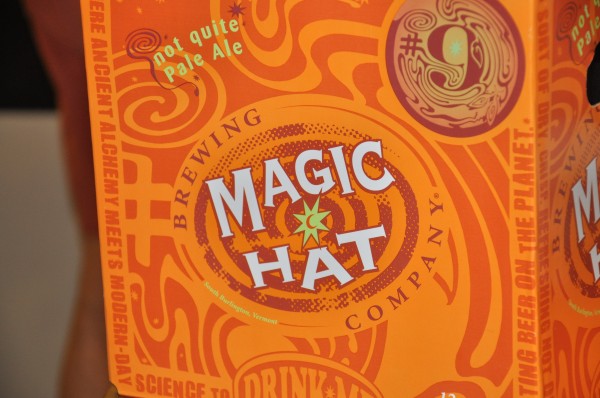 Why some  Magic Hat of course, and chilled Chardonnay, please.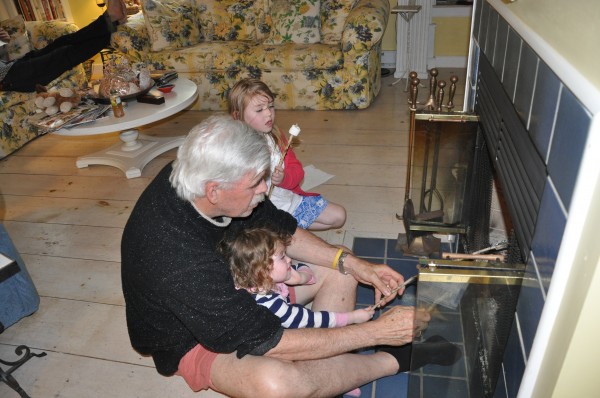 Dessert?  S'mores in the fire!  Again simple–grahams, Hershey's, and toasted marshmallows.  Get any better than that?
Happy Birthday Grandpa, we miss you!