February 4th, 2011
What was the nation's culinary scene like before Bravo's Hit, Top Chefs? It's hard to say, I honestly don't remember.
But certainly guys like Thiery Rautureau, a.k.a. The Chef In The Hat, have shaped the way we eat and think about dining in restaurants. Oui oui, he was a part of Top Chef Masters…and he is quite the personality. I love the way he walks around the restaurant and works the crowd. He is actually very genuine and quite charming.
Oh French men!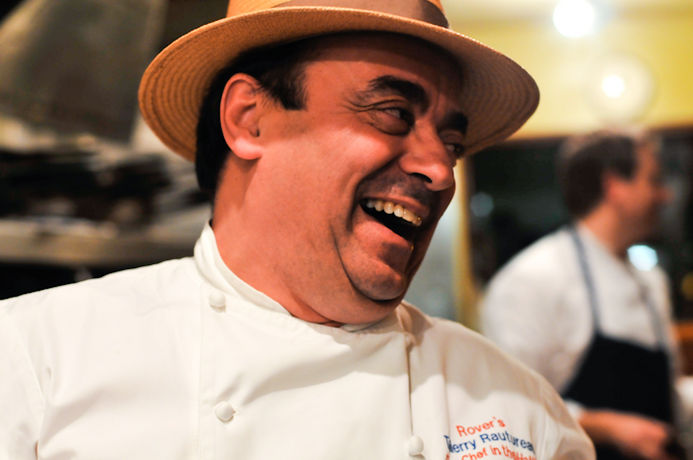 Of course, I'm pinching myself that I reside approximately 1 mile away from two total culinary gems of restaurants, Rover's and Luc.
I've dined at Rover's once (before being a "Blogger" and therefore not fresh enough to recount–but I do remember it very favorably), and to Luc a half dozen times, most recently a few days ago,
Even though we dined last on a Monday night, the specials were bountiful. The server pretty much had me at "poached egg and duck confit…"
This is how the night played out:
One should start the evening off with a Lucatini.
grey goose vodka, gin, lillet, st. germain (and you know how I feel about this from recent previous post)

Souffle potato crisps are a must…the red pepper aioli, is just plain yum. Puffed up and uber crispy.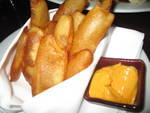 Special salad: duck confit with poached egg and pickled onion, you know, as referenced above. There is something about a perfectly poached egg that runneth all over the dish, that j'adore.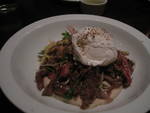 Then salt crusted roasted chicken, The Monday night special. Served family style with a huge heap of kale in the middle to keep everyone honest.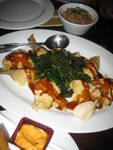 We finished it all off with chocolate caramel cake.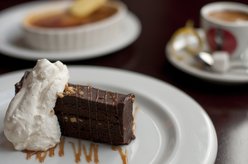 The rest of the week: cereal for dinner. It's all about the trade-offs in life.