December 5th, 2010
It's cold and it's dark out there, tis time of year when our souls need to hang some twinkle lights!
Thank goodness the sights, smells and sounds of the holidays seem to be in full swing.
This weekend, we took in some of downtown Seattle's best displays of festive decor. As an added bonus, there are many local charities involved in these spectacular displays. And I'm all about two birds with one stone!
First, a trip The Fairmont Olympic Hotel for their Festival of trees. Twenty trees are exhibited throughout this elegantly appointed and grand hotel. Decorated with care by the Dr. Forrest L. Flashman Guild of Seattle Children's Hospital. Each tree is dedicated to a patient at the hospital and is sponsored by local individuals and businesses.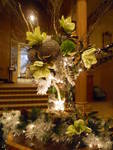 Check out the stunning florals.
And just a short elevator ride for my kid's minds to be blown upon entering the Teddy Bear Suite…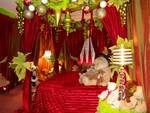 Designed by Kevin Bradford, a Seattle-based interior and event designer and brimming with dozens of fluffy teddy bears. The Teddy Bear Suite welcomes thousands of visitors like us throughout the holiday season. Donations help offset uncompensated care at Seattle Children's Hospital.
Then we hoofed it over to the Sheraton Seattle for their annual Ginger Bread Village which benefits JDRF's Northwest Chapter.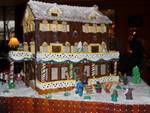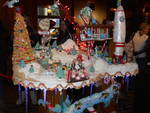 Boy, our little $10 gingerbread kit from Target has a tough act to follow!
I can hardly wait to hit the Carousel across from Westlake Center next week with my kids. A small 2 dollar donation to Treehouse provides a good dose of holiday fun.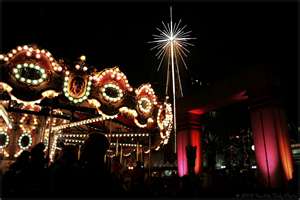 Fa la la
la la la
la la la!