November 3rd, 2010
…My whole house to be designed by total rock star NYC Designer Amanda Nisbet. Not too much is it? Afterall, I've been very good this year.
I just adore the simplicity and style of this room.Withboth the greek key designon the window treatments and gorgeouscolor palette. The built-ins, the molding, oh I could go on and on.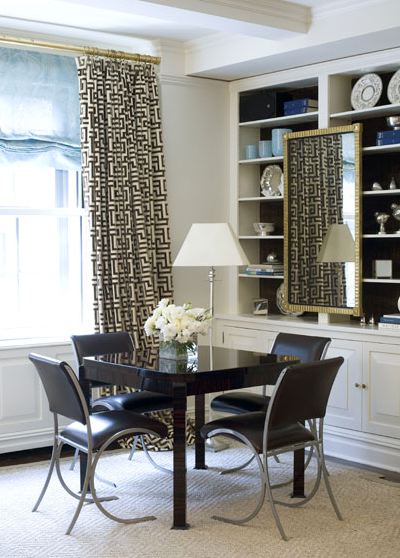 And this next space. A little bolder, but just as beautiful,check outat the inspired and vividly contrasting colors in thissitting area:

What an amazingly cool way to frame out a space with curtains, window or not. The possibilities are endless.
And finally, take a quick look at this chic little breakfast nook. This would make even eating Cheerios exciting.

The framed cameos on the wall really amp up the awesomeness. Do you wonder if that seat bench lifts up to store things, like I do?
Santa, I hope you make your list and check it twice!