October 15th, 2010
You know when you're having one of those weeks where you simply wouldn't survive without your local little pre-prepared food shop or portion of the grocery store? Well, I'm having one of those weeks. Thank GOD for The Northwest Catering Co. where I can quickly pop in for a delciously gourmet meal for my family, that is so far beyond "ordinary"
Like these little cream filled doggy eclairs with precious puppy faces!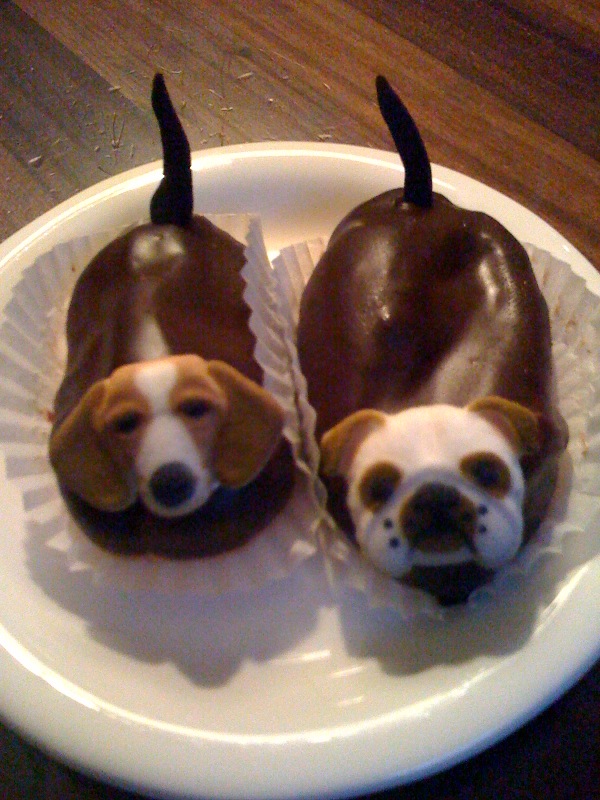 I mean, can anyone say Super Mom for treating my kids to these, (regardless of whether I actually made them?) after a hearty fall meal? Like another of my favorites from there–their chili releno casserole that I pretty much lick from the container.
I'm all about the shortcuts, but if I were to have to make it, I found a recipe that sounds simple and relatively fast on allrecipes.com
CHILI RELLENOS CASSEROLE
Prep Time:
15 Min
Cook Time:
45 Min
Ready In:
1 Hr
Original Recipe Yield 6 servings
Ingredients
2 (7 ounce) cans whole green chile peppers, drained
8 ounces Monterey Jack cheese, shredded
8 ounces Longhorn or Cheddar cheese, shredded
2 eggs, beaten
1 (5 ounce) can evaporated milk
2 tablespoons all-purpose flour
1/2 cup milk
1 (8 ounce) can tomato sauce
Directions
Preheat oven to 350 degrees F (175 degrees C). Spray a 9×13-inch baking dish with cooking spray.
Lay half of the chilies evenly in bottom of baking dish. Sprinkle with half of the Jack and Cheddar cheeses, and cover with remaining chilies. In a bowl, mix together the eggs, milk, and flour, and pour over the top of the chilies.
Bake in the preheated oven for 25 minutes. Remove from oven, pour tomato sauce evenly over the top, and continue baking another 15 minutes. Sprinkle with remaining Jack and Cheddar cheeses, and serve.
To round out the meal, I've found that this works well to serve with boxed Spanish Rice (I know it doesn't sound gourmet, but trust me, Rice a Roni's Spanish rice really is good and can fake out the pickest of pallete's) and I dice half a fresh tomato to add to it. Serve with tortilla chips and "mexican caviar" aka my absolute FAV., GUACAMOLE, and you are set.
ENJOY!