September 2nd, 2010
So the countdown is on…T minus 5 days until NYC Fashion Week.
I have a love/hate relationship with Rachel Zoe. OK, not true; it's a love/love relationship…her vernacular is so addicting!
So if you want to look cool at the shows, or if you want to pretend like me, that you are there. Wear a touch of vintage paired with something modern.
Where, might you ask to find vintage, how about some of RZ's NYC vintage favorites like: What Goes Around Comes Around New York. Where you can find vintage Chanel and more…


Or Chelsea Girl for cool "baubles" like these macrame necklaces


Or Resurrection for something divine like this Missoni (though would never wear it together)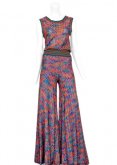 C'mon, you know it's "Ba-na-nas!"