September 10th, 2010
After having a somewhat frenzied week of back to school and assorted fall start-up madness, I am finding myself dreaming of a few stolen moments to myself.
I've been obsessed with big deep bathtubs like this gorgeous tub, floating in the middle of the room,center stagefor a while…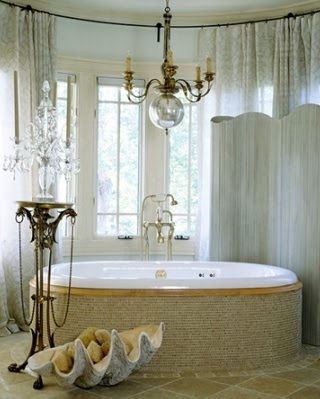 Barry Dixon from Coastal Style Living
What a perfect spot to let the world melt away.
There is so much to love about this design. The over sized clam shell as an homage to the sea. The wonderful chandelier, the cool fixture, the sparkly candelabra, the airy window coverings.
Ahhh…my blood pressue us coming down just looking at this.
Thank God it's Friday.