August 13th, 2010
Food Obsession Du Jour=Burrata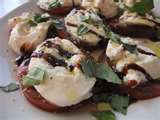 It's FRIDAY!  And we have the world's most special house guests with us. So of course, need to bring some culinary big guns to the table.  First up tonight,  Cava & Burrata Crostinis.  Our guests are on a big kick having just returned from Spain, and it turns out the Cava will work perfectly with cutting the richness of the cheese. Our version of "happy hour" in the garden.
Granted, I've never met a cheese I don't like, but burrata is on another level. I'm sure you are familiar, but if not, we're talkin' fresh italian cheese, the outer portion is solid mozzarella and the inside contains cream and mozzarella. Pretty much ooey goey yumminess.  It's hard to get, has a limited shelf life and is of course a bit on the extravagant side, something like $15.99/pound, but worth every bite.
Made by hand–check
Rich & Delicate–check
Cream Infused Balls of Goodness–check
Burrata is such a show-stopper, it requires minimal fussing.
World's Simplest Recipe:
We simply grill some crostinis, rub with garlic, top with a nice heaping portion of burrata, a sprinkle of salt & pepper, a drizzle of good quality olive oil, and some red pepper flake.
Mouth watering, yet?