August 12th, 2010
I love shoes and who doesn't love giving back?
This is why I'm really crushing on Toms Shoes right now. Plus, how totally cute are these wedges?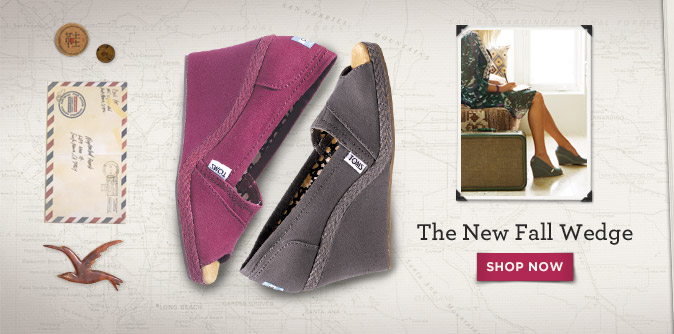 Don't own yet, but will shortly after this post…
They are trendy, but comfy and eco-friendly to boot. Oh and the price point is pretty reasonable too. The wedges are $64, I believe. Carried @ Nordstrom and Neiman Marcus.
Here's the story, for every pair of shoe a consumer buys, the company donates a pair of shoes for a child in a 3rd world country.
This is excerpt below from their blog:
"Why is it so important for us to give shoes to kids around the globe? We have a few main reasons:
Injury and Disease- Walking around barefoot (especially when you have to walk long distances for water, to school and for medical care) can be
really dangerous. Kids are susceptible to contracting diseases like human hookworm and podoconiosis. A simple cut can make a child
vulnerable to nasty diseases like tetanus. Education and opportunity-In many areas of the world, kids cannot go to school without a pair of
shoes. So, if they have a pair, they can attend class. A Better Tomorrow- The combination of both health and education give children
access to a brighter future. And TOMS loves being a part of that story. So how do we do it? We give shoes through our reputable non-profit
partners around the globe. Their health and education programs supplemented by our shoes help us reach kids in a responsible and sustainable way. For more information on how we give check out our website. And if you know of an organization that is interested in receiving some of our shoes, please send them to http://toms.com/givingpartners.
"Shoes are love, people"
-Courtney Lilly