August 29th, 2010
If you're a devotee of this blog, you'll know that I consider the term "foodie" annoying, yet sometimes, irresistible. Especially as our five year old terms herself a "foodie," which is pretty accurate considering some of her favorite foods are menu items like sushi (cooked of course), crab cakes, arugula, salmon with capers, tamales, etc. Of course the other child's palette is more geared towards donuts and Pirates Booty…cest la vie.
At any rate, we had a getaway last weekend to SF. What a phenomenal eating city. Of course the Ferry Terminal is a destination not to be missed. I had to go 2/2 days we were there. Some of my favorites include Miette Patisserie, for amazing confections,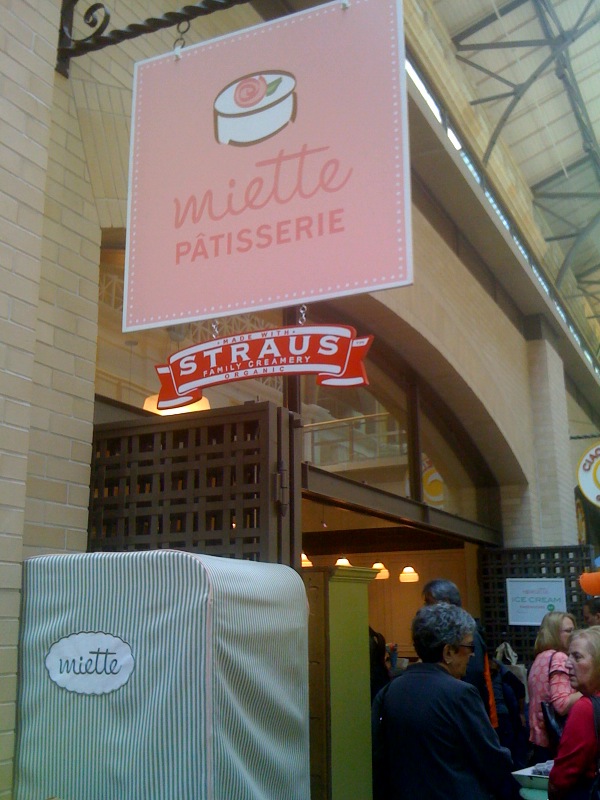 Hog Island Oyster Co., and of course the Saturday Farmers market is nothing short of spectacular. You can always count on a long line for both Roli Roti (succulent meats rotating on skewers, which takes the food truck food trend to a soaring-high new level), taking in a whiff walking by it can't be missed and Blue Bottle Coffee Co, which has a cult like following, that even amazed me–living in the land of the coffee snobs and all. I thought the market feature of "veggie valet" where one can leave their purchases for a few hours while they walk, shop, etc. was super clever and practical to boot.
But then closer to home a really divine, Melrose Market in Seattle drives home the point that we are not too far off in stature, as a totally legit food city. Next up, Top Chef Seattle? Read this article in New York Times: (PS, giving cred. to my F.I.L. for finding this article) This "one stop shop" boasts phenomenal cheeses, butcher counter, flowers, pantry with wonderful spices, and other specialty items,
The driving force behind this gourmet dream is the new home to gem of a restaurant Sitka and Spruce. Check it!