July 29th, 2010
Since it's Thursday, it's definitely not too early to start thinking about the weekend. I love a good weekend brunch.
As far as entertaining, this is an easy peasy one in in my book.
Check out the menu for a brunch we hosted recently.
Yogurt Parfait
Vanilla yogurt, layered with pomegranate seeds (Trader Joes has these freshly harvested for you). Diced green apple, and walnuts
Serve in pretty glasses like these from Sur La Table

Freshly baked almond croissants
Full disclosure, I never make these myself. I don't know why I ever would when the guys at Bakery Nouveau put out pastry that could rival any of the best french patisseries.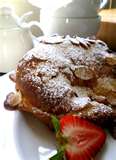 A good ole fashioned Egg Casserole.
I love how you can make this the night before, throw it in the oven and voila.
EASY EGG CASSEROLE

2 lb. sausage
1 lb. Cheddar cheese, grated
1 (4 oz.) green chilies
1 c. taco sauce
2 eggs per person

Fry

and drain sausage. In a 13 x 9 inch pan, layer sausage, cheese,

sausage, etc. as far as they go. Sprinkle chilis and taco sauce on top

of sausage and cheese. Mix eggs as if for scrambling. Pour egg mixture

over layers.

Bake at 350 degrees for 30-45 minutes. Let sit for 5
minutes before cutting. (This can be made in advance except for the
eggs. Pour eggs right before baking.)
source: cooks.com. Then garnish with a dollop of sour cream.
Beverages
Of course in that we reside in Seattle, home to the coffee snobs, must have top notch drip to serve. We love Stumptown. Turns out these grinds have a cult following as well. Honestly.
And sometimes there is a little "hair of the dog situation" that needs to be addressed:
so we like to put out the fixin's for Bloody Mary bar for guests to garish as they please.
and finally, no brunch would be complete without Mimosas with Freshly squeezed O.J.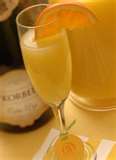 T.G.I.T