July 18th, 2010
Addendum:
We simply couldn't pass up a sale on lobster at our local little market for $10 bucks a pound. I requested a lobster roll, and the Chef (husband) quickly obliged.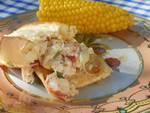 The simplest things are always the best:
Simply pull out the meat, toss with small amount of mayonnaise, lots of freshly squeezed lemon juice, diced onion, diced celery, dill, italian parsley,salt, pepper and VOILA!
Then just spoon into a buttered (we grilled ours)bun and there you have it.A little slice of summer heaven.