July 1st, 2010
Last night we cashed in on Aaron's Father's Day present. 2 tickets to the Widespread Panic show held at the Paramount Theater.  Scrambling to get to the 7:00 show on a"school night"was far from the party atmosphere of old that we used to enjoy, though once there, I had an epiphany.
Listening to their soulful lyrics, felt like coming home. Like one of my favorites, Diner.
"Given time, Lord I'd build her a mountain for a room.  Given an hour, an hour, I'd build a rocket to the moon. Might take at least a week to find the strongest tool. Might take the rest of this lifetime to find the strongest fuel"
Even the song, Expiration Date sent a powerful message. I was reminded of how many times we would enjoy watching this live band with friends. Soaking up the sun and twirling in a field somewhere, with a cold can of beer in hand, donning a sundress and a straw cowboy hat. There was Aspen (here we are in 2002 with our first born barely 2 months old (who had to have custom made little cotton balls bandaged to her ears, for a sound barrier–it was actually very cute),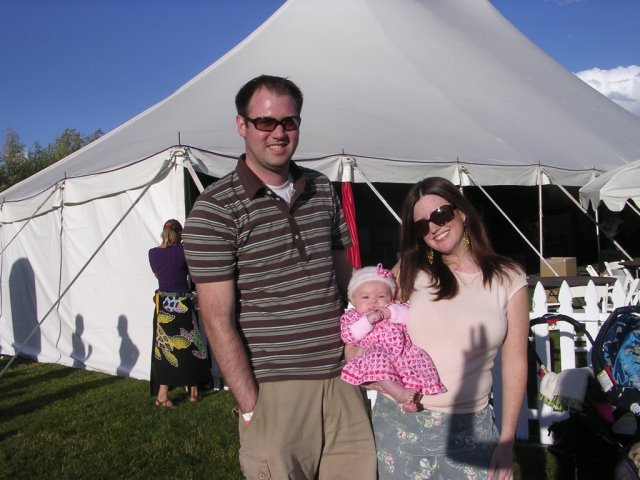 Red Rocks, Alpine Valley and so many more. Days where I had far less responsibilities and far more fun (oh and as it happens sun too). Days before I was a slave to my I-phone, the emails, the texts, the always being "on" Note: Need to scan in some old/er photos, there are some good ones, including Aaron wearing some hilarious patchwork pants!
Somehow along the way we went from car-camping to carp-pooling in a car that cost more than my whole first year salary, though I still managed to go out 5 times as much. We went from parking lot grilled cheese sandwiches, to artisinal cheese. From dirty flip flop/grass stained stained feet to pedicured ones. I'm not complaining, I love my life now too, but it reminded me how much I would enjoy simple and good pleasures.
Whatever it takes to get you black to that place, of carefree and fun. Go there! It's not too late. Have some fun and and don't let youth be wasted on the young. As in the words of Widespread, "Ain't Life Grand?"