June 6th, 2010
Rules are meant to be broken and we all know by now that the 'white after Memorial Day' thing is really passe. But if you are a rule follower, behold it is official wear-lots-of-white time.
I cannot get enough in my wardrobe (though I do have a firm no white shoes rule, as they are just too Cousin Eddy or too bridal for me).
Some of my fav. looks right now are:
Can't go wrong with a good casual white shift like this cute one from Free People plus I love the styling with natural colored shoes shown here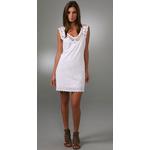 Glam it up a bit with this cutie from French Connection for your next big night out.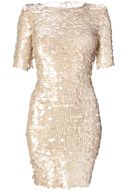 And back to cas. White jeans rolled up like these Joes Jeans, which again, I wear all year long. Plus a cropped style just feels more modern and sassy and you can rock cute shoes.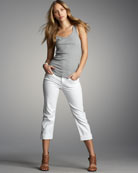 Love this Juicy Couture tunic, which I would wear with my arms stacked with as many bangles as I could gather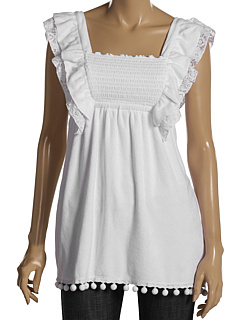 And finally, what about a nice long maxi dress or skirt like this one from The Gap with dainty details like eyelet styled with either your favorite Lacoste shirt or a beat up chambray shirt