June 29th, 2010
Hosting a dinner party is so much fun. From conceiving of the menu…to farmer's market shopping for it…to table scaping…to carefully arranging seating,it is one of my favorite ways to entertain. I especially love dinner parties that are outside. This past weekend the weather in Seattle was actually somewhat cooperative and we were able to host some guests in our yard. Note: my oldest helping herself to the cheese board before being whisked off to bed, by our most dear sitter.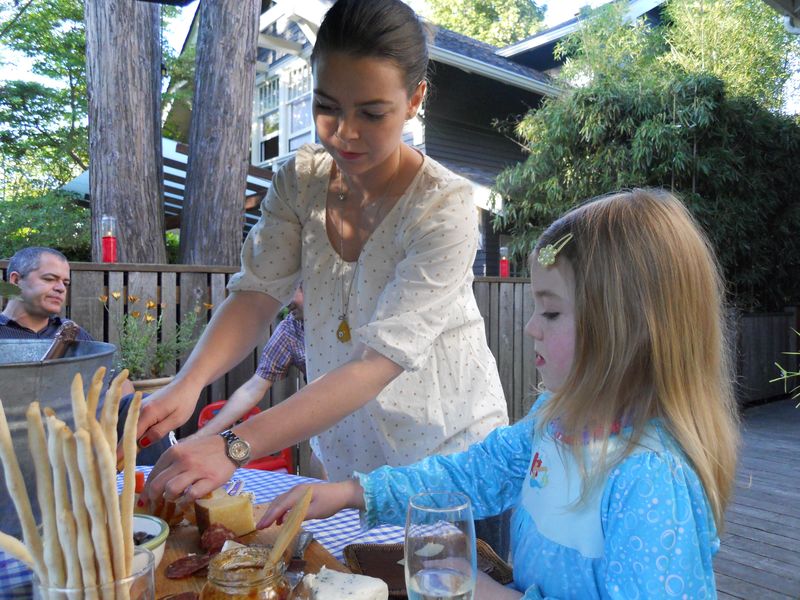 As the meal is the main event of the evening, we plan multiple courses designed for lingering and let the guests know what they are in for,like this heads-up via the chalkboard (we have an enormous chalk board wall when you first walk into our house, you can buy this paint at your local Sherwin Williams that is both magnetic and tintable, if you want something other than black–how cool!).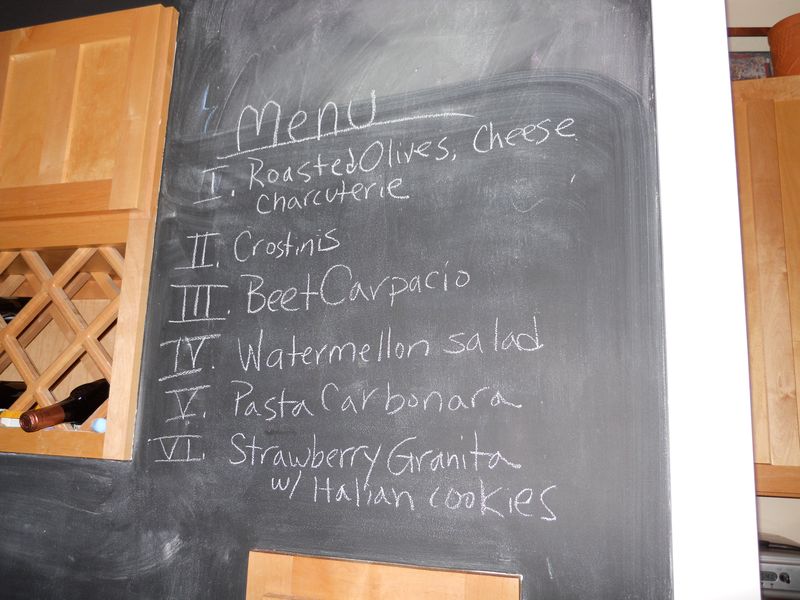 All menu props and execution(recipes available below) go to my husband here, though I help to conceptualize, my request was "summery!". I take the lead role with the table and decor.As mentioned, I love being outside as everything feels a bit more free. Expectations of perfection and precision are so much more mellow when outdoors.
Simply choose a color palette and have fun. Sunflowers and a Mediterranean look were the inspiration here. Aren't those vibrant cushions cool? I picked those a few other fun items at World Market.I also find this to be a  great spot to pick up reasonable wine and bubbly.
Of course temps in the good ole Pacific Northwest can get a little cool/nippy at night, so remember a few pashminas for your friends to throw around their shoulders. And a heat lamp is a nice and frankly necessary.touch too.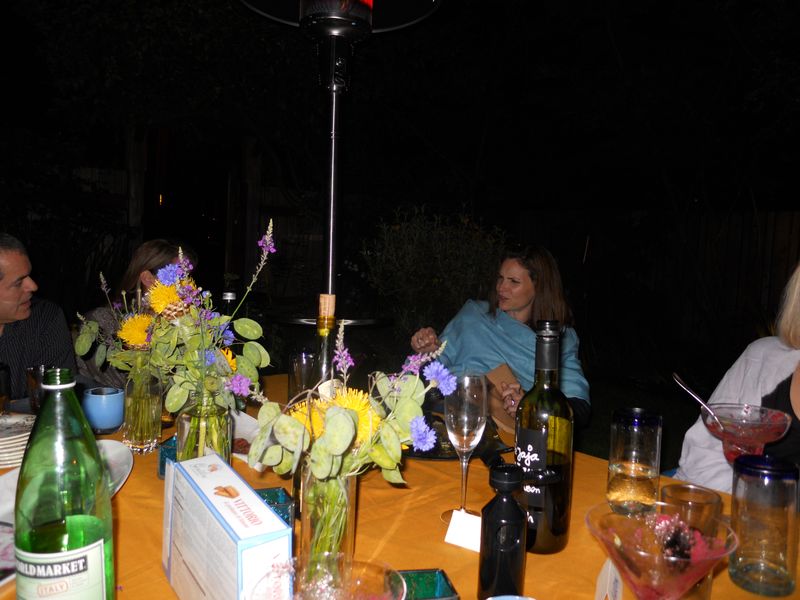 Enjoy!
RECIPES
I. Roasted Olives, Cheese & Charcuterie
Choose an assortment of Italian olives, then roast in oven for about 45 mins. prior to serving. We selected 3 cheeses: Parano, Point Reyes Blue, and semi soft truffle cheese. We selected mole salami from Salumi and a hard salami. Serve with bread sticks and a touch of quince.
Serve on cutting board
II. Crostinis (french bread cut on the bias, grilled and rubbed with garlic)
Olive tapenade with goat cheese and honey
Borata with red chili, arugula, olive oil and salt
III. Beet Carpaccio
Peel and place in foil packet with touch of olive oil and roast at 350 degrees until fork tender
Use mandolin to thinly slice, arrange on platter, drizzle with olive oil, salt, pepper, top with goat cheese, arugula and candied hazelnuts
Serve family style
IV. Watermelon Salad (this was my favorite!) Recipe from Chef Larry Monaco of Queen City Grill in Seattle
4 thin slices of pancetta
2 slices of yellow watermelon and 3/4 thick
2 slice red watermelon 3/4 thick
1 cup moderately packed frisee
8 oz. of Humbolt Fog goat cheese cut into 4 pieces
Champagne Vinaigrette
1 Tb minced shallot
2 Tb champagne vinegar
salt & pepper
1/2 cup grape seed oil or olive oil
(for dressing: combine all ingredients in small bowl and whisk constantly gradually adding the oil)
Preheat oven to 350, Crisp pancetta.
Cut rind from melon, cut into wedges. put 1 slice in center of plate, discard seeds, toss lettuce with few TB of vinaigrette and arrange on top of melon. Set goat cheese alongside and pancetta on top of salad
Plate individually
IV. Pasta Carbonara (from Sauveur, but my Mom makes one and secretly I like hers more and can never reveal that recipe!)
Serve in a huge pasta bowl
V. Strawberry Granita with Beaujolais (from Bon Apetit)
1 cup of water
1 cup of sugar
2 pounds of fresh strawberry, halved
1 cup of Beaujolais or other fruity dry red wine
Stir water and sugar in saucepan over med. heat until sugar dissolves. cool syrup. put strawberries, wine and cooled syrup in processor until puree is smooth. strain into 13x9x2 inch metal pan, pressing on solids to extract as much liquid as possible. Discard straw. solids in strainer. Cover and freeze 1 hr. Using fork, stir granita, mashing any solid parts with back of fork. Freeze until firm, scraping mixture with fork every 30 minutes to form icy crystals. (can make 3 days ahead–keep covered and frozen)
Serve in Martini glasses with a sprig of mint and some store bought Italian cookies.