April 16th, 2010
As I got a much needed coif-up the other day, is that a term? I asked my trusted hair advisors from Gary
Manuel Salon and Kismet about emerging trends in hair.
So here they are:
Solid color–highlights
are out. Of course keep in mind that nothing is really "out" if it
works on you…this is not a hard and fast "in and out" list like
People Magazine style edition. I'm prepared for a backlash on this, but this trend they say is what the trade magazines are buzzing about.
Accessories for hair–things like feather clips and headbands, I love studded headbands or bejeweled ones, and as for feather clips, check out these these examples from style me pretty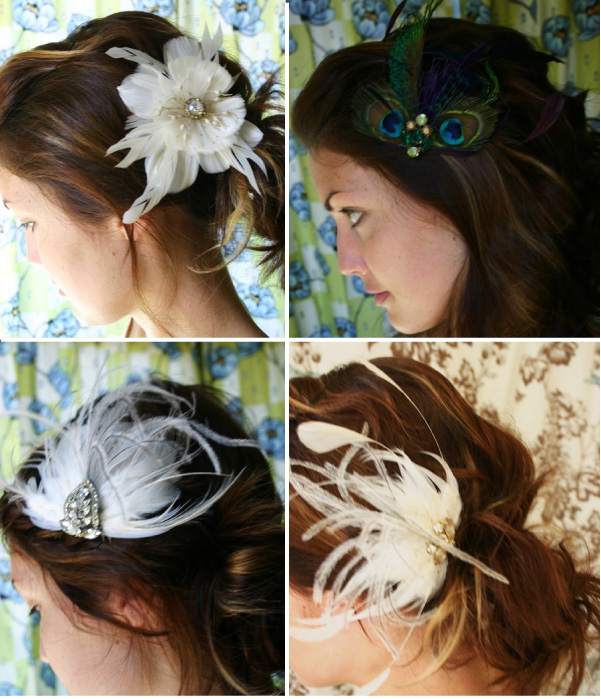 Temporary styling–OK
this really intrigues me, as I haven't really changed my
hairstyle dramatically since about 8th grade (oh wait, suddenly
remembering a traumatic bad bob moment right out of college–eek!),
making me a hair commitment-phobe. Simple temporary changes like
switching your part can totally change your look. Adding temporary
"fringe" by pinning over a long layer in the front for glamorous pseudo fringe. And
this last trick was really cool, if you have long hair, twirl the body
of the hair in the back and then, pinning it underneath to create a faux cool bob. Bob-for-a -day, that I could probably handle. This looks especially chic if you have some long
layers to hang out over. It's like short/shorter hair for the day
only. Fun.
Braids—A loose braid swooped to one side is uber chic right now.
Then we also talked about salons that do nothing other than give you a top notch blowout or style. You know those nights where your style needs a little boost. Head to a"style bar" like here in Seattle we have a cool spot called Swink
And finally, if you're also a hairstyle commitment phobe, you may check out these sites to try a style on virtually. www.thehairstyler.com