March 10th, 2010
No trip to Savannah or the area is complete without a visit to The Crab Shack for you guessed it, some amazing shellfish, a low country boil (see below)of course, and a cold one. Their tagline brags: "Where the elite eat in their bare feet" This place is beyond entertaining, the first thing to experience are the alligators who live on-site in the alligator lagoon, naturally, right? The best place to sit is outside on the patio which is super kick-back and adorned with upside down barrel lights. Other on-site creatures include roaming cats, like a one-legged one we encountered, and parrots in cages, in the gift shop.
If you've made it out to The Crab Shack, then you are almost to Tybee Island, one of the beautiful smaller barrier islands of the area. The drive alone alongside salty beautiful marshes makes this a worthwhile outing. This low-key Island has an arty vibe (though somewhat cast of Jersey Shore meets the South, when you get to the strip) and for some relevant of-the-moment trivia: one of the homes to new Academy Award winning actress, Sandra Bullock.
But if I were be building my nest in the area, I would choose the very special community called Isle of Hope. The homes in this community seem to be frozen in the era of Southern grace. We are talking drippy southern charm here. Look at this gem,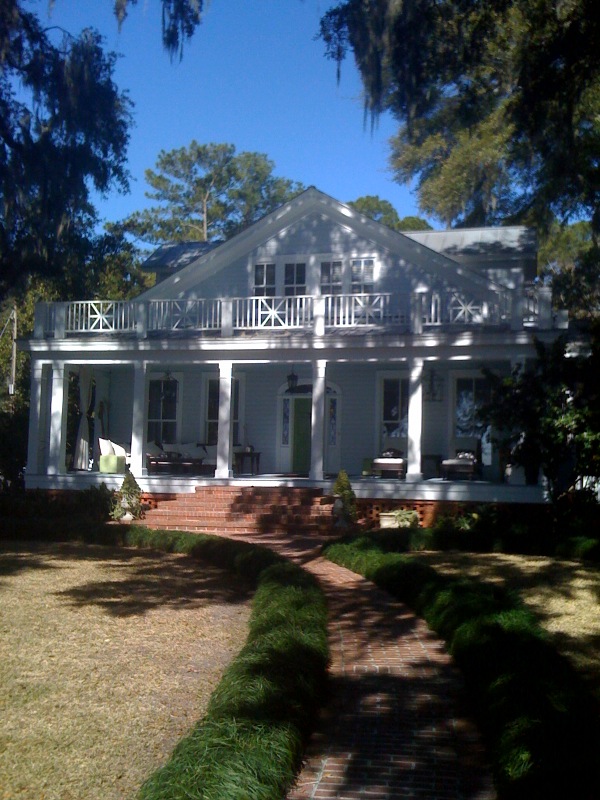 oh how I could picture myself drinking a tall glass of iced tea on this lovely porch and watching a shrimp boat go by. The history of this community is also rich as pirates from the 1800's would burry their treasure on these shores. Children to this day, are often found digging for buried treasure! "ARRRRGH!!!"
Thought I would leave you with this fun background and recipe from Coastal Living on the native, low country boil.
Photo: Jean Allsopp
Once called Frogmore Stew, this one-pot wonder was created by a National Guardsman when he needed to cook a meal for 100 soldiers. Richard Gay, who learned the recipe from his family, had everyone remembering his stew. The dish was later named Frogmore, where Richard was from, by the guards who teased him about home. The postal service eliminated the name Frogmore, which changed this popular dish to Low country boil.
This seafood dish is a combination of shrimp, sausage, corn, and potatoes. Great for relaxing trips to the beach, it is also easy to create for a crowd. Low country boil can be served on newspaper for easy clean up. Crab, onion, and butter are frequent additions to the pot, and having a removable drain basket only makes cooking easier. The rule of thumb here is the bigger the crowd, the bigger the pot.
Lowcountry Boil
4 pounds small red potatoes
5 quarts water
1 (3-ounce) bag of crab boil seasoning
4 tablespoons Old Bay seasoning
2 pounds kielbasa or hot smoked link sausage, cut into 1½-inch pieces
6 ears of corn, halved
4 pounds large fresh shrimp, peeled and deveined optional
Cocktail sauce
Add potatoes to large pot, then add 5 quarts water and seasonings. Cover pot and heat to a rolling boil; cook 5 minutes. Add sausage and corn, and return to a boil. Cook 10 minutes or until potatoes are tender.
Add shrimp to stockpot; cook 3 to 4 minutes or until shrimp turn pink. Drain. Serve with cocktail sauce. Serves 12.
(Adapted from Southern Living, August 2002 and Real Simple, August 2001)