March 1st, 2010
This post comes to you as a result of a specific request from a READER, oh I love the sound of that!
The READER inquires into current interview attire.
Reader asks: "I'd love to see a fashion blog post on interview attire.  I feel like the "suit" has made its way out.  How to look perfectly professional, yet fashionable?"
My response:
Carefully choose attire according to industry.  The more creative the industry, the looser the parameters will be…the more traditional Fortune 500 say, the more conservative.  So here are 3 scenarios:
Agency type work environment (PR, marketing, advertising, software, fashion etc.):
You have the most creative license here.  Definitely want to wear something that makes you feel confident and shows your personality.   Choose something in your favorite color that fits you fabulously (just never ever ever go hoochy). Think CURRENT, like being shown in this season as this industry is values the here and NOW.  Be fashion forward, and I'm sure this goes without saying, but there is a line–no denim, neon, hats, feathers, etc.  Here's an example:
Check out this cute Marc Jacobs dress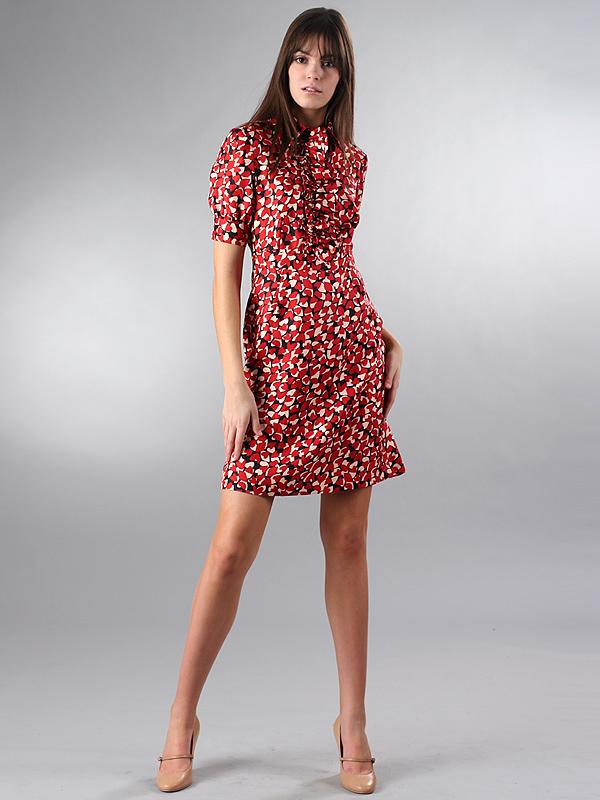 Ruffles are very now, so you could rock a colorful ruffle blouse like this one from J.Crew under a nicely tailored cardigan (charcoal grey says: I came to work today!) or blazer with a slender metallic belt worn with nicely cut pants with a bit of a flare and some high shoes.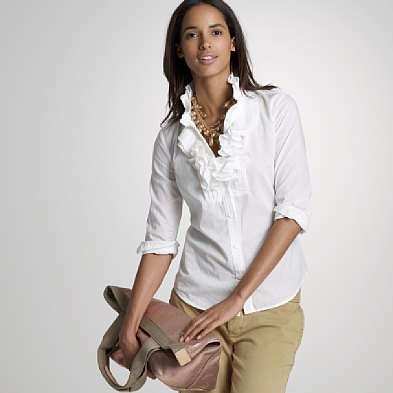 In Between Mid-Size (Publishing, Education, Medicine, etc.):
Think Separates:  One of my favorite go-to looks is a fabulous jacket that looks expensive.  Just remember you work for money so you want to look like money.  This is a good idea on so many levels, plus you can remix with "non-interview" clothes like jeans, afterwards. I love slim fitting pants underneath or a pencil skirt paired with a long-ish jacket and some fabulous shoes.  Though you can be creative here, don't be distracting.  Don't pick too crazy of a pattern, or that will be the only thing you are remembered by.  You can also be a little bold with jewelry like a pop of color like turquoise is dying to be teamed up with this jacket from Ann Taylor.
*I also spotted a darling navy, Chanel-looking cardigan jacket today and that is in H&M right now (though I can't find a picture, darn it!) with pencil skirt would be very cute and appropriate with bone colored shoes.
Corporate America (Sales, Legal, Banking, etc.):
This is the most buttoned up the attire.  Minimal jewelry, pearls and stud earrings or small hoops, Color palette is somewhat limited, black, grey and navy (snooze, the most boring of the options if you ask me, plus, NEVER wear navy shoes!).  This may be a personal preference, but as interviews are already awkward, I feel more comfortable in pants and pant suits, but think separates and not matchy matchy.  Squeezing into my skirt suits circa late 90's, sounds like a living nightmare (getting rid of them tonight!) If you want to wear a skirt, go black dress like this one from Banana Republic with opaque tights and nice black shoes, for a monochromatic while professional look.
And finally remember: Coco Chanel is the image you should be channeling, and that pearls are NEVER a bad look; think reserved…quilted bag, nice jacket, etc.  Here's a conservative, but of the moment non-boring jacket I found at Saks. by Armani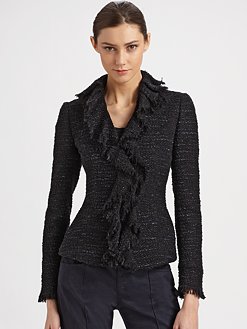 KNOCK EM DEAD EVERYONE!!!!