March 21st, 2010
I am all about gourmet dining with quality and seasonal ingredients, but let's be honest, when the dinner hour calls and it comes to feeding the munchkins while considering a bed time routine, the 4 food groups, etc., it's all about getting in, getting out and getting the job done.
So as much as frozen chicken dinosaurs are always delish, ah-hem…these days my husband and I opt out of the kid dinners, and now that it's lighter out later, saving that quality/family time for some good walks around the hood, seems a fair swap. We postpone our dinner for a more relaxing time after their bedtime.
As this type scenario totally has the potential to be anti-climactic, the key is simplicity a bit of candlelight and copious amounts of vino. I must say as well that this concept works brilliantly for entertaining too.
Lately, I am LOVING cutting board dinners. First you need an oversize cutting board.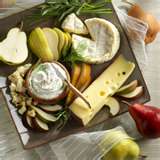 I suggest, Boos cutting boards. This type of noshing is fun and practical as it's so minimal on dishes, prep. etc. Be generous on proportions, but of course consider how many you are preparing for. Here are a few favs.
Mediterranean
Feta cheese
Home made tzatziki sauce (greek yogurt, cucumber diced, lemon juice, garlic, salt & pepper) so easy
Brown pita in a pan with olive oil and cut into small triangles
Hummus (Trader Joes makes a great white bean one)
Chicken Skewers
Pickled olives (in the olive bar of any good grocer)
Italian (PS this was inspired by my neighborhood favorite restaurant, Cafe Lago)
Hard and soft cheese like goat and parano
Bruschetta and tapenade
Italian meats like, prosciutto, salami–here in Seattle we have lovely Salumi, made by Mario Batali's Pop.
Drizzle all with some good quality balsamic vinegar and a squeeze of lemon
French:
Pate (Igourmet)
Fromage (of course) I always go with something ridic. creamy like a minimum 60% butter fat.
Crusty bread
Side of course grain mustard
Rotisserie Chicken Breast ( I can never resists these @ the grocery as they are so cheap and so versatile) With this style dining, you can literally pick off with your hands.
A bit of fruit, like thinly sliced pear or apple looks pretty and sweetens things up.
Bon Apetit and Bon Nuit….