February 9th, 2010
Are you loving those little signs of spring (sorry East coast friends) emerging through the ground and on the trees? Peering down at a little crocus peeping through just makes my day right now. One of my favorite decorative touches to achieve high drama while costing almost nothing is sooooo simple.
Arrange 1-2 branches like cherry blossom branches, which are just gorgeous, in an over-sized glass vessel for a look of simple modern elegance.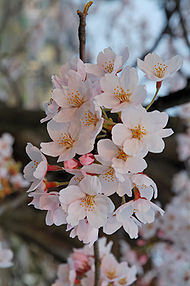 I noticed Whole Foods sells wonderful branches like these right now, or if you have access to whack away at something wild, branchy and perhaps budding in your yard, why not?
This look is definitely very now, as I on recent stay at the Tribecca Grand I admired their seasonal branches so much that I tried to take a photo and was not permitted to do so. Somewhat lame, though I do understand trying to protect a creative and signature look. Hence I blog and rat them out:)
Spring hasn't quite sprung, but is getting there…