February 8th, 2010
When it rains it pours and surprisingly this week, I don't mean actual rain, but metaphorically regarding cultural events around town. A week choc.-full of cultural activities began for me on Tuesday. Recall Alex Prior's rehearsal a few days ago (see Feb. 2 post). An inspiring wake up call regarding young talent and the arts.
On Wednesday I watched Grammy-winning violinist James Ehnes, or Jimmy for those who know him well, at an open rehearsal in spectacular Benaroya Hall. This is a donor benefit for those who support the annual fund at the $250+ annual level. What a special benefit to receive for a relatively small annual financial commitment. You'd be surprised how "getting in the door "in such a manner really can expose you to some pretty cool and unique activities.
On Thursday I had the great privilege to attend Opening Night of Sleeping Beauty and Pacific Northwest Ballet. The dancing, costumes, and music all proved enchanting.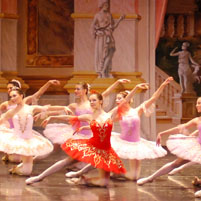 Friday morning I took my tiniest of tots to Tiny Tots to watch Lisa and Linda bring a recital hall full of pint sized cuties into synchronized clapping and jumping as well as beginning an initial orientation to instruments, harmony, etc.
Saturday we happened upon the Tet Festival celebrating the Vietnamese Lunar New Year at The Seattle Center. What a fun, free festive event for the 4 of us to enjoy. I'm always amazed how something cool seems to be going on there on any given day.
A couple nights later included a much-needed GNO (girls night out of course) to watch Maestro Gerard Schwarz, who celebrates his 25th anniversary season this year, conduct Jimmy and the orchestra. We debrief afterwards at Purple Cafe where I try to not seem distracted by my perfect vantage point to gaze longingly into Luly Yang to check out her inspiring couture like this AMAZING monarch gown.

I guess I don't need to feel bad watching The Bachelor (a guilty pleasure) tonight…