January 16th, 2010
A new year a new start. So many hopes, dreams, projects and desires for a new year, how to channel them? I keep telling myself we should have #3—being not 100% convinced of this undertaking and that my husband is definitely not convinced of adding another to our clan, for now I bring you Living Well 7. Poof a Blog is born (third baby maybe later 😉
Welcome to my p.o.v. of how to live a life well. Under the construct of 7 areas that I feel passionately about: Fashion, Fun, Food, Family, Friends, Philanthropy (aware not an f, but close enough) and Furnishing. Yes, quite the array I know. But they are all subjects I care a lot about and have something to say about.
My first submission of the year has to do with fashion.
Oh man, when the sparkly and bedazzled clothing from the holiday season becomes passé as we enter into the thick of normal winter doldrums, what's a girl to do? Thank god for the nautical-inspired look bridging us into the spring season. This year I am loving the sailor strips (example by Anthro.) toughened up with a military jacket (check out the options by Forever 21), gold jewelry to still remain girly and some androgynous looking Converse like shoes like Jack Purcell that JCrew is selling right now that are coming on the scene.
Love this T from Anthropologie
And check out all the fun looks from Forever 21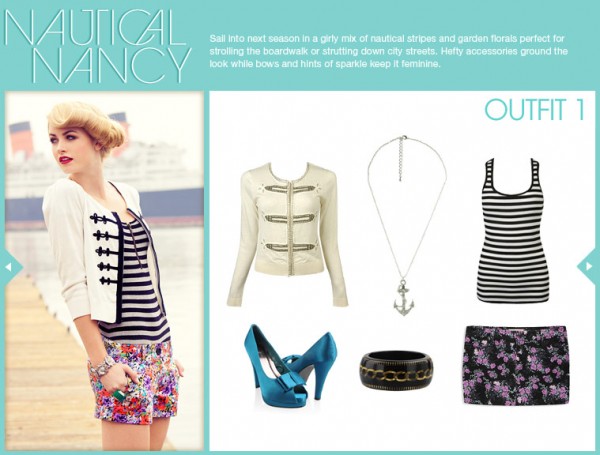 Until winter sails away, Ahoy!